eNews 23rd Edition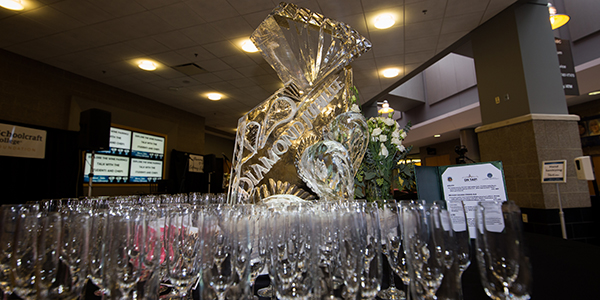 ---
In This Edition
---
Culinary Extravaganza (CulEx) Celebrates Schoolcraft's Diamond Jubilee with Sold-Out Event!
February 24th saw the long-awaited re-launch of CulEx. It was a celebration of friends, fantastic food, and the Diamond Jubilee of Schoolcraft College. More than 225 guests, patrons, and sponsors raised over $72,000 for Culinary Arts, student scholarships, and programs aligned with Schoolcraft's mission.
The Schoolcraft Culinary and Brewing and Distillation faculty and students transformed the many kitchens and brewery into the event's centerpiece. Guests strolled through grand displays of ice sculptures, pastry, and charcuterie. They interacted with the students as they prepared delicacies, including charred octopus, venison loin, BBQ duck meatballs, warm chocolate beignets, wood-fired flatbreads, and more!
"The new event format created a remarkable experience centered on students," stated Chef Marc Djozlija, CulEx Committee Chairperson and owner of Wright & Company in Detroit. "We are very grateful for the outpouring of generosity from our sponsors, patrons, guests, and donors."
Schoolcraft's culinary students and the distinguished faculty led by Certified Master Chef Brian Beland, chair of the program, created an educational evening for everyone! Students described their dishes and shared what they were learning and their aspirations for their future careers.
(Below is the slideshow – if it doesn't load for you please tap/click here, thank you.)
Schoolcraft's award-winning Brewery and Distillation program shared tastings of Schoolcraft's beers and led tours of the brewery. Guests also learned about wine pairings to complement the culinary presentations. Guests went home with a hand-made box of specialty Schoolcraft chocolates to top off the evening.
If you have interest in being on the next CulEx Event Committee, contact Carole Booms, Director of Annual Giving and Scholarship Administration, at cbooms@schoolcraft.edu or 734.462.4455.
Thank you to our Sponsors!
Diamond Presenting
♦ Fran and David Grossman
Gold
♦ Strategic Staffing Solutions
Silver
♦ MASCO
♦ Michigan Educational Credit Union
Bronze
♦ Community Financial Credit Union
♦ John N. Santeiu and Son, Inc.
♦ Universal Properties and Management, Inc.
Partners
♦ Steven L. Berg, Ph.D.
♦ Renee & Chuck Dardas
♦ Thomas L. Marek
♦ Marianne Riggs-Boschma
♦ Keith Sirlin
---
Schoolcraft in Naples, Florida
While Main Campus back in Livonia was under a winter storm warning and predictions of 4 to 6 inches of snow, Naples, Florida welcomed the Schoolcraft Reception with sunny skies and 88 degrees.
This was the first Florida winter gathering since the pandemic, and guests enjoyed the sun, friendship, and great information.
Dr. Glenn Cerny, Schoolcraft President & CEO, "Zoomed" in live to share updates and highlights of the various projects on campus. Chief Academic Officer Stacy Whiddon joined the group in person to talk about numerous examples of student progress. This year, Foundation Board Member Helen McGrath and Mark Wilkie hosted the program in the Clubhouse of the beautiful Baypointe at Naples Cay.
(Below is the slideshow – if it doesn't load for you please tap/click here, thank you.)
---
Best Wishes to Christopher Kelly in Retirement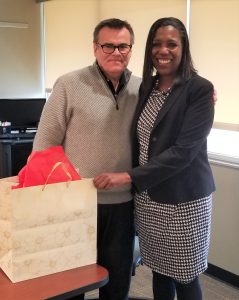 If you are a Schoolcraft faculty/staff member, donor, a friend of the college, or active in the local communities, you have probably crossed paths with Christopher Kelly. Chris joined the Schoolcraft College Foundation in October 2018 and was instrumental in starting the gift planning program. Recognized nationally for his expertise in planned giving, Chris was a vital team member who helped raise $6M over the past three years as part of the Vision 2025 campaign.
At a recent Foundation Board of Governors meeting, President Lois McEntyre and fellow board members recognized Chris for his accomplishments during his tenure with the Foundation. We won't say goodbye to Chris; we hope he will continue to share his wit, humor, and charm as a volunteer and advocate for the donors and students at Schoolcraft College.
…….
…….
---
'Tis the Season . . . Tax Season!
Well, the "season" is upon us!
If you haven't already filed, are you compiling your tax forms, receipts, and aspirin bottle? I think the reason tax season makes us all so worried is that tax laws always seem to be in flux. The last couple of tax seasons, this one included, have been exceptionally worrisome. We had postponements, delays in processing, and refund payments, all Covid-19 related.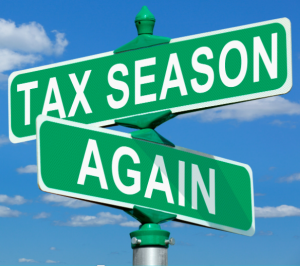 Yes, the global pandemic has affected the Internal Revenue Service and our tax seasons. As the old saying goes, "God willing and the creek don't rise" we won't see the rise of a new variant, but anything is possible.
One thing that never changes is that missing the tax filing date generates the same consequences we all strive to avoid, fines and penalties. The penalties and interest can be stiff; 5% of the amount due, each month your tax return is late. Filing your return late generates a penalty of half a percent (0.5%) of the unpaid amount each month and up to 25% of what you owe, plus interest. Yet there are still those who procrastinate and even the true thrill-seekers rushing to the Post Office to beat midnight on Tax Day. So what are some of the changes we need to be aware of this time?
Let's focus on the element that can answer the question "do we owe Uncle Sam or does he owe me", deductions! Of course, this leads us to use the Standard Deduction or Itemized Deductions. This year the standard deduction for everyone has had a boost. The 2022 standard deductions for all filing statuses are as follows:
Single: $12,950 (up from $12,550 in 2021)
Head of Household: $19,400 (up from $18,800)
Married Filing Jointly: $25,900 (up from $25,100)
Married Filing Separately: $12,950 (up from $12,550)
Currently, there aren't any changes to concern those who use Itemized Deductions. The limitation on itemized deductions was eliminated for tax years 2018 through 2025. If you itemize charitable gifts, taxes paid, interest paid, job expenses, or other miscellaneous items, deductions are still available, whatever your income level. This provision remains in effect until 2025, when the limitation based on income becomes effective again (unless a new tax law is passed and we are talking about Washington).
Regardless of which deduction path you follow, remember to keep those records and receipts handy.
There are many other changes, so the best advice I can share is this; keep all of your records in order; find a tax advisor with which you feel comfortable (that comfort level can last the rest of the year). If you elect to prepare and file on your own, make sure you use the most up-to-date software. The IRS is advising everyone to file electronically. If you are entitled to a refund, set up direct deposit to your financial account.
Pack your patience and remember, we have gotten through tax season before; we'll get through this one too!
---
$100K Available for Spring Forward with Schoolcraft Scholarships
Are you thinking about taking a class (or do you know someone who is) but could use a little financial support? The Schoolcraft College Foundation is awarding new scholarships for students who enroll in Spring/Summer classes. Students who enroll in 3 to 5 credit hours can apply to receive $100. Students who enroll in 6 or more credit hours can apply to receive $200.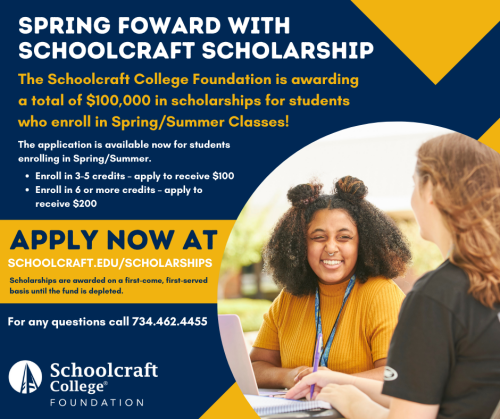 "We are excited to offer students a little extra help for Spring/Summer semester," said Melissa Schultz, Chief Student Enrollment Officer, Enrollment Services at Schoolcraft College. "We realize times continue to be tough and recognize even $100 or $200 makes a difference in a student's decision to continue their education during the Spring/Summer semester." Scholarships are awarded on a first-come, first-served basis until the funds are depleted. FASFA is not required to apply.
Apply NOW for the Spring Forward with Schoolcraft Scholarship at www.schoolcraft.edu/scholarships. For questions, call the Schoolcraft College Foundation at 734.462.4455 or email foundation@schoolcraft.edu.
---
Fall 2022-Winter 2023 Scholarship Applications are Live on the New ScholarshipUniverse Platform
Schoolcraft College has migrated to a new platform called ScholarshipUniverse to manage scholarships campus-wide. A variety of features like a personalized dashboard provides a more intuitive and centralized experience for students searching for financial assistance.
The Foundation has worked with individuals, alumni, faculty, and local business to create scholarships as unique as our student body. With 200+ scholarships awarding more than $300,000, we urge all students to APPLY NOW.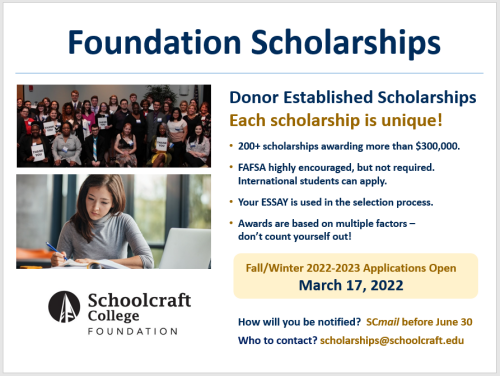 "The Foundation's scholarships can ease financial pressure and allow students to focus on their academic goals," said Carole Booms, Director of Annual Giving and Scholarship Administration.
If you know a student looking for scholarships, send them to www.schoolcraft.edu/scholarships.
To establish a new scholarship through the Schoolcraft College Foundation, visit SCHOLARSHIPS to learn more.
To support student scholarships with a gift, make a difference here.
---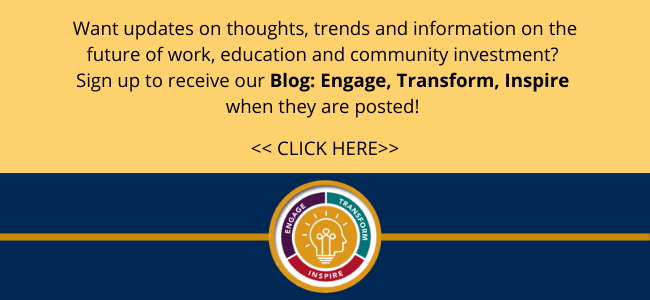 ---
Foundation Enrichment Series for Alumni & Friends
As an extended member of the Schoolcraft family, the SC Foundation and Alumni Office invite you to keep learning! Visit our Free Upcoming Webinars page to see all events, register and explore recordings of past events. Don't miss out on these engaging topics:
---
Career Services Spring Job Fair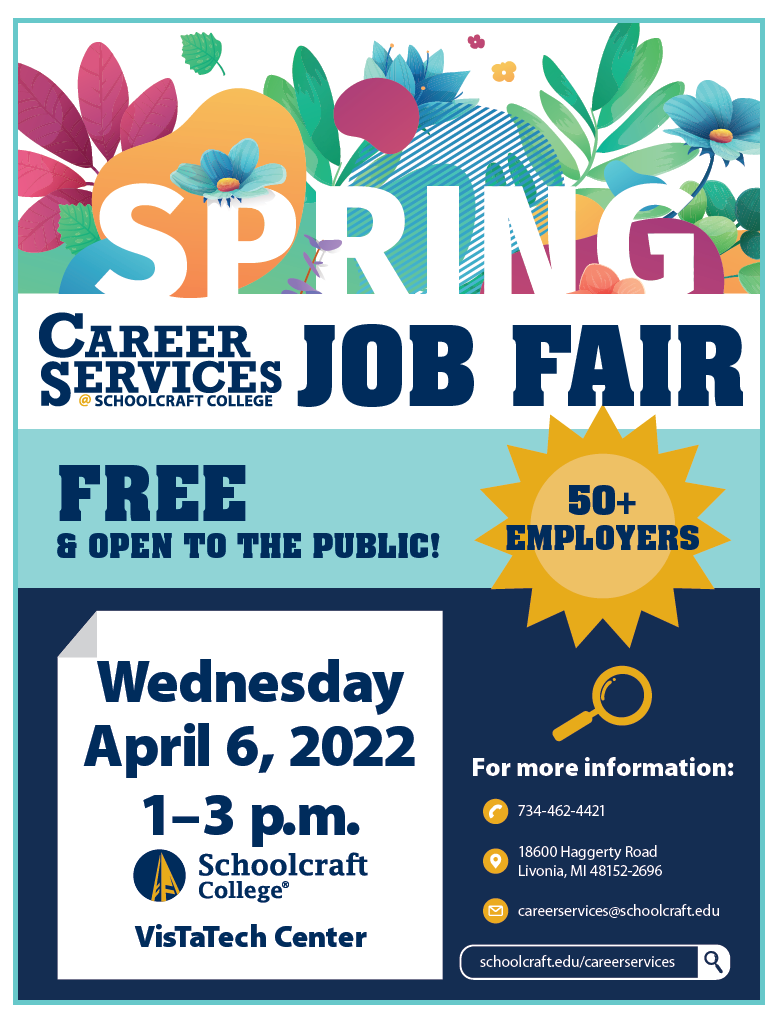 ---
In the News
Garden City approves purchase of Schoolcraft College facility for new community center
Hometownlife.com – February 28, 2022 (By Shelby Tankersley)
Garden City is buying Schoolcraft College's Radcliff Center with plans to turn the facility into a community building. Read More >
A special family tree – How Walt Kelser has continued the basketball family legacy
The Ferris State Torch – February 15, 2022 (By: Brandon Wirth)
For the Kelser family, basketball has been attached to the family name for many generations. As a transfer from Schoolcraft College, Walt Kelser's stellar play was sought after by many top-tier colleges. Read More >
---
Don't Miss Out – Get Social!
Find out the latest happenings at Schoolcraft College! We'll be sharing content that you don't want to miss. Follow us on LinkedIn, like us on Facebook and don't forget to check us out on YouTube – scroll to the bottom of this page for all our social links.
---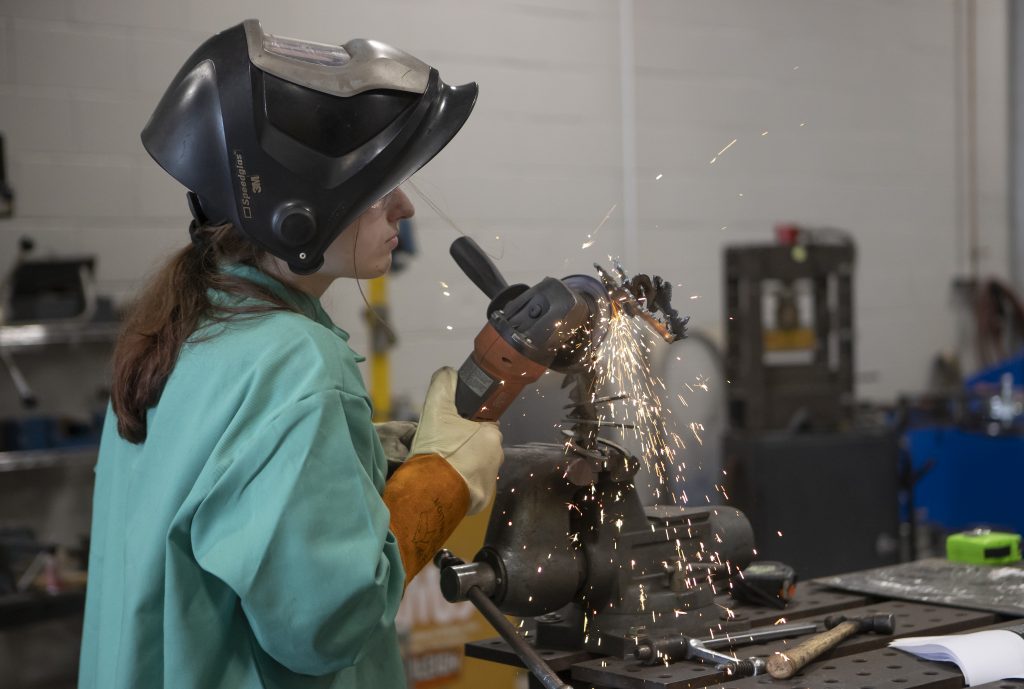 Show your support for Schoolcraft College students and programs today…
---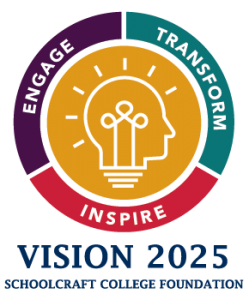 Vision 2025: The Fundraising Initiative
Vision 2025 is a five-year fundraising initiative that supports Schoolcraft College — its programs, students, and members of the southeast Michigan community. It is designed to provide the financial support needed for innovation beyond the limitations of current funding. Vision 2025 will impact the next 25 years of the 21st century by helping the college transform workforce education, which will engage, inspire, and transform students, the community, and economy.