eNews 24th Edition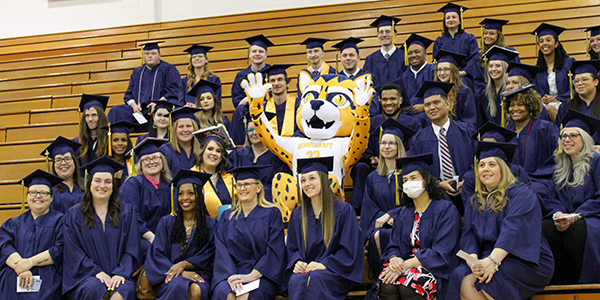 ---
In This Edition
---
SPRING into Action for Students Today!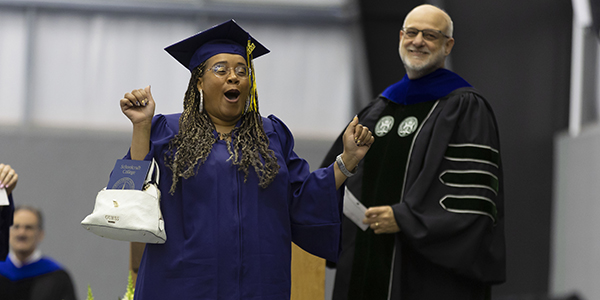 The Winter Semester has come to a close, and it has been another exciting and challenging academic year at Schoolcraft. Excited and joyful students walked across the Commencement stage. Many have entered into their spring/summer classes to get ahead for next fall.
Take a minute to look at this picture from Commencement. What a beautiful example of the feelings of accomplishment and pride when a student succeeds in completing their education. Many of these students would not have made it to that stage or their next class if it wasn't for your support of the Schoolcraft College Foundation.
Your annual gifts make these moments possible. Our collective support of Schoolcraft means every donation, no matter the size, impacts students' lives. Whether you are a dedicated, long-time donor or if you've never made a gift – we welcome you to join us and make your difference at Schoolcraft today!
---
Foundation Makes $1M Grant for Transformational Learning Space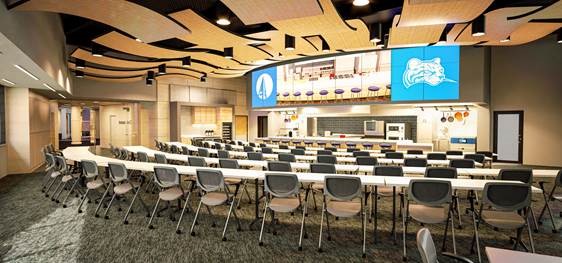 The Foundation has made a multi-year $1 million grant to support the expansion and renovation of the VisTaTech Center. The project provides experiential learning space for Schoolcraft's renowned Culinary Arts program and the addition of a high-tech demonstration space offering unique opportunities for academic, professional development, and community programs. The $6 million, 15,000 square-foot project includes the addition of 10,000 square feet and the renovation of 5,000. The Foundation is proud to be the first funder to step up and support this exciting, student-centric initiative.
This funding maximizes the impact of the Foundation, and President Glenn Cerny stated, "I believe it goes to the heart of the Schoolcraft Foundation's purpose. Donors will be able to see first-hand how their contributions truly impact creating high-end educational facilities that will enhance our mission of providing transformational experiences to our students, businesses, and the community-at-large."
Besides expanding the American Harvest Restaurant, additions include a culinary classroom and an innovative space that can serve as a demonstration kitchen, multipurpose lab, and high-tech educational theater. Renovations will offer a more welcoming space for students and community guests, including an expanded Café retail space and Brewpub.
"This investment is an opportunity to support the forward-thinking vision for students and the community served by Schoolcraft College," shared Lois McEntyre, President, Schoolcraft Foundation Board of Governors. "This is the largest single grant commitment made through our Vision 2025 Campaign and a way for the College to leverage this support for future investments."
Construction starts this summer with a completion date of fall 2023. For details, contact the Foundation at 734.462.4455.

---
Commencement Speaker Shares Message of Diversity, Equity, Inclusion & Belonging
This year's Schoolcraft College Commencement was an opportunity to celebrate the graduating Class of 2022 with families and friends. Over 1,000 grads and guests attended the Commencement ceremony at the Mercy Elite Sports Center on Schoolcraft's Livonia Campus.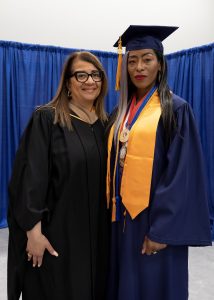 Chosen to speak on behalf of the student body, Catreese Qualls, National Phi Theta Kappa Vice President and Foundation Scholarship recipient shared her personal story about her non-traditional path to academic achievement. She encouraged her classmates to always remember diversity and inclusion in their daily lives, encouraging her classmates to strive for success.
"Starting Community College, getting involved in every extra curricular activities, finding a community of individuals who believed in me and saw what I couldn't see in myself transformed my life." ~ Catreese Qualls
Marina Shoemaker, Director, DEI External Partnerships at General Motors, addressed Schoolcraft's Class of 2022. Her remarks included the fact that these students persevered through significant historic events that have unfolded in just the last two years.
Ms. Shoemaker stated, "You've experienced: a stock market crash, a recession, a global pandemic, social and civil unrest, the great resignation from the workforce–especially women and ethnic minorities, the historic appointments of not one, but two women of color to the highest levels of government, and now, a cold war." She noted that she asked herself, "What could I share with you that's connected to these historic events, and might be useful for you as you navigate your next chapters?"
With that reflection in mind, Ms. Shoemaker went on to talk about her perspectives on diversity, equity, inclusion and belonging stating that they are very much tied to these historic events. She challenged this year's class to understand why these concepts are connected and the significant influence they will have on their future success.
At the end of her remarks, Ms. Shoemaker left the graduating class with this closing thought,
"When someone asks you (and they will) what does diversity, equity, and inclusion, and belonging have to do with me? I hope you remember . . . and respond by saying EVERYTHING and give amazing examples from your personal experiences." ~Marina Shoemaker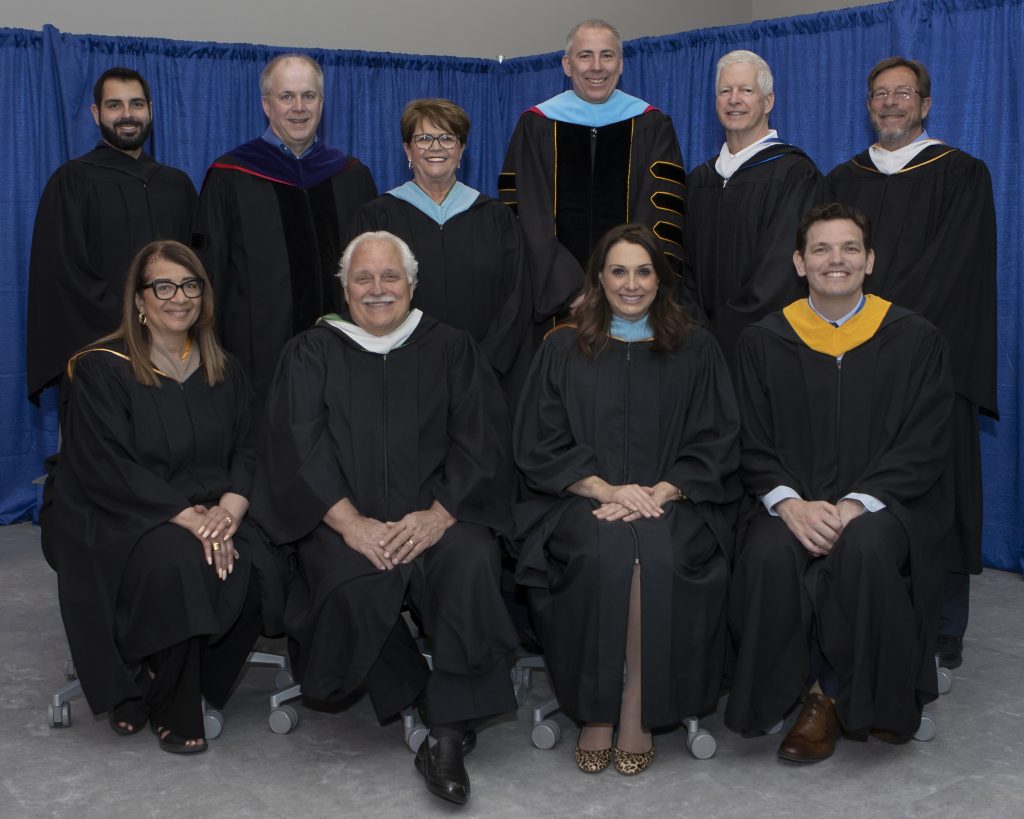 Top Row: Brett M. Gierak, Brian D. Broderick, Joan A. Gebhardt, Glenn R. Cerny, Ed.D., Terry Gilligan & William P. Erwin.
Bottom Row: Marina Shoemaker, Charles Dardas, Dayna Polehanki, & Michael Siegrist
President Glenn Cerny presented Ms. Shoemaker and AlphaUSA President Chuck Dardas with Honorary Degrees for their support of Schoolcraft College and education throughout the community. Also recognized were Senator Dayna Polehanki, Honorary Degree, and Michael Siegrist, Distinguished Alumni Recognition.
---
$106,000 Awarded in Spring Forward Scholarships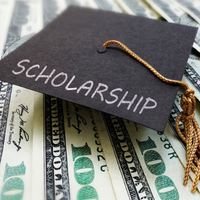 The Foundation offered students an extra financial boost for the Spring/Summer Semester with the help of our generous donors. $106,000 in scholarships were awarded on a first-come, first-served basis to 617 students. Students who completed an application received $100 if they enrolled in 3 to 5 credit hours and $200 for six or more credits.
"We are excited to give students additional support," said Melissa Schultz, Chief Student Enrollment Officer, Enrollment Services at Schoolcraft. "We realize times are tough and recognize that even $100 or $200 impacts a student's decision to continue their education during the Spring/Summer term."
Hundreds of scholarships are available through the Foundation to make Schoolcraft even more affordable. For information on how to apply for financial aid and private scholarships, visit: https://www.schoolcraft.edu/aid/types-of-aid/scholarships
---
Girls Who Code Comes to Campus
MASCO and the Foundation have joined forces to offer "Girls Who Code" at Schoolcraft. Girls Who Code, or GWC, is a worldwide initiative to empower girls to explore and excel in computer science. Elementary, middle, and high school students engage with prominent female leaders in the technology industry. The students work together to generate and deliver a community-centered project.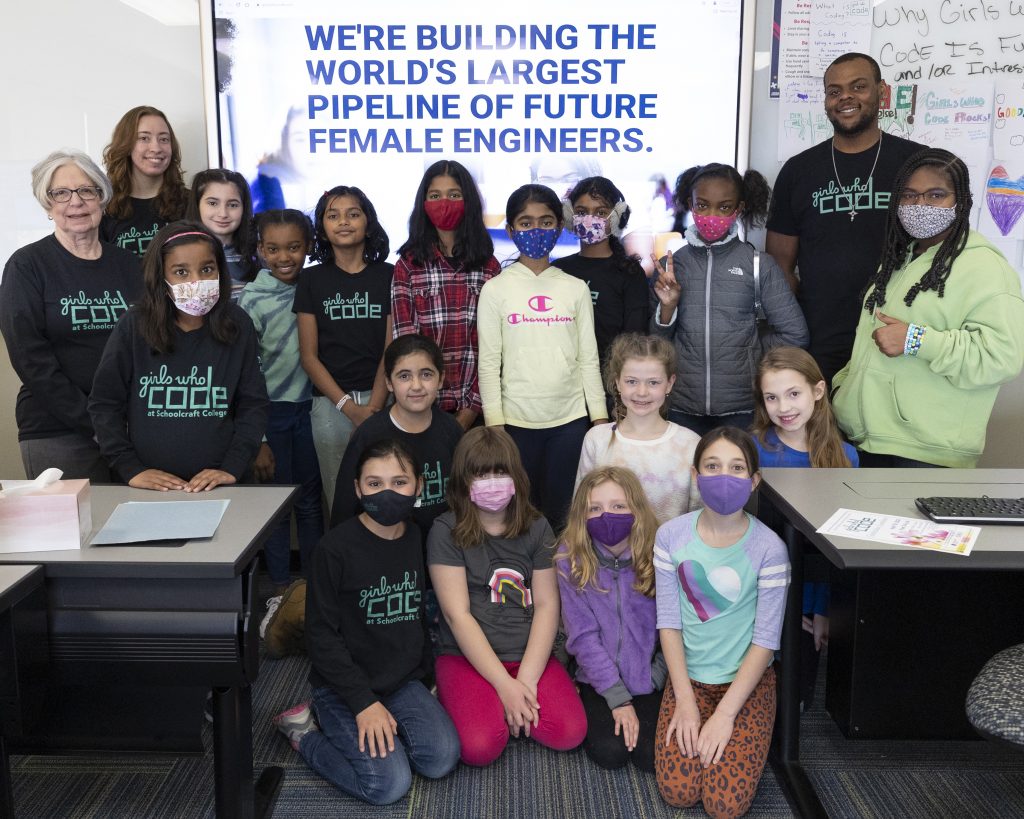 GWC at Schoolcraft:
CLUBS: Grades 3-5 and 6-12
These 12-week sessions meet once each week (on Saturday) for 1 to 2 hours throughout the academic year. An adult GWC facilitator conducts sessions.
COLLEGE LOOPS: Focus on enrolled college-age students and encourages these women to support each other in pursuing their career in technology.
Both the Fall and Winter semesters had 65 students and five facilitators, with a banquet at the end of the semester. Students received a certificate and some even presented their projects.
The amazing part of GWC is it's a web-based curriculum which allows girls to review materials at their own pace and jump in at any stage during the 12-week session. Don't be put off by the program title; everyone is welcome to join and learn!
Contact Melissa Schultz, Chief Student Enrollment Officer, at (734) 462-4534 or mschultz@schoolcraft.edu.
---
Apply for Fall 2022-Winter 2023 Scholarships Now
Schoolcraft College has migrated to a new platform called ScholarshipUniverse to manage scholarships campus-wide. A variety of features like a personalized dashboard provides a more intuitive and centralized experience for students searching for financial assistance.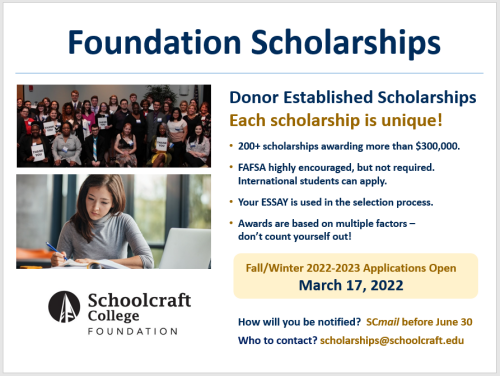 The Foundation has worked with individuals, alumni, faculty, and local business to create scholarships as unique as our student body. With 200+ scholarships awarding more than $300,000, we urge all students to…
"The Foundation's scholarships can ease financial pressure and allow students to focus on their academic goals," said Carole Booms, Director of Annual Giving and Scholarship Administration.
If you know a student looking for scholarships, send them to www.schoolcraft.edu/scholarships.
To establish a new scholarship through the Schoolcraft College Foundation, visit SCHOLARSHIPS to learn more.
To support student scholarships with a gift, make a difference here.
---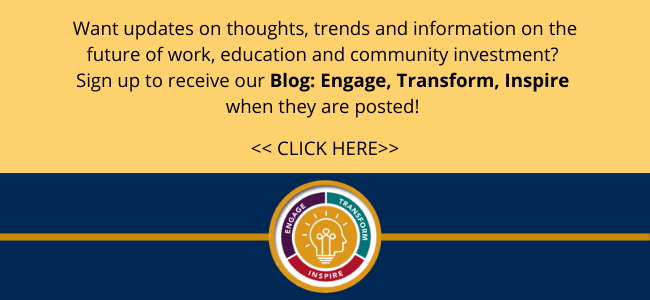 ---
National Speakers Headline FREE Webinar Series
As an extended member of the Schoolcraft family, the SC Foundation and Alumni Office invite you to keep learning! Visit our Free Upcoming Webinars page to see all events, register and explore recordings of past events. Don't miss out on these engaging topics:
---
In the News
NACUFS Names 2022 Awards Finalists
Foodservice Equipment & Supplies – May 16, 2022
The National Association of College & University Food Services named the gold, silver and bronze winners of its 2022 Loyal E. Horton Dining, Nutrition, and Sustainability Awards. Schoolcraft College made the list! Read More >
Metro Detroit chef, Schoolcraft College grad has new book to help with your party planning
Detroit Free Press – May 3, 2022 (By: Susan Selasky)
Chef, caterer, instructor, and alumni, Kelli Lewton, has just the ticket to help with your party planning needs in a new book. Read More >
---
See the Foundation in Action on Social Media
Find out the latest happenings at Schoolcraft College! We'll be sharing content that you don't want to miss. Follow us on LinkedIn, like us on Facebook and don't forget to check us out on YouTube – scroll to the bottom of this page for all our social links.
---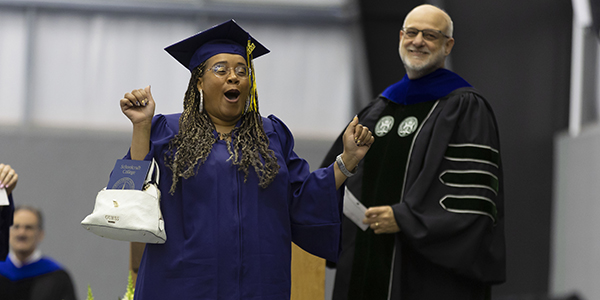 Show your support for Schoolcraft College students and programs today…
---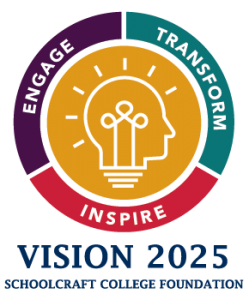 Vision 2025: The Fundraising Initiative
Vision 2025 is a five-year fundraising initiative that supports Schoolcraft College — its programs, students, and members of the southeast Michigan community. It is designed to provide the financial support needed for innovation beyond the limitations of current funding. Vision 2025 will impact the next 25 years of the 21st century by helping the college transform workforce education, which will engage, inspire, and transform students, the community, and economy.