Community Colleges Still Need Philanthropic Support With New State Programs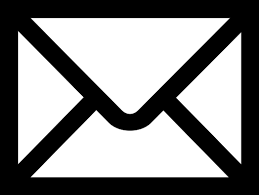 By Dawn Dyer Magretta, CFRE, Executive Director; Schoolcraft College Foundation
foundation@schoolcraft.edu
Many community college donors are wondering what happens to scholarships when state funded programs like Michigan Achievement Scholarship and MI Reconnect offer 'free community college.' The short answer is that even with these opportunities, there remains a gap and therefore a need for student scholarships and student support.
These programs are excellent opportunities that assist in education attainment.  But they are not available to some students seeking an education and don't cover all the expenses necessary to earn a degree.  Because these opportunities require the completion of the FAFSA (Free Application for Federal Student Aid), there are populations of students that can't even apply.  These include international students and students whose parents don't want to complete the FAFSA process. 
Michigan Reconnect is a $30-Million program offering free tuition and fees for residents ages 25 and older. As noted in Bridge Michigan, for one in five residents who otherwise meet the program criteria, access to community college still won't be free. For example, one caveat of Michigan Reconnect is that residents can only attend the campus within their community college district, the geographic region that pays property tax toward one of the state's 28 community colleges. If a student attends an out-of-district college for a particular program that isn't offered at their local community college, there is a gap between in-district and out-of-district tuition (see sample below). That, coupled with books, educational supplies, transportation, and costs to attend classes like childcare, can be the deciding factor to go to school or not.
……

……

……
Programs like Michigan Achievement Scholarship and Michigan Reconnect are important and badly needed! At Schoolcraft College, for example, Michigan Reconnect alone helped over 1,700 students that were awarded and attended 6+ credits, helping them achieve their educational goals. Data is still being collected state-wide, but since the launch of Michigan Reconnect, approximately 18,000 participants [1] have returned to school to finish their degree or enrolled for the first time. Over 500 have already graduated with an associate degree!
Alternative funding sources are crucial to helping close the gaps for students who don't meet the criteria for state and federal programs, have to pay out-of-district tuition or are taking a program, like nursing, that requires costs over and above tuition. Many students who don't qualify are just above the minimum income required to qualify for federal financial aid and may not meet the criteria for special programs like Michigan Reconnect or Michigan Achievement Scholarship. Oftentimes, community college students are working full-time and therefore don't want a course-load of 6+ credit hours. Another group of students are in non-financial aid eligible programs like phlebotomy, pharmacy techs, EKG techs, and more. Scholarships still remain an important resource to students.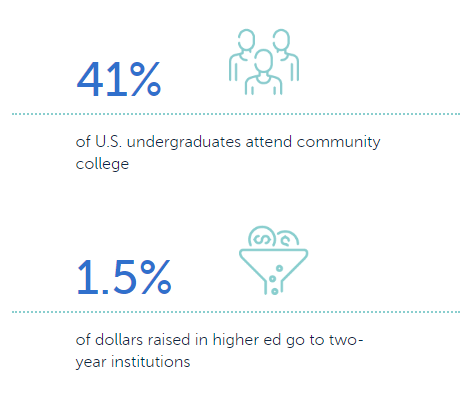 According to the Education Advisory Board (EAB) [2], 41% of U.S. undergraduates attend community college. Yet, only 1.5% of philanthropy designated to higher education is given to community colleges (see image left). Community colleges have realized the impact that philanthropic dollars can have on programs, new initiatives and many more areas to drive student success and be an important resource to the communities they serve.
Community college students are often non-traditional students, many are working, raising a family, and are in need of additional resources. The generosity of donors helps make that happen. From scholarships to special support programs, philanthropy is the catalyst that gives these students the opportunity to complete their educational goals, obtain sustainable careers, and provide for a better future.
To effectively educate and train the next generation, it is important to provide critical programs like Michigan Reconnect and the Michigan Achievement Scholarships. It is equally important to invest in community colleges directly. These investments are essential for these community-based institutions to provide students the necessary educational tools needed for a pathway to sustainable careers. Community Colleges are often the backbone of a community and an economic driver of educating the current and future workforce.
Sources:
[1] State of Michigan, Labor & Economic Opportunity (August 2022), Whitmer Announces Michigan Reconnect Milestone: Over 100,000 Applicants Accepted into Program, https://www.michigan.gov/leo/news/2022/08/03/whitmer-announces-michigan-reconnect-milestone#:~:text=Since%20its%20launch%20in%20February,associate%20degree%20or%20skills%20certificate
[2] Education Advisory Board (EAB – August 2021), How community colleges attract major gifts,
https://eab.com/insights/daily-briefing/advancement/how-community-colleges-are-attracting-major-gifts/