eNews 28th Edition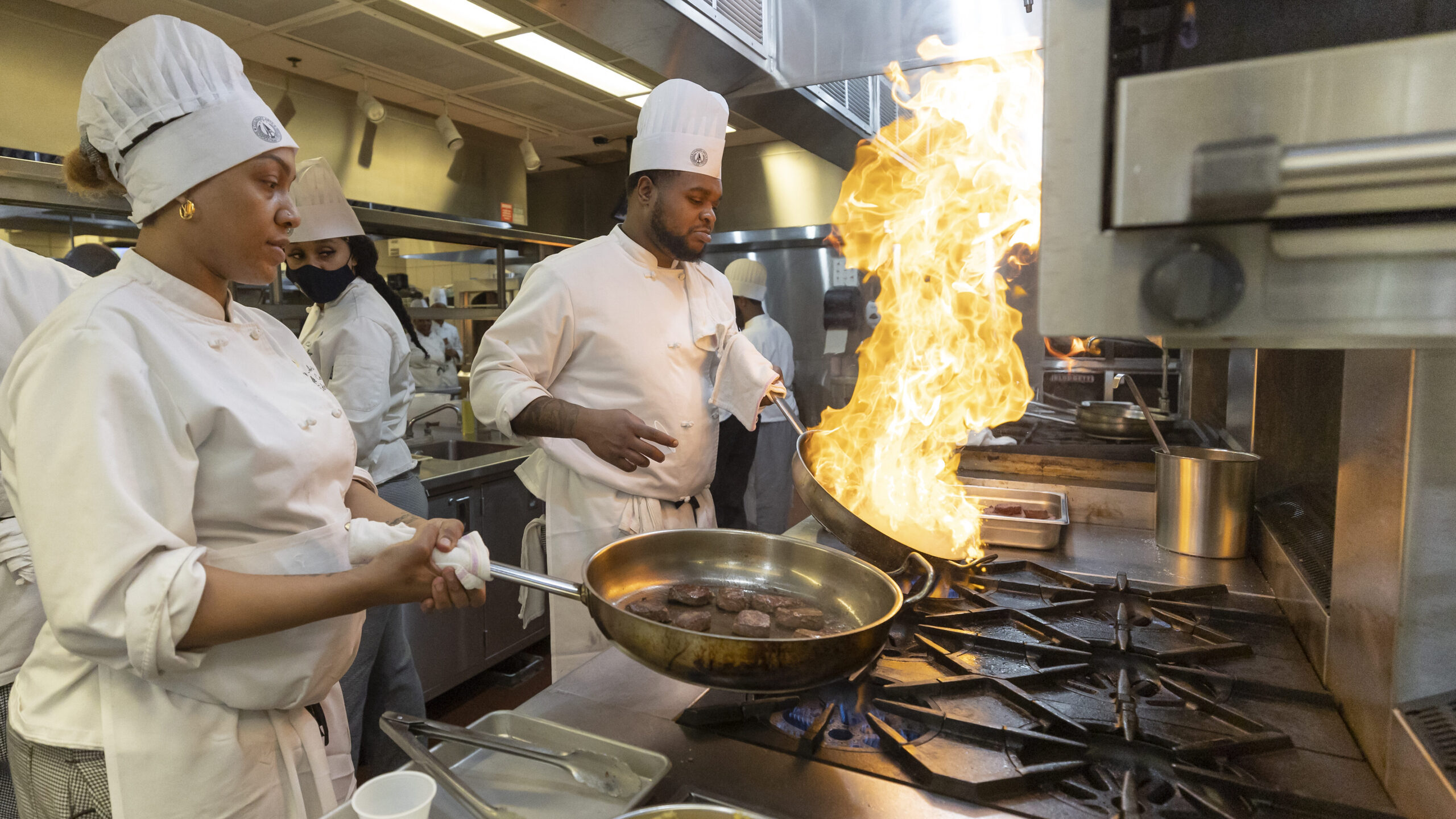 ---
In This Edition
---
Remembering Dr. Conway Jeffress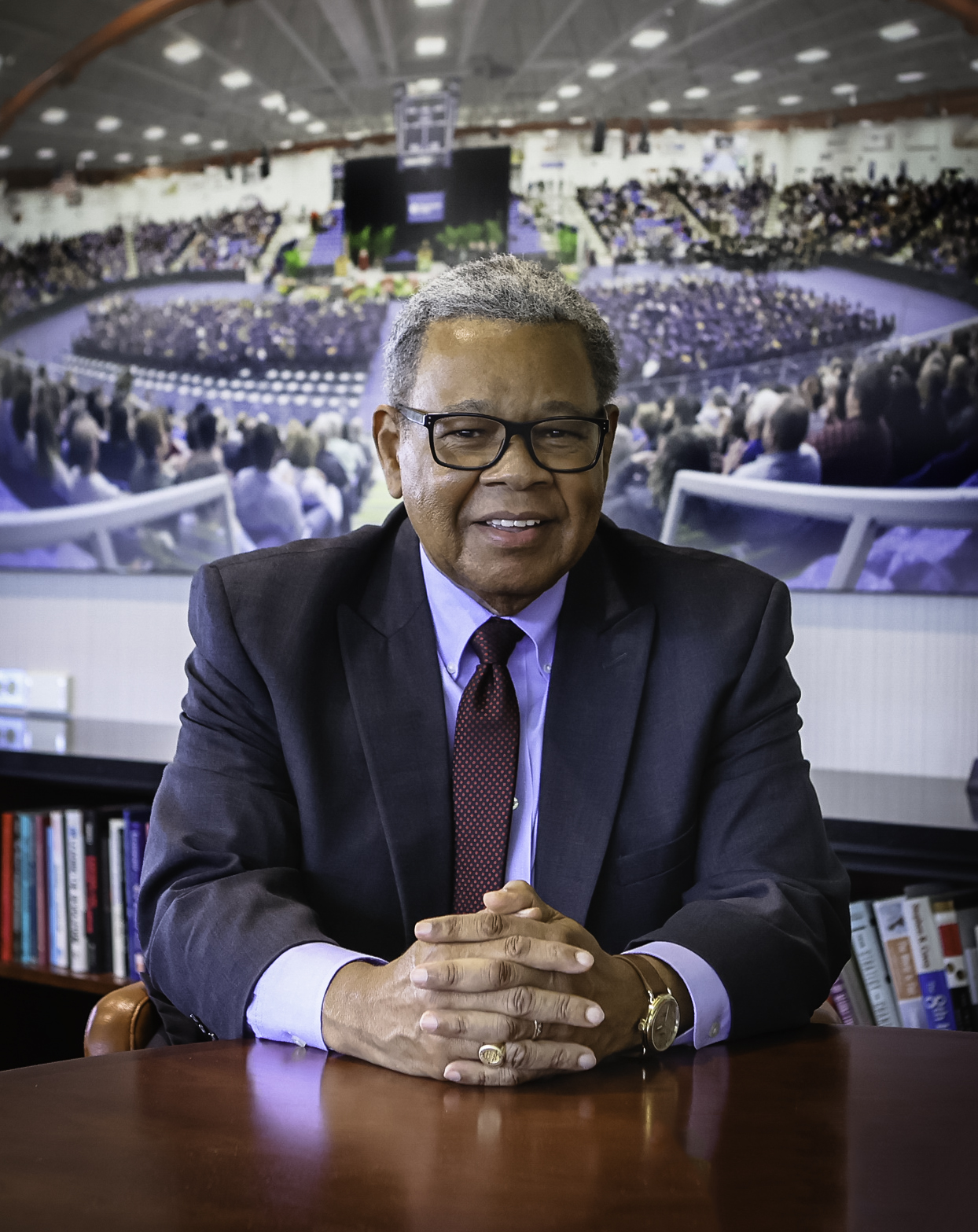 We are saddened to relay news of the sudden passing of Dr. Conway A. Jeffress, former Schoolcraft College President, on February 13, 2023.
Dr. Jeffress was the president of Schoolcraft College from 2001 until 2020. He served on a number of professional and civic organizations including the Michigan Community College Association, Garden City Hospital Board of Trustees, Rotary Club of Livonia Board of Directors, Walsh College Advisory Board, Galileo Leadership Consortium Board, Lincoln Leadership Series Committee and was one of five persons representing Michigan as a commissioner for the Midwestern Higher Education Compact.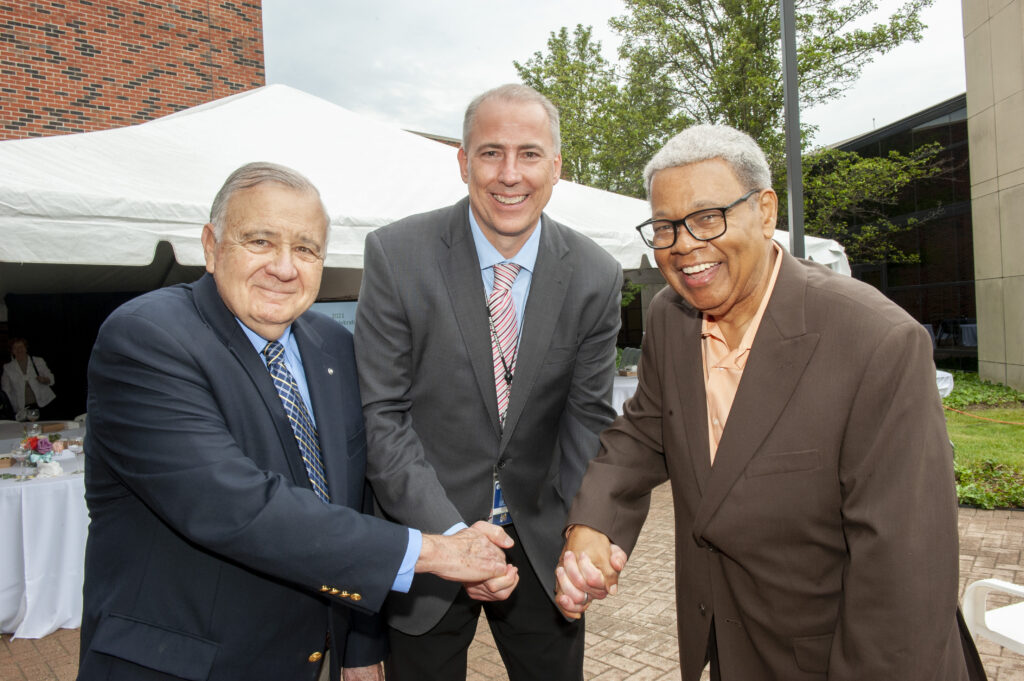 Before he became president, he served 14 years as vice president for instruction and another six years as vice president for instruction and student services. He came to Schoolcraft in January of 1982 from the Community College of Allegheny College in Pittsburgh, PA, where he was vice president of strategic planning. He earned his master's and doctoral degrees from the University of Pittsburgh and his bachelor's degree from Washington and Jefferson College.

Under his leadership, the College expanded facilities for students, including the construction of the Vistatech Center in September 2003, the Bradner Library rebuild in 2005, the Biomedical Technology Center in 2008, and the Public Safety Training Complex in 2013. Dr. Jeffress also fostered partnerships with businesses including the development of College-owned land which continues to be a key revenue source for the College.

Dr. Jeffress will always be remembered for his warm smile and keen sense of humor.
---
Thanks for Making CulEx a Success!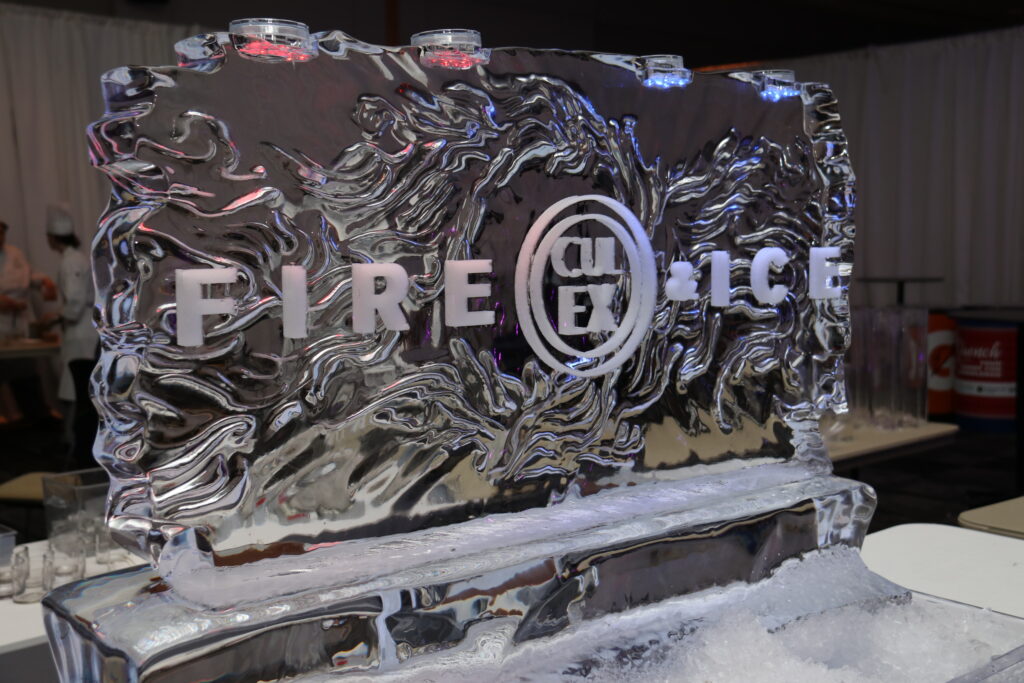 The Icy winter storm the day before didn't stop Schoolcraft supporters from attending the February 23rd Culinary Extravaganza (CulEx). Schoolcraft's Signature fundraising event was SOLD-OUT and more than $90,000 (net) was raised for the important programs and student scholarships. This is more than $25,000 over last year!
More than 250 guests strolled the Schoolcraft kitchens and experienced the fabulous culinary delicacies prepared and served by Schoolcraft Culinary students and chefs. The Schoolcraft Brewing and Distillation Program also opened the Brewery so guests could sample the award-winning beers.
Part of the DiPonio Room was transformed into a cool 'Fire & Ice' lounge with music and appetizers. Another highlight of the evening was the auction of American Harvest "buy-outs" for the 2023-2024 International Dinners.
Thank you to Chef Marc Djozlia, owner of Wright & Co., who chaired the event, the CulEx committee of volunteers, and everyone who helped make the night a success!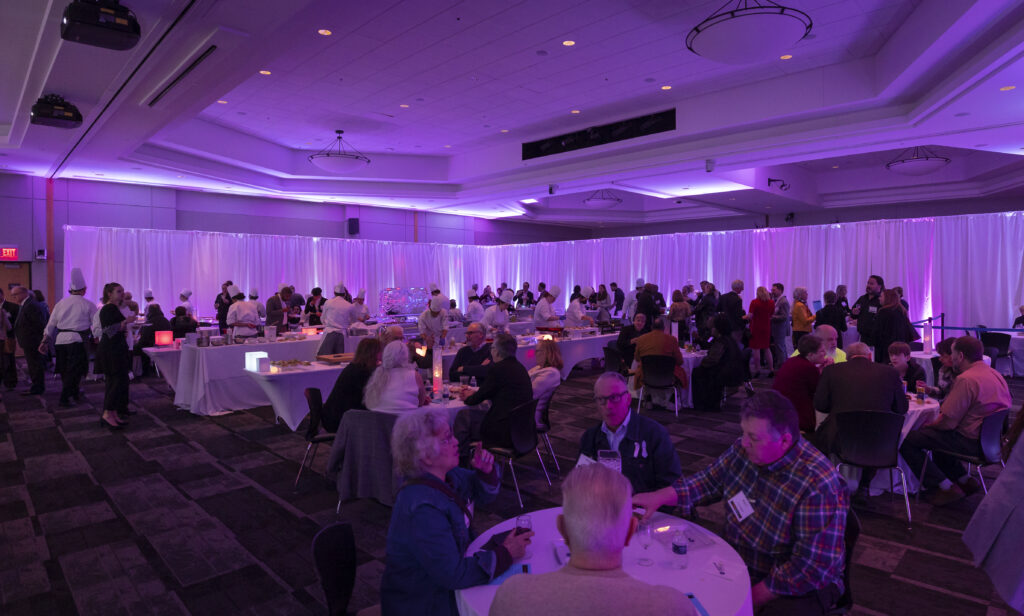 ---
Support students this Spring!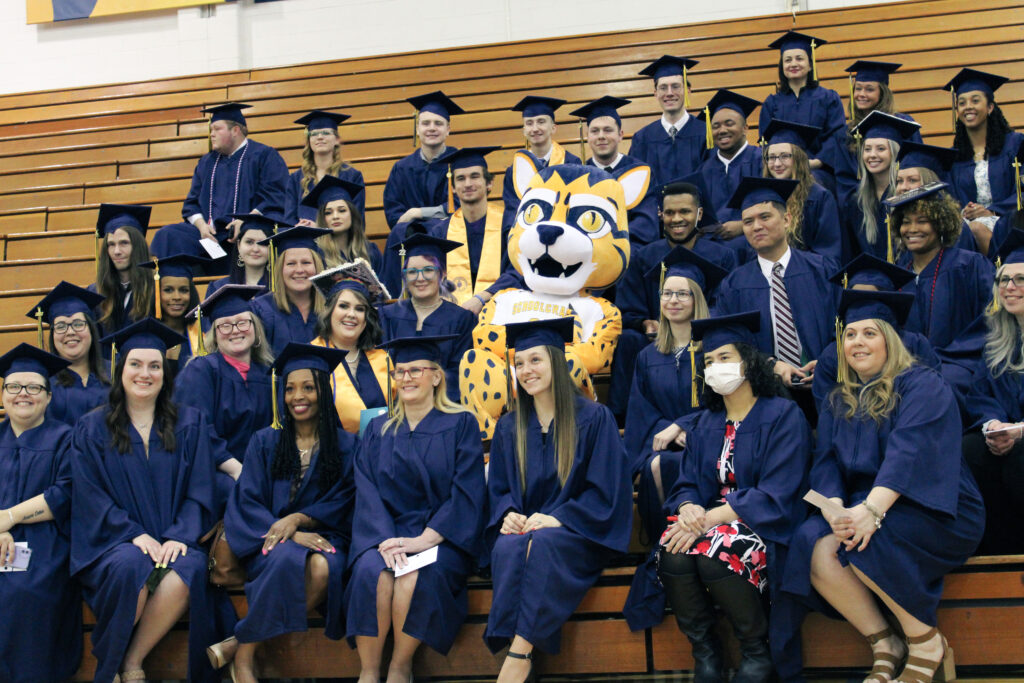 It's that time again for our annual Spring Appeal. This time around we look at the role philanthropy has in a day with large amounts of aid going to students, and how the entire community can still make a difference in the lives of these students.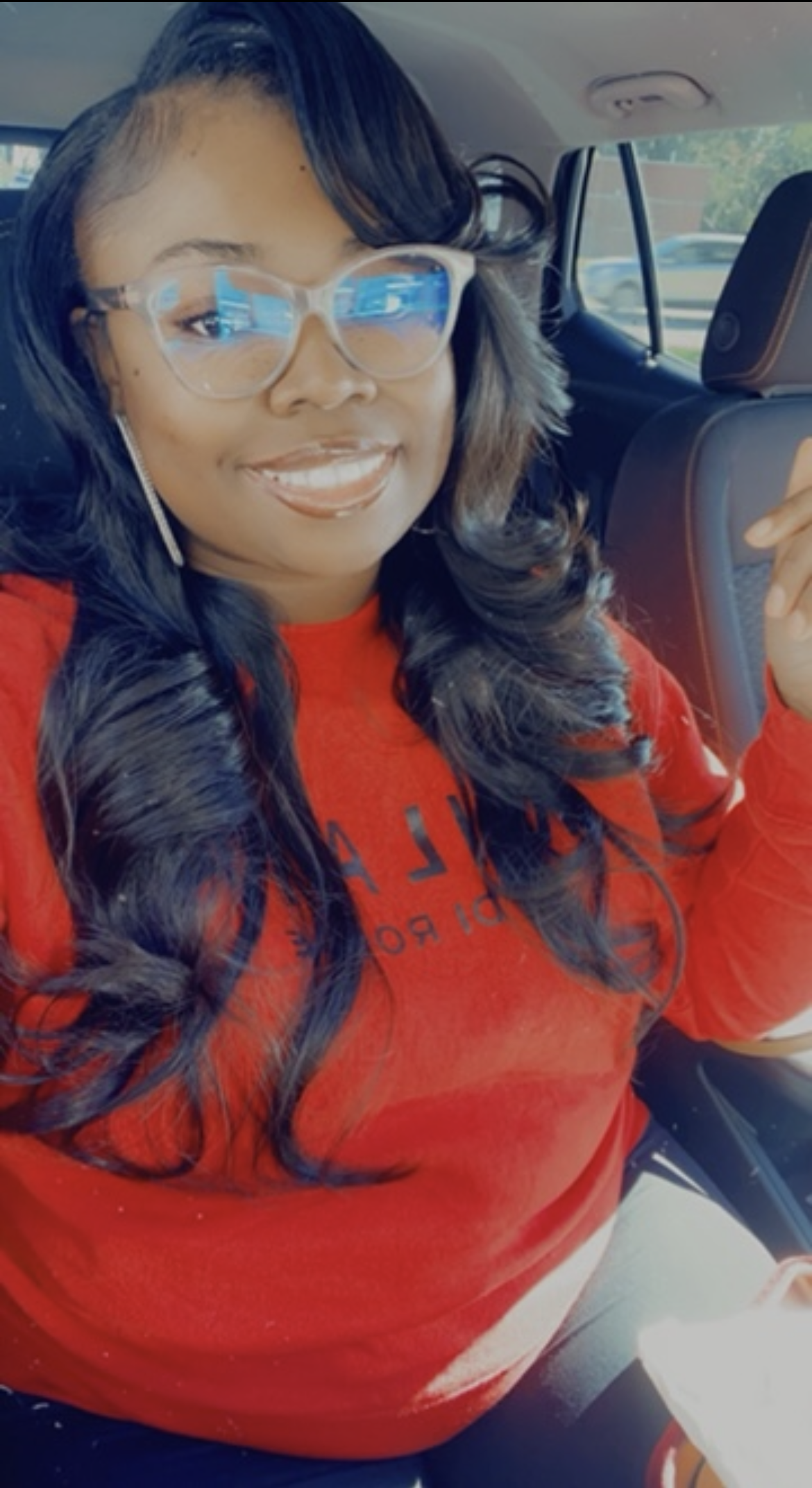 Students like Conyana Robinson, who is enrolled in the nursing program, has been paying for school completely out of pocket. Finding it difficult to balance school and work, Conyana had to cut back on work hours in order to stay on top of all of her schoolwork. Scholarships like the SC Boost scholarship are in place to help take care of those things that aren't covered like books and equipment.
A small gift, goes a long way! Programs like Michigan Reconnect are great in their efforts to support students. Even with programs like these, there is still gaps where more aid can be applied. That's where YOU come in! Giving even small amounts go a long way with programs like the SC Boost Scholarship that fills in the gaps left behind by other programs.

Your gift today, can help a student tomorrow!
---
Schoolcraft's online application now open for Fall 2023!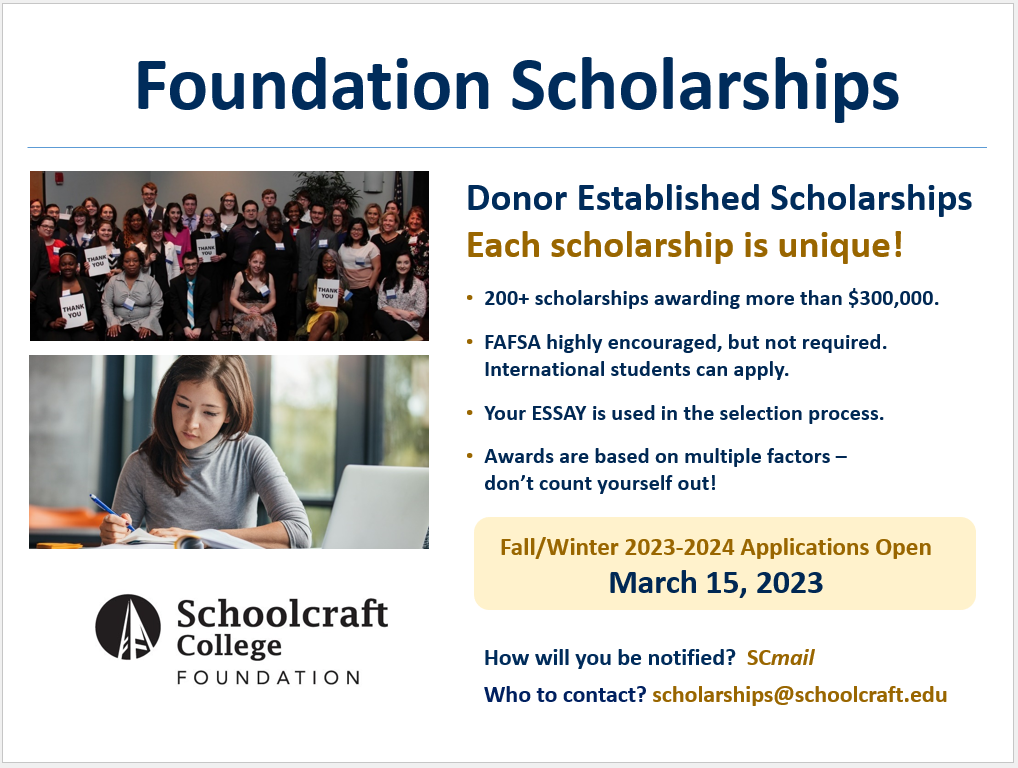 Schoolcraft College manages student scholarship awarding using the online ScholarshipUniverse platform. This new system makes it easier for students with features like a personalized dashboard which provides an intuitive and centralized experience for students searching for financial assistance.
The Foundation has worked with individuals, alumni, faculty, and local business to create scholarships as unique as our student body. With 200+ scholarships awarding more than $300,000, we urge all students to… Apply NOW!
"I have spoken with students that have told me they have had to decide between paying their tuition or buying healthy food for their children in order to make their rent payment. Foundation scholarships are making all the difference to some of our students," said Jen Mackinder, Development Operations and Scholarship Specialist.
This year the Foundation is rolling out scholarships in several different rounds to accommodate students applying throughout the Spring/Summer for this Fall. We also have some scholarships dedicated fully to winter. In other words, students should watch their weekly emails and log into the system throughout the year to see available scholarships.
The more questions that are answered in the system, the more potential the student will match to scholarships so they can apply. Scholarships are competitive and are awarded based on criteria and availability of funds. Eligibility for a scholarship does not guarantee an award.
If you know a student looking for scholarships, send them to www.schoolcraft.edu/scholarships.
To establish a new scholarship through the Schoolcraft College Foundation, visit SCHOLARSHIPS to learn more.
To support student scholarships with a gift, make a difference here
For information on scholarships or to create a scholarship, please contact Jen Mackinder at 734.462.4455 or jmackind@schoolcraft.edu
---
Schoolcraft Foundation in Arizona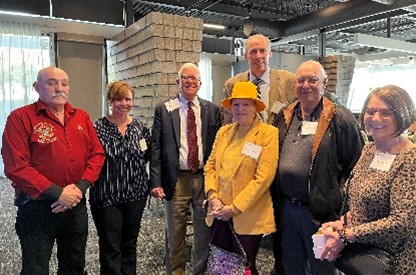 As part of Vision 2025, the Foundation hosted a small group of donors for dinner on March 2 at Hotel Valley Ho's Rosie Room which was a great way for current College donors to connect with President Cerny. The dinner and wine tasting were sponsored by Fran and David Grossman.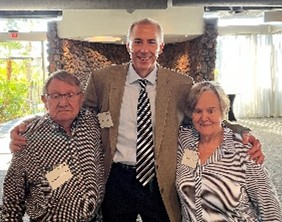 On Friday, March 3, the Foundation hosted a Presidential Reception for 30 donors, friends, alumni, and retirees in The Sands Room at the legendary Hotel Valley Ho. President Cerny spoke about college accomplishments, educational/student trends, and what is coming up in Schoolcraft's future. It was a great way to reconnect with donors, alumni, and retirees in Arizona!

---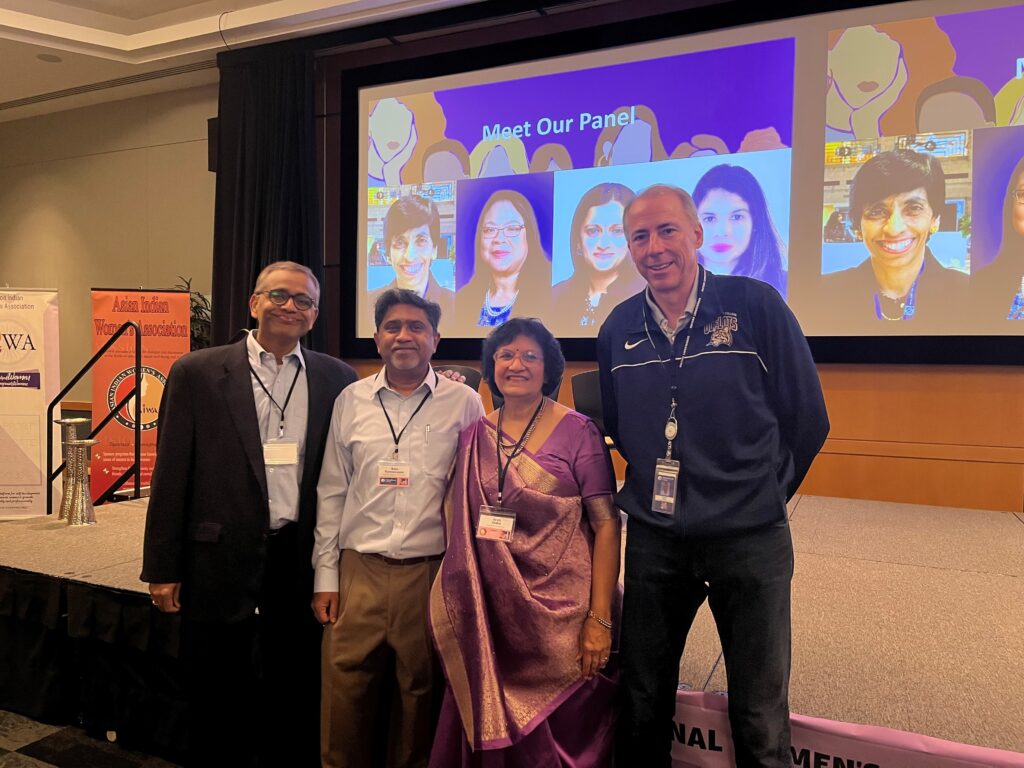 Asian Women's Association's Women's Day Conference
The Foundation sponsored the Asian Women's Association's Women's Day Conference on Saturday, March 11 at Vistatech Center. Organized by several Asian organizations, the Conference attracted more than 250 guests for an inspirational day celebrating women, their leadership and accomplishments, and the Asian Pacific culture. As sponsors, Schoolcraft Foundation had two tables of students, faculty and staff that participated.
---
Automotive Women's Alliance Foundation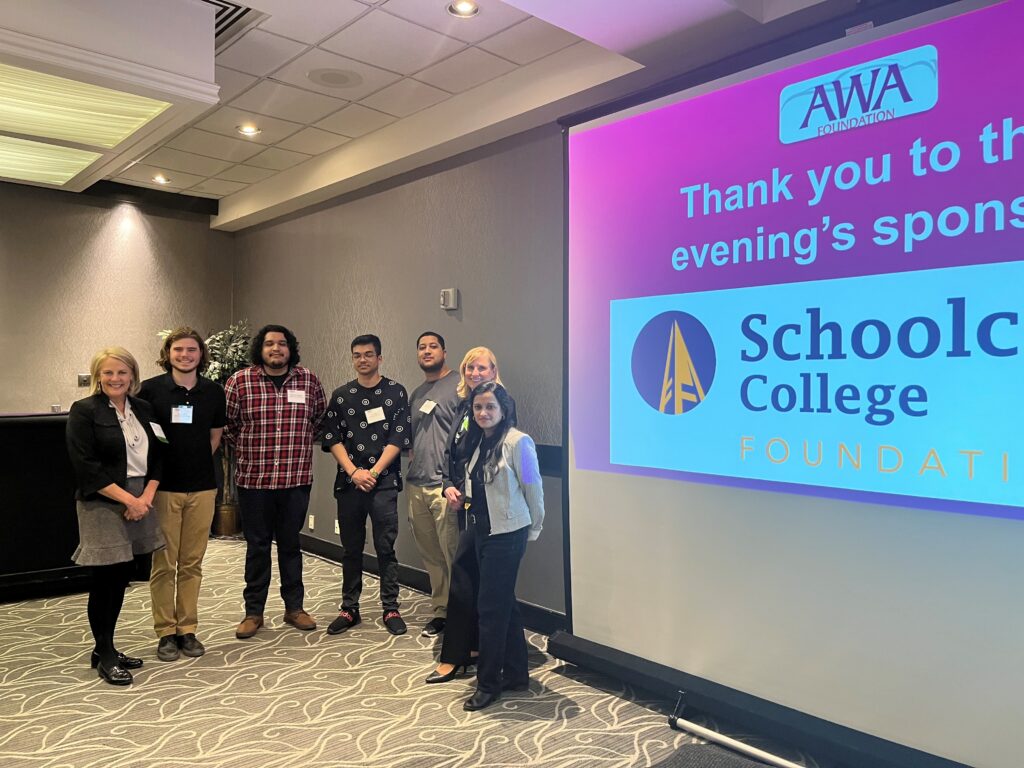 On March 16th, the Foundation sponsored the Automotive Women's Alliance Foundation's "A Conversation with Tarshena Armstrong, Director of Diversity Marketing and Development, and Jennifer Widrick, Director of Global Color Material and Finish at Design, General Motors." Opening Remarks by Chief Academic Officer Stacy Whiddon focused on Schoolcraft's educational offerings in the mobility sector and what the College is working on for the future in this space. Five Schoolcraft students attended to learn a little more about the future of the automotive industry and the role that women play in the sector.
---
"Women in Philanthropy" panel discussion
On Friday, March 24th, WJR's Marie Osborne moderated a "Women in Philanthropy" panel discussion featuring: Marina Shoemaker,  SC Foundation Board Member, Co-Chair Vision 2025 Campaign, & Director of DEI External Partnerships, General Motors; Robin Whitfield, SC Foundation Board Member & Financial Advisor, Edward Jones Investments; Beth Meade, President/CEO, Local Impact Alliance & Canton Community Foundation; Ruselda Villanueva Johnson, CEO, Rhonda Walker Foundation. 
The panel focused on the role women play in decision making regarding personal giving, what drives women to give, and the power of giving back to the greater community. The discussion also included the importance of women giving not only treasure, but time and talent.
The video of this important panel discussion can be found here:
---
Alumni Day for Baseball and Softball
Women's Softball Alumni Day: Saturday, April 29, 2023, versus St. Clair County Community College in a doubleheader with game times at 1 & 3 PM, played at Mission Field on the Ward Church property across from campus on Haggerty.
Men's Baseball Alumni Day: Friday, May 5, 2023, versus Henry Ford Community College in a doubleheader with gametimes at 1 & 4 PM, played at the Corner Park in Downtown Detroit on the site of the old Tiger Stadium.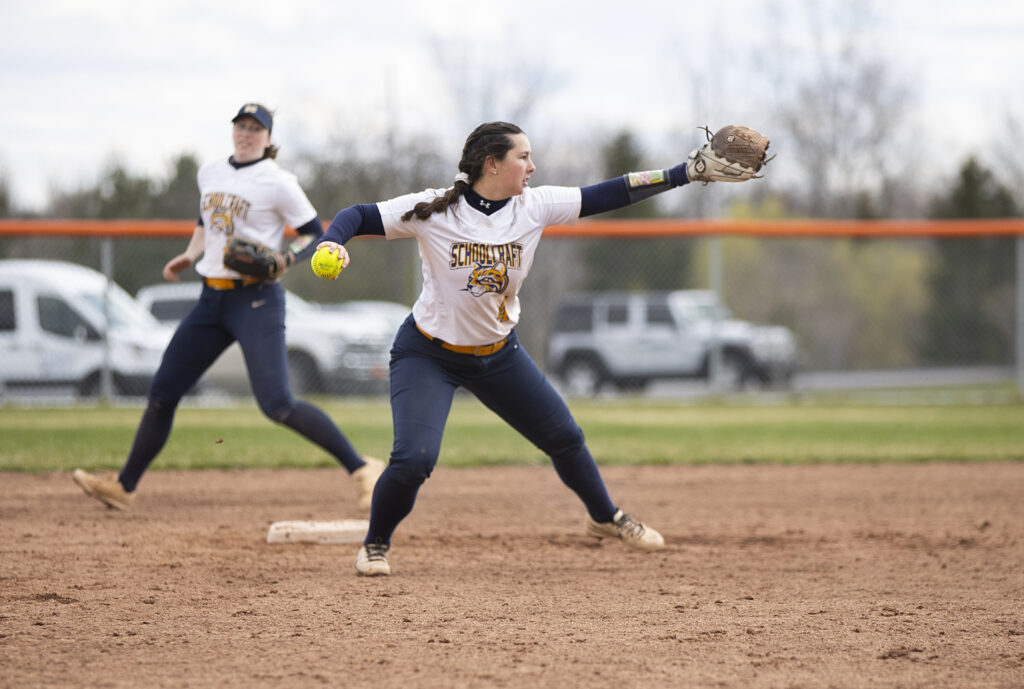 ---
Join us at the 2023 Job Fair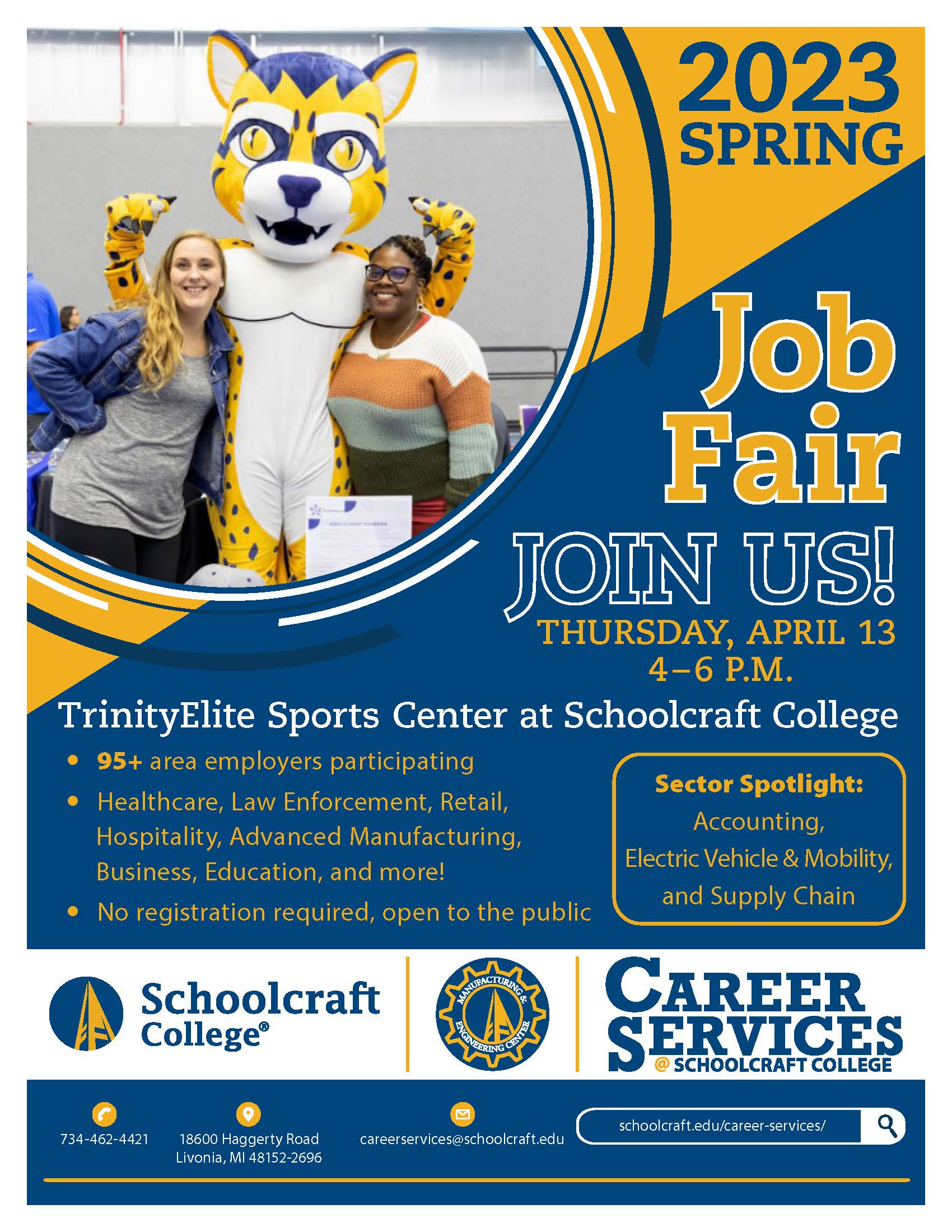 ---
Michigan Reconnect Information Night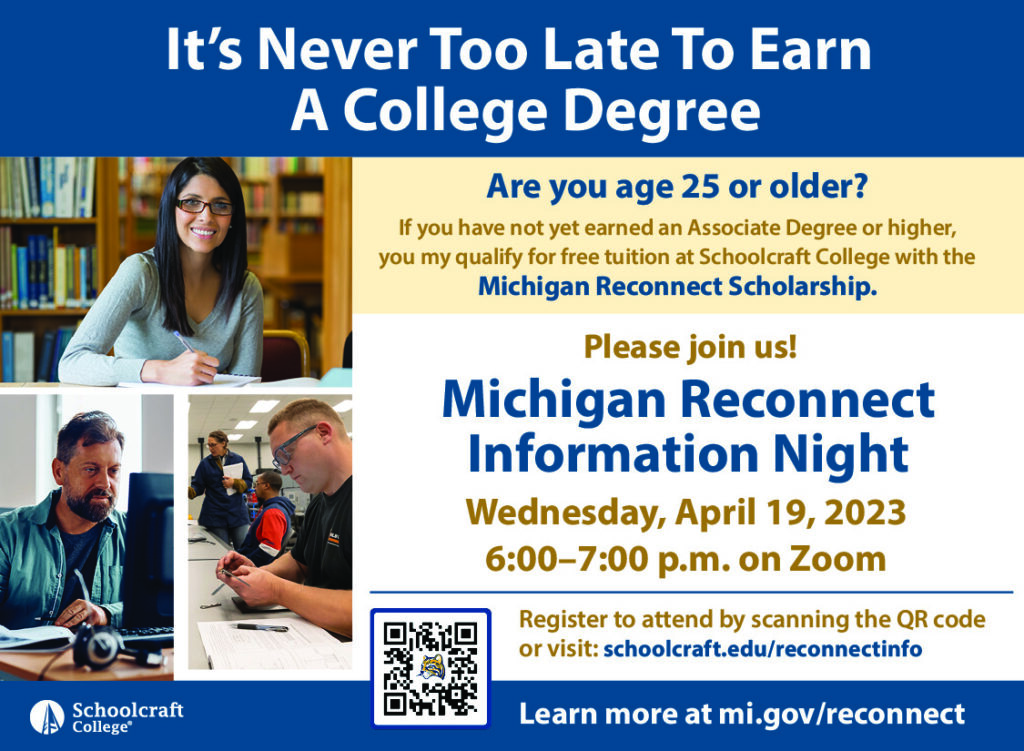 ---
National Speakers Headline FREE Webinar Series
As an extended member of the Schoolcraft family, the SC Foundation and Alumni Office invite you to keep learning! Visit our Free Upcoming Webinars page to see all events, register and explore recordings of past events. Don't miss out on these engaging topics:
---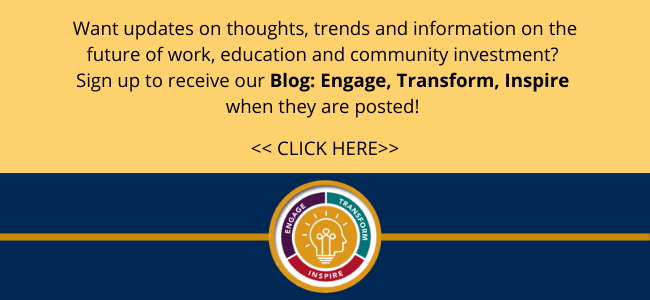 ---
In the News
Three students receive Woodwork Institute scholarships.
Woodworking Network – March 18th, 2023
… pathologist for Detroit Public Schools for the past four years. … Mich,, while also completing coursework at Schoolcraft College.
Read More >
Longtime brewer plans microbrewery, tasting room in Livonia
hometownlife.com – February 20th, 2023
He's also consulted for other breweries and has taught brewing classes at Schoolcraft College. The tasting room will be small, with a bar of about …
Read More >
No money for college? No problem. Michigan training programs offer alternatives.
Detroit Free Press – March 18th, 2023
Blair also went on to obtain an associate degree in computer programming from Schoolcraft College in December 2022.
Read More >
Find out the latest happenings at Schoolcraft College! We'll be sharing content that you don't want to miss. Follow us on LinkedIn, like us on Facebook and don't forget to check us out on YouTube – scroll to the bottom of this page for all our social links.
---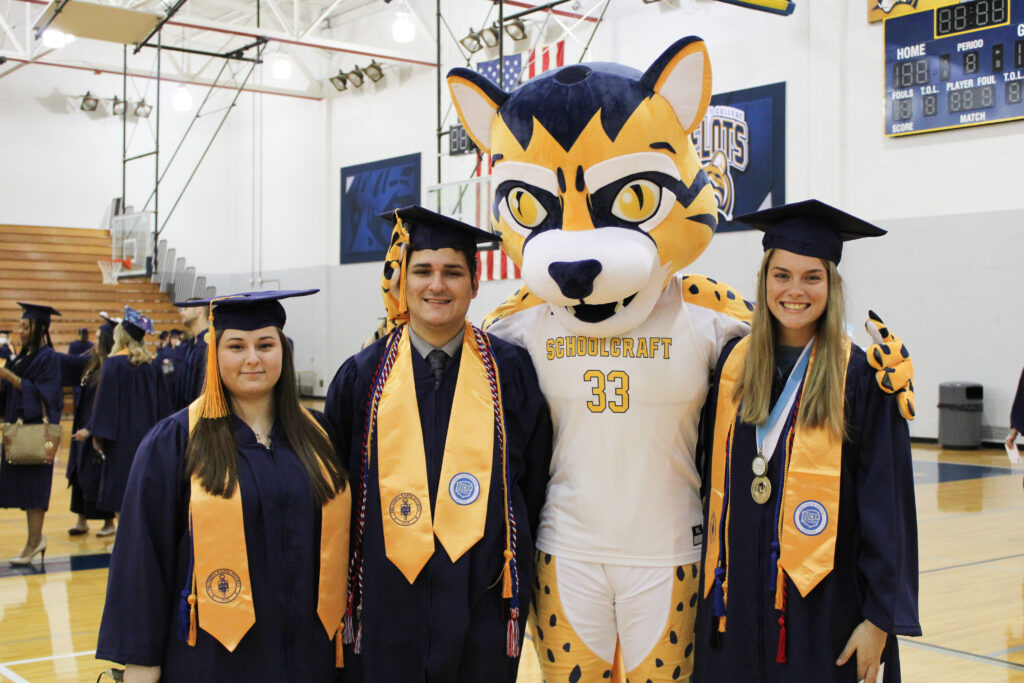 Show your support for Schoolcraft College students and programs today…
---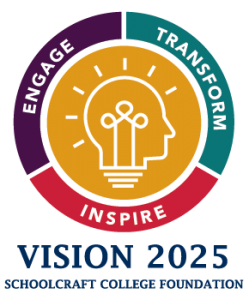 Vision 2025: The Fundraising Initiative
Vision 2025 is a five-year fundraising initiative that supports Schoolcraft College — its programs, students, and members of the southeast Michigan community. It is designed to provide the financial support needed for innovation beyond the limitations of current funding. Vision 2025 will impact the next 25 years of the 21st century by helping the college transform workforce education, which will engage, inspire, and transform students, the community, and economy.