LIVONIA MAYOR HOSTS MEETING AT COLLEGE'S MANUFACTURING AND ENGINEERING CENTER (MEC)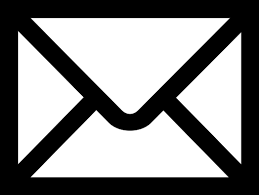 By Pamela Linton, Apprenticeship Coordinator – Engineering & Technology
foundation@schoolcraft.edu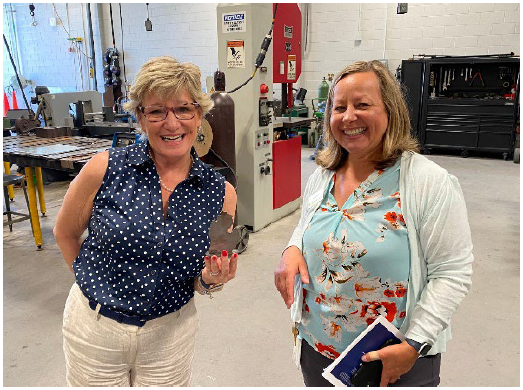 After a recent visit to the Manufacturing and Engineering Center (MEC), Livonia Mayor Maureen Miller Brosnan was so impressed she indicated she wanted to begin hosting meetings at the facility. A strong and vocal supporter of Schoolcraft College, Mayor Brosnan held her Leadership Team meeting at the MEC on July 19, 2022. Following the meeting, the group was provided a tour of the facility and heard presentations by Gene Keyes (Manufacturing), Dennis Fohey (Metallurgy/Materials Science), and Coley McLean (Welding). The Mayor's team was highly impressed with the physical plant and programs like Mechatronics, Manufacturing, and Welding that they heard about that day.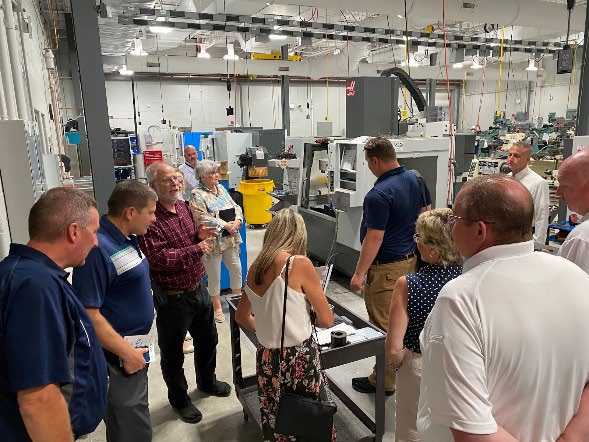 As more people learn about and visit the MEC, it is becoming a 'go to' location for business and industry functions. The I-275 Industrial Council, sponsored by the Livonia Chamber of Commerce, is now holding its quarterly meetings at MEC, and local companies, including Plastomer, Magna Lighting, and Remora Carbon are booking a variety of events, including meetings and training sessions.
.
.
.
.
WELDING TESTIMONIAL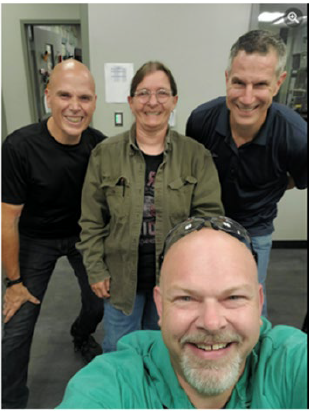 It is always inspiring to receive positive feedback from our students, and a recent letter about a student's experience touched us deeply. Schoolcraft College's welding department representative and Instructor Coley McLean received an outstanding testimonial about welding instructor Debra Stuart. After 1st Lieutenant David Buckshaw and two friends took a WELD 119 Gas Tungsten Inert Arc Welding course, Mr. Buckshaw shared the highest praise for the College's welding program, specifically, Professor Stuart's knowledge, commitment, and passion for her craft and students. An excerpt from Mr. Buckshaw's letter:
Debra Stuart is that humble professional who shares her deep knowledge and passion for welding and fabrication with her students in what I would surmise is her quest to leave this world a better planet than she found it. Debra embodies just about everything that makes teaching great, and it would be my pleasure to recommend Debra Stuart and Schoolcraft College's Welding Technology Program to any individual looking to improve their skills or obtain a degree or certificate in Welding Technology.
Schoolcraft College has a great facility with excellent teaching staff who put the time and energy in to ensure we breed the next generation of welders and fabricators ready for industry. We will be back for more welding, I am sure.
1/LT. David Buckshaw
CAP President
Detroit Technical Media
Additionally, Lt. Buckshaw shared exceptional feedback about the College, the class, and the Instructor on his Facebook page.
We appreciate the recognition we receive for our first-rate instructors, programs, and facilities.