Press Announcement – D3C3

MEDIA CONTACT
Schoolcraft College
Dan Herrick, dherrick@truscottrossman.com, (248) 227-5090
Schoolcraft College Receives Funding From Ballmer Group/Ralph C. Wilson, Jr. Foundation to Boost Access and Graduation Rates, Meet Employer Talent Needs Through Detroit Drives Degrees Community College Collaborative
DETROIT (April 24, 2023) – Today, the Detroit Regional Chamber's Detroit Drives Degrees Community College Collaborative (D3C3) announced over $30 million in support from Ballmer Group and the Ralph C. Wilson, Jr. Foundation. The initiative is a partnership with seven Southeast Michigan community colleges, including Schoolcraft College, to ensure students have equitable educational opportunities and graduate with high-value credentials or degrees that lead to good-paying, in-demand jobs with local employers, boosting the Region's overall prosperity.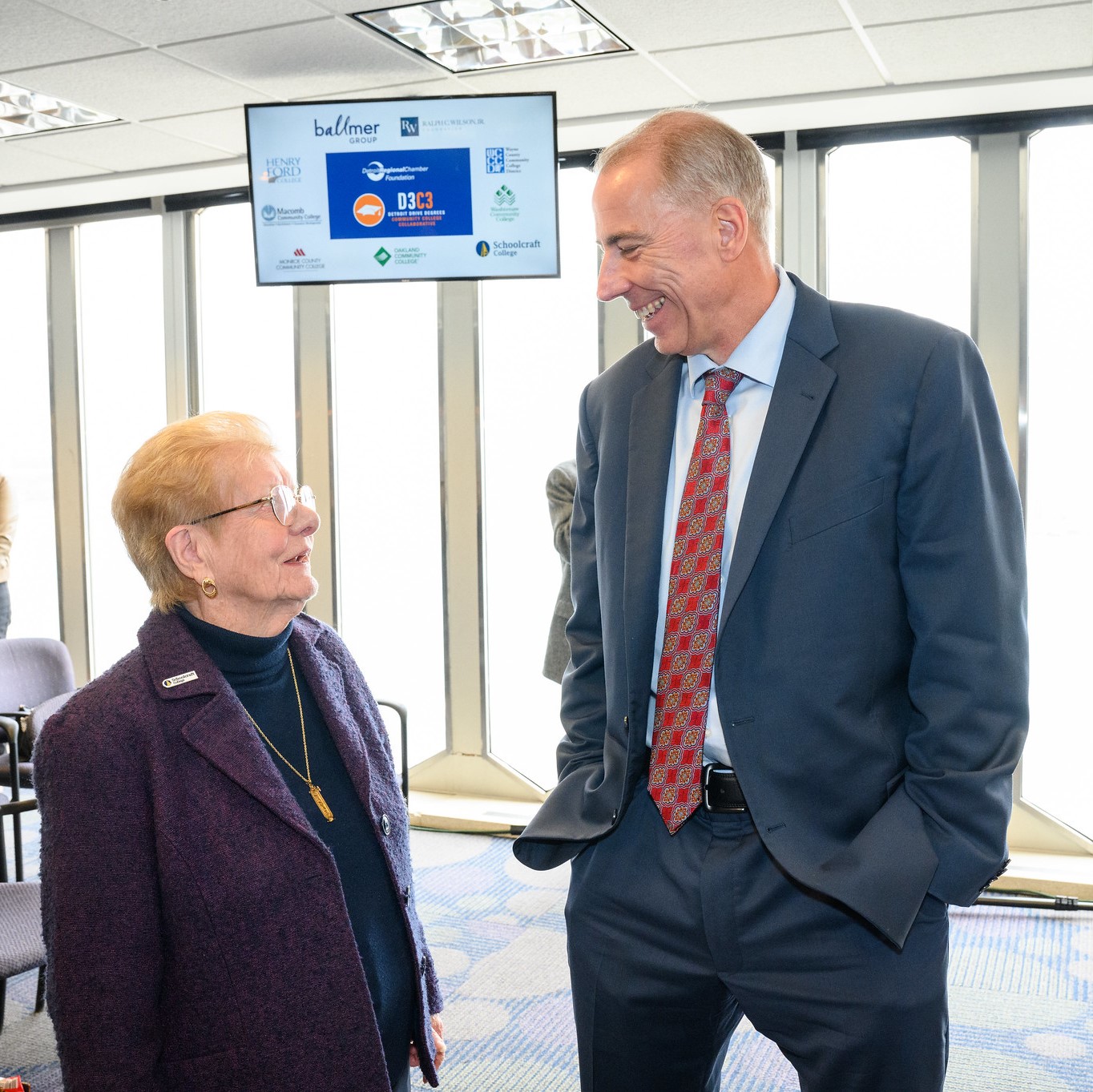 "This means so much to our students," said Dr. Glenn Cerny, president of Schoolcraft College. "We're thankful to have partners who recognize the value of education and how strongly community colleges support the local economy. At Schoolcraft, we're focused on removing barriers to education so that everyone can benefit from the opportunity it creates. Support like this helps us enhance programming for current students and makes more people aware of how community colleges can help them reach their goals."
"D3C3 is about transforming our talent pipeline through innovative partnerships with local community colleges that are uniquely positioned to help students enter the workforce with the qualifications employers need," said Sandy K. Baruah, President and Chief Executive Officer of the Chamber. "Ballmer Group and the Ralph C. Wilson, Jr. Foundation's generous support speaks to the value of this initiative and importance of collaborative and job-focused education that will benefit employers, families, and the Region."
As part of D3C3, Schoolcraft College and six other community college partners are currently executing plans to create systemic change that increase equitable access and enrollment for high school students and align academic programs to promising career paths. The community college partners are also developing regional strategies to collectively address inequitable systems.
Schoolcraft College has been awarded $4.4 million in grant funds as part of the program. Schoolcraft will invest funds in three key areas: an Employer-led Mobility Strategy, K-12 Alignment, and Student Success. Education is the key to upward socioeconomic mobility and needs to be available and supported regardless of gender, race, income level, or age. Schoolcraft's transformational D3C3 work will identify and remove barriers to higher education and career advancement.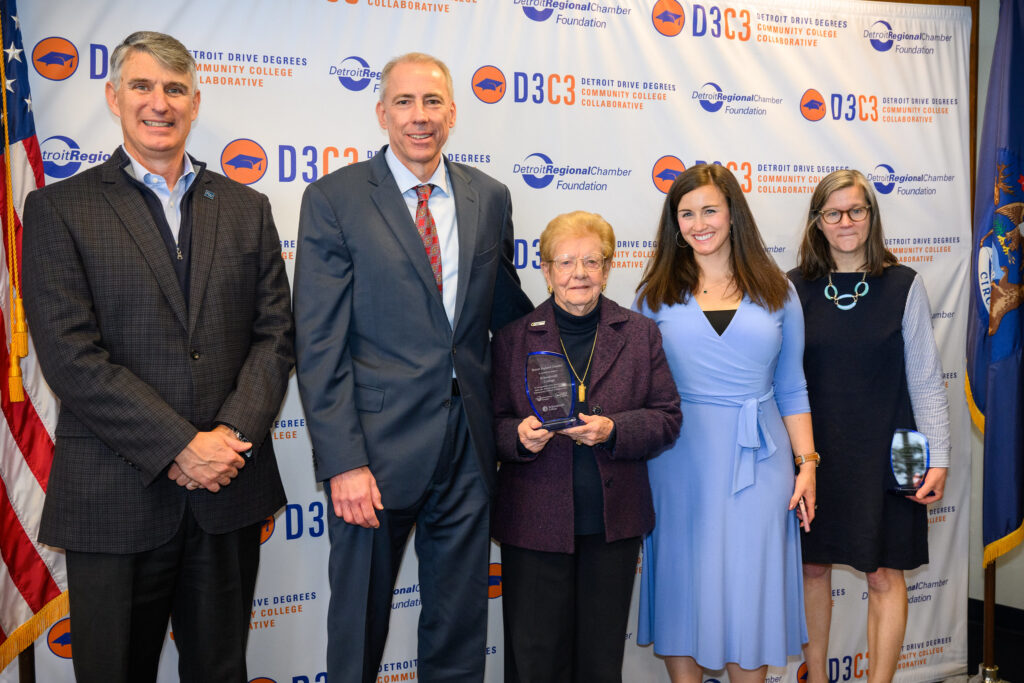 Schoolcraft's goal is to increase college applications from K-12 schools targeted by outreach efforts and to increase the racial diversity and percentage of applicants from low-income families. This funding will allow the College to expand outreach and strengthen relationships with selected K-12 schools. We will expand outreach to eighth through 12 graders, including expanding the College's early middle college program to improve career awareness and college access for these students. We will also continue to advocate for statewide policy changes in funding for dual enrollment. A major goal for the College and D3C3 is to increase the State of Michigan's postsecondary attainment rate to 60% and cut the racial equity educational attainment gap by half.
Schoolcraft is committed to educating the talent required for Michigan to be the mobility industry leader. To achieve that, the College will partner with mobility stakeholders to design and implement new, relevant programs in Automotive Electronics. By partnering with local employers and other stakeholders, Schoolcraft can create programs that prepare students to go directly from the classroom to a career. The College has successfully done this in other sectors, including partnering with Trinity Health to address critical staffing shortages impacting healthcare providers.
The support will also help Schoolcraft expand its Student Success model. The model brings together student services, academics, and enrollment services to help ensure every student has an individual pathway. As part of D3C3, Schoolcraft participated in Georgia State University's National Institute for Student Success (NISS). NISS provided a guidebook specific to Schoolcraft to offer guidance to address institutional barriers for students, particularly underserved populations and non-traditional aged students. The NISS Guidebook will lead future efforts and investments to improve student outcomes.
Additional community college partners include Henry Ford College, Macomb Community College, Monroe County Community College, Oakland Community College, Washtenaw Community College, Wayne County Community College District.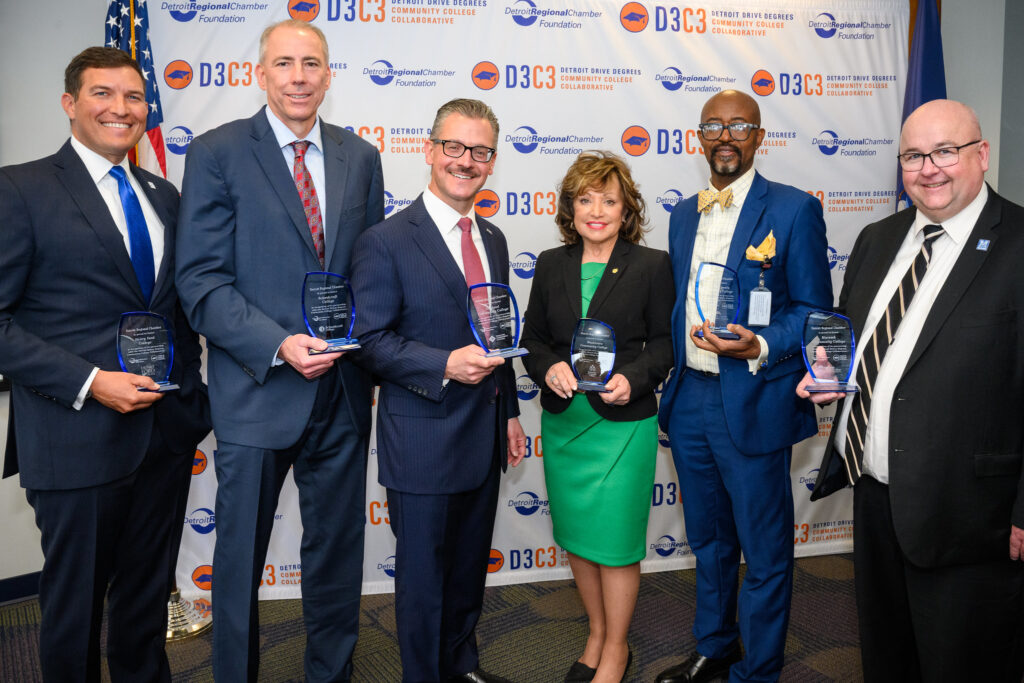 "Students facing barriers to degree attainment deserve access to family-sustaining careers," said Kylee Mitchell Wells, Ballmer Group's Southeast Michigan Executive Director. "This partnership is designed to open new doors and create smoother pathways from education to career success, closing equity gaps across our Region."
"Community colleges are the largest and arguably most important talent development asset in Southeast Michigan. Skilled talent is directly linked to economic growth and regional prosperity," said David Egner, President and Chief Executive Officer of the Ralph C. Wilson, Jr. Foundation. "The Detroit Drives Degrees Community College Collaborative (D3C3) is a large-scale, strategic injection of investment in our regional community college system that has the potential to make meaningful and lasting change. We are thrilled to partner with the community college leaders, Ballmer Group, and the Detroit Regional Chamber, to envision, and now officially launch, D3C3."
D3C3 developed out of the Chamber's Detroit Regional Talent Compact, a 10-year equity-driven initiative to increase the Region's postsecondary attainment rate to 60% and reduce the racial equity gap by half by 2030 – the same "60 by 30" goal later adopted by the State of Michigan.
ABOUT SCHOOLCRAFT COLLEGE
Schoolcraft College is a public community college, offering traditional classes as well as distance learning opportunities at www.schoolcraft.edu. The college enrolls more than 30,000 students each year in both credit programs and continuing education and professional development courses. The college has over 130 programs leading to a skills certificate, certificate, associate degree, or post-associate certificate, plus a Bachelor of Science degree in Culinary and Dietary Operations Management. Students can take advantage of other bachelor's programs offered by several university partners onsite or transfer credits to other four-year institutions, saving time and money in pursuit of a bachelor's degree. Learn more at www.schoolcraft.edu.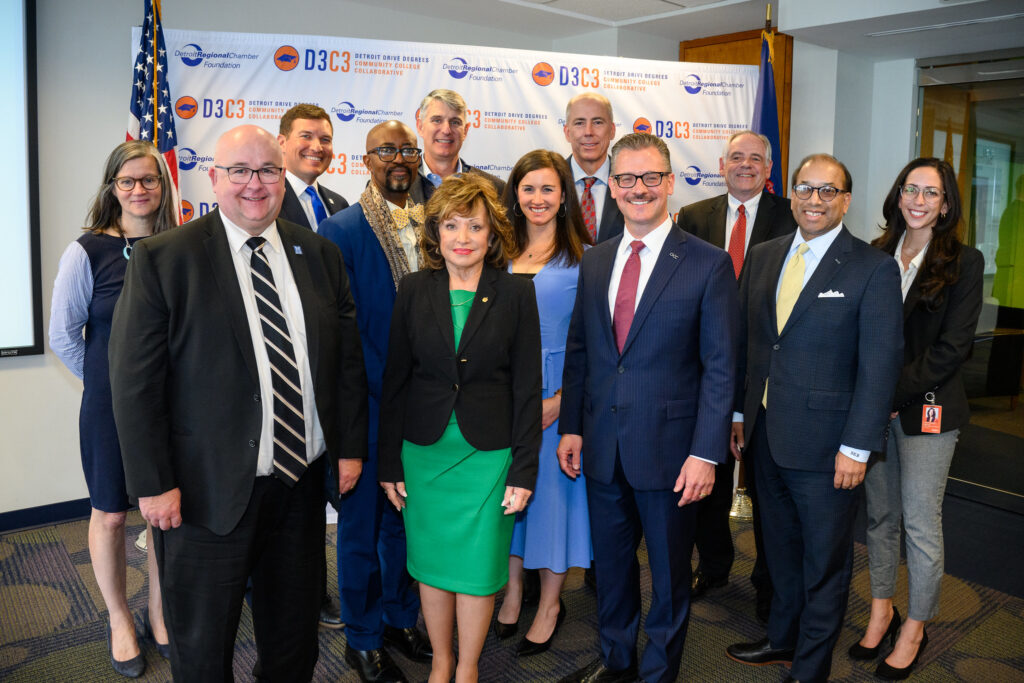 ABOUT THE DETROIT DRIVES DEGREES COMMUNITY COLLEGE COLLABORATIVE
The Detroit Drives Degrees Community College Collaborative (D3C3) is a regional initiative that elevates the role of community colleges in increasing equitable access to educational opportunities, boosting graduation rates, and bolstering the regional college-to-career pipeline. It is part of the Detroit Drives Degrees collective impact program of the Detroit Regional Chamber designed to increase postsecondary attainment in Michigan to 60% and reduce the racial equity attainment gap by half by 2030. Through D3C3, seven community colleges are being funded to implement college-level, systemic strategies to create lasting improvements for students and employers. Learn more at detroitchamber.com/d3c3.
ABOUT BALLMER GROUP
Ballmer Group is committed to improving economic mobility for children and families in the United States, funding leaders and organizations that have demonstrated the ability to reshape opportunity and reduce systemic inequities. We focus on multiple impact areas and systems that can impact economic mobility – such as early learning, K-12 education, college and career pathways, housing, behavioral health, and criminal justice – and we support leaders and organizations that focus on undoing systemic racism and the barriers it has created. Ballmer Group is both a national and regional funder – we have a presence and invest deeply in southeast Michigan, Washington state, and Los Angeles County. Ballmer Group was co-founded by philanthropist Connie Ballmer and her husband Steve Ballmer, former CEO of Microsoft, founder of USAFacts, and chairman of the Los Angeles Clippers. Learn more at www.ballmergroup.org.
ABOUT THE RALPH C. WILSON, JR. FOUNDATION
The Ralph C. Wilson, Jr. Foundation is a grantmaking organization dedicated primarily to sustained investment in the quality of life of the people of Southeast Michigan and Western New York. The two areas reflect the devotion of Ralph C. Wilson, Jr. to his hometown of Detroit and greater Buffalo, home of his beloved Buffalo Bills NFL team. Prior to his passing in 2014, Mr. Wilson provided that a significant share of his estate be used to continue a life-long generosity of spirit by funding the Foundation that bears his name. Based in Detroit, the Foundation began with a grantmaking capacity of $1.2
billion over a 20-year period, which expires January 8, 2035. This structure is consistent with Mr. Wilson's desire for the Foundation's impact to be immediate, substantial, measurable, and overseen by those who knew him best. For more information visit www.rcwjrf.org.