2022 Diamond Jubilee Culinary Extravaganza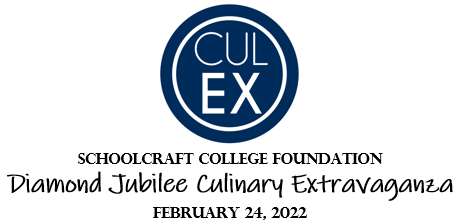 Celebrating Schoolcraft's 60th Diamond Anniversary showcasing
the skills of the distinguished and award-winning students and faculty of the
Schoolcraft Culinary Arts and Brewing & Distillation programs.
Proceeds from this extraordinary strolling dinner will enhance scholarships and grants
for the benefit of students and programs through the Schoolcraft College Foundation (SCF).
Contact Carole Booms, Director of Annual Giving & Scholarship Administration, at
734-462-4455 or foundation@schoolcraft.edu.
This event will not have printed tickets for admission. To ensure entry, your name and the names of your guests, must be on the guest list.

To add your names to the list, please do the following:

* Individual Ticket Purchasers – Please enter the name, phone number, and email for you and each of your
guests during the registration process.

* Sponsors – Please click/tap here to enter the name, phone number, and email for each of your guests.

To provide you with the best possible guest experience, contact information will be used for communication regarding details or changes regarding the event.
---
---