Foundation Makes $1M Grant for Transformational Learning Space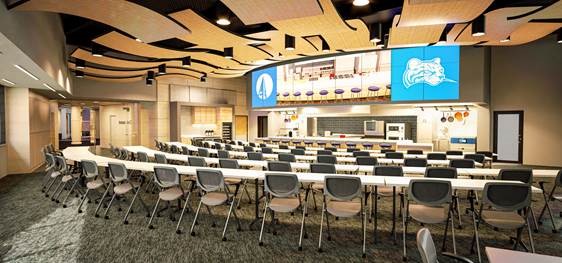 The Foundation has made a multi-year $1 million grant to support the expansion and renovation of the VisTaTech Center. The project provides experiential learning space for Schoolcraft's renowned Culinary Arts program and the addition of a high-tech demonstration space offering unique opportunities for academic, professional development, and community programs. The $6 million, 15,000 square-foot project includes the addition of 10,000 square feet and the renovation of 5,000. The Foundation is proud to be the first funder to step up and support this exciting, student-centric initiative.
This funding maximizes the impact of the Foundation, and President Glenn Cerny stated, "I believe it goes to the heart of the Schoolcraft Foundation's purpose. Donors will be able to see first-hand how their contributions truly impact creating high-end educational facilities that will enhance our mission of providing transformational experiences to our students, businesses, and the community-at-large."
Besides expanding the American Harvest Restaurant, additions include a culinary classroom and an innovative space that can serve as a demonstration kitchen, multipurpose lab, and high-tech educational theater. Renovations will offer a more welcoming space for students and community guests, including an expanded Café retail space and Brewpub.
"This investment is an opportunity to support the forward-thinking vision for students and the community served by Schoolcraft College," shared Lois McEntyre, President, Schoolcraft Foundation Board of Governors. "This is the largest single grant commitment made through our Vision 2025 Campaign and a way for the College to leverage this support for future investments."
Construction starts this summer with a completion date of fall 2023. For details, contact the Foundation at 734.462.4455.