Student Finds His Passion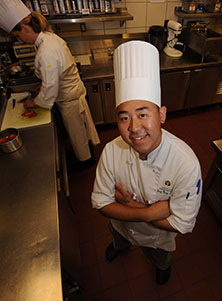 Thony's Story
My story begins before I was born. My parents both immigrated to France to escape from the horrors of the Vietnam War – my dad in 1977 and my mom in 1978. They met and married in France. I was born there in a small town called Cholet, the first of five children.
As immigrants, life was always difficult. For most of my childhood, we were very poor. But my parents always believed in the value of hard work. After 10 years in France, they decided they needed to make an even bigger move. We left behind everything we owned to come to America, in pursuit of the "American Dream". Like many immigrants, we didn't come to America legally. I was too young at the time to really appreciate the risk they took for us. But now, I can't believe the courage and the love my parents had to take on so much hardship to give us a better life.
My parents had to take whatever work they could find. To help my family, I took my first job at 14 working as a dishwasher at my uncle's restaurant for the summer. I didn't like washing dishes, and the pay was minimal. So I taught myself to cook. The following summer I found a job as a cook, but I did it only for the better pay.
Around this time I graduated from high school. Despite being a good student, I found I couldn't go to college because of my status as an illegal alien. It was the most disappointing moment of my life, and things seemed hopeless. But as my parents taught me, I continued working hard, believing something good would happen eventually.
I was offered the opportunity to run a new restaurant, and it was there I found my passion for cooking. Once I did, nothing could stop me. I sought out any way to learn more. I watched the Food Network religiously. My favorite show was Iron Chef. I would pretend to be in it and see what recipes I could come up with. I worked hard, always trying to hone my craft, never called in sick, stayed late, and kept learning from coworkers.
A couple days before I turned 21, my family got the news we had been desperately hoping for–we got our green cards. I could now pursue my dream to be a chef. I had worked with graduates of Schoolcraft's culinary arts program and knew this was where I wanted to go. I was so motivated to work with more modern technology and techniques, and with Schoolcraft's renowned master chefs.
I enrolled in Schoolcraft's Culinary Arts and had a wonderful first year. But paying for my classes was a challenge, and I wasn't sure I could afford my second year. I applied for the Foundation Scholarship, and couldn't believe it when I heard I had been selected. I am so honored to have been picked. This scholarship means everything to me, and to my family. I am the first person in my family to get a college education. Because of this scholarship, I am truly living the American Dream my parents sacrificed so much for.
I am so excited to be starting my career as a real chef. My dream is to open my own restaurant using local products and infusing my Asian and French background in the food. I know that I will always work hard to honor everyone at Schoolcraft, the Foundation and all the donors by becoming a person you can be proud of and by giving back to others, as you have done for me.