eNews 18th Edition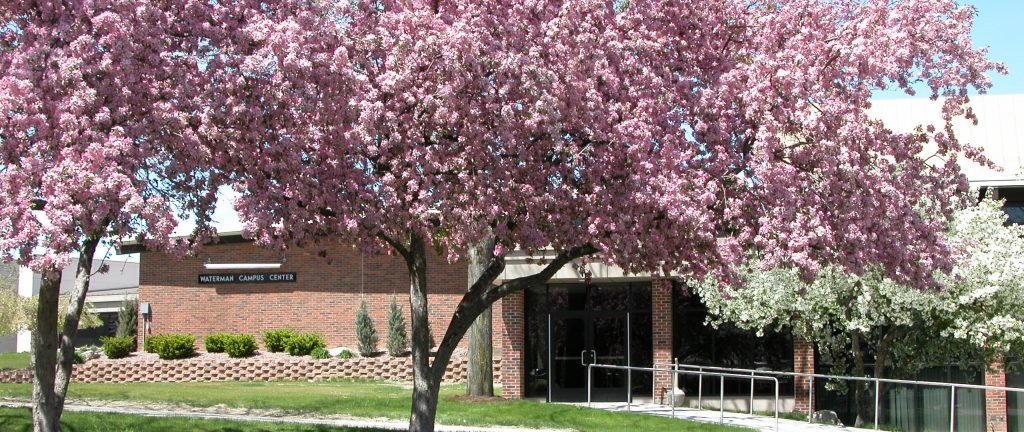 ---
In This Edition
---
Dear Family and Friends of Schoolcraft,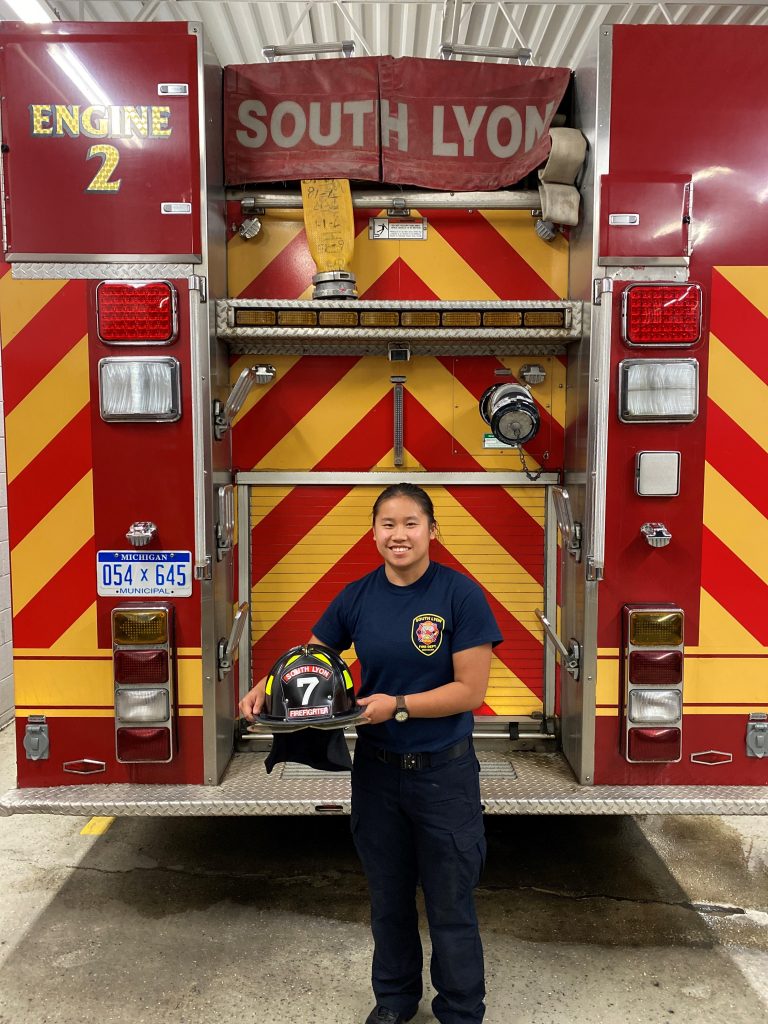 Given the circumstances of 2020, we must continue to give special attention to our students. They face rigorous tasks juggling school, work, and families that are intensified by the pandemic. Eleanor Shipley shared how it impacted her educational journey.
Pictured at her fire station, Eleanor worried whether or not she could finish her EMT training. Schoolcraft, together with the assistance of generous donors like you, transitioned the program to a mix of online and in-person learning and kept Eleanor and our first responders moving forward to completion.
Students need constant support and reassurance as they continue to better themselves and enrich the communities where they live, work, and learn. You can invest in students like Eleanor by making a gift to the area of greatest need at schoolcraft.edu/donate.
We give special thanks to the many students seeking careers along our front lines, like Eleanor. This is the first of many stories we'll share in the coming weeks as part of our spring appeal to address new and changing needs as we move forward, together.
With gratitude,

Dawn Magretta
Executive Director
Schoolcraft College Foundation
---
Philanthropy makes new DEI Leadership Program Possible

While 2020 was a year of turmoil for many, Schoolcraft College made Diversity, Equity, & Inclusion a priority by launching its Scholars Taking off Academically & Rising to Success (S.T.A.R.S.) Diversity, Equity, & Inclusion (DEI) Leadership Program. Made possible through donor support, this unique opportunity offers experiences for students to develop as leaders as they enter into a global and diverse workforce.
The S.T.A.R.S DEI program stands its foundation on four pillars:
Leadership
Academic Success
Service Learning
Diversity, Equity, and Inclusion
Students may apply to get involved by being a mentor, mentee, or DEI Scholar. Each position awards a scholarship and has individual goals, but all students involved are able to connect with peers and participate in valuable activities at Schoolcraft College.
Specifically, students who are DEI Scholars are awarded the opportunity to share their passion for diversity, equity, and inclusion with peers, faculty, and staff, while supporting other Schoolcraft students through mentorship and serving the community.
Steffanie Hills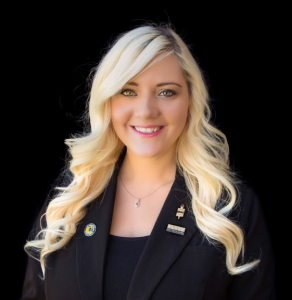 Steffanie Hills is a nursing major at Schoolcraft who applied to the S.T.A.R.S. DEI program asking herself, "What changes can I make that will truly help those around me and have the most impact?" After being accepted as a DEI Scholar, she is making strides to make an impact on the community and spark conversations on campus about DEI and acceptance.
"DEI programs increase inclusion, engagement, and innovation, while producing overall more efficient leaders and stronger teams," said Steffanie. "Everyone that comes to the table will bring their own views, values and beliefs. Having different opinions and backgrounds can strengthen any team, or project, but letting everyone have a seat at the table also lets them know everyone matters equally."
Steffanie has had many leadership positions but was particularly excited about DEI. As a DEI Scholar, Steffanie has had the opportunity to participate in educational Zoom sessions that tackle issues and teach about how to create an inclusive environment. Steffanie values this education and looks forward to applying what she is learning in a nursing environment.
"I just hope to be part of the solution and make the world a better place for my daughter," she said.
Lexi Gibson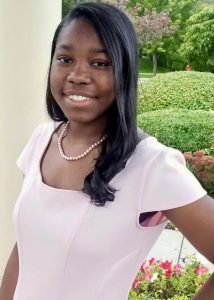 Lexi Gibson is one of the two DEI Scholars that are currently serving Schoolcraft in the S.T.A.R.S. DEI program. Lexi is a first-year student at Schoolcraft and is currently majoring in Broadcast Communications. While all of her classes and programming are currently virtual, she is taking advantage of the opportunity to be a leader at Schoolcraft and make a difference.
"The students are really tackling leadership," Lexi said of the S.T.A.R.S. DEI program. "It's the kind of thing that can't be taught in a classroom."
Lexi is already busy working and being a full-time student, but the DEI aspect of the program piqued her interest and influenced her to apply. Since being accepted as a Scholar, she has focused on creating engaging virtual activities that highlight DEI. Lexi also places a special emphasis on service learning, one of the four S.T.A.R.S. DEI pillars.
"DEI is a process, not just a checkbox," she said. "This kind of service learning is something every college campus needs to educate students. At the end of the day, love and acceptance is what drives everyone."
Learn more about the DEI S.T.A.R.S. program here.
---
Educators vs. COVID: Alec Thomson and Colleen Pilgrim
Featured in the Winter 2021 Henry Herald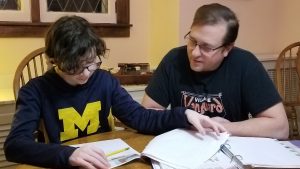 The COVID-19 pandemic forced everyone to shift their everyday lives quickly. Our kids started virtual learning, in-person meetings became Zooms, and our regular busy schedules suddenly disappeared.
Alec Thomson and Colleen Pilgrim's story was no different. Both Schoolcraft professors, the married couple found themselves swiftly making the change in March from face-to-face classes to 100% virtual learning in their professional faculty roles. And, with five children also living under their roof, the difference was incredibly unique.
How unique? "At one point in time there were seven people in our house on seven different Zoom calls at the same time," said Alec, who now teaches his students virtually from the basement.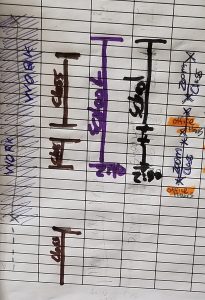 While the adjustment to all being at home was challenging, the family learned to adapt to life during the pandemic. The kids' schedules were predictable and planned, but online classes are different than the normal 7 a.m. to 2:30 p.m. school day. The kids' class times can change by the week. Colleen said even planning dinner can be challenging. To help keep in touch, the family created a schedule on the fridge.
Like many others, Alec has had to move his at-home office to the basement, creating a "no laundry" rule while he is teaching his Schoolcraft students on Zoom.
The couple also had to learn how to stay engaged with students through a virtual platform. While many tools were already online through Blackboard, the Schoolcraft professors say they miss the face-to-face interactions and engagement. Before, there was a clear distinction between the learning environment and home environment, but that's no longer the case.
"Zoom fatigue is real," Alec said. "It's harder to read the audience in our online classes. Some don't even have cameras on at all. We know it's hard on students, so we try to be accommodating to that."
However, both noted how the pandemic has also provided new opportunities in teaching.
"Remote teaching allows us to share content more easily," Colleen, a psychology professor, pointed out. "Screen sharing lets us put things like videos and websites right in front of them."
Zoom has also made it easier for students to have individual interactions with Colleen and Alec. And for students with heavy workloads and a job, the flexibility of meeting online makes it easier to receive personalized feedback from their professors.
And even though he's no longer seeing students in person, Alec feels like online classes have humanized teaching. There isn't a formal classroom, but now he sees students at home with their pets and families. They see Alec teaching from his basement. Alec can relate to his students and his students can relate to him. Yes, COVID-19 has upended our lives, but we're all in this together – learning to overcome and adapt as we move forward.
---
The Love of Music, Even A Pandemic Couldn't Stop…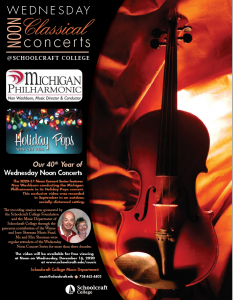 Many of you may have read our previous article on Wayne and Ione Sherman. The Shermans attended the Schoolcraft Noon Concert Series for years, enjoying the various artists and styles of music that were offered. As part of their estate plan, Mr. and Mrs. Sherman instructed that a very generous gift be made through the Schoolcraft College Foundation to support the Music Department and their beloved Noon Concert Series. The Shermans had no idea the impact their gift would make. When the pandemic threatened the entire Concert Series, the Sherman Music Fund kept the music alive!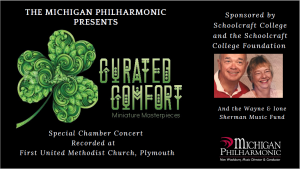 An amazing partnership was created with the Michigan Philharmonic that funded two wonderful holiday concerts. First, in December, the Sherman Music Fund in conjunction with the Schoolcraft College Foundation sponsored the Holiday Pops Concert, bringing much needed cheer when the holidays were looking bleak. The second concert was broadcast this month, bringing the spirit of Ireland in the Curated Comfort, Miniature Masterpieces.
The Shermans had no idea what their generosity would bring to us, when we needed it most! What kind of impact would you like to make? Contact the Schoolcraft College Foundation and let's get creative.
---
Virtual Programs That You Won't Want to Miss!
The Civility Project
On March 25, the Schoolcraft College Foundation hosted long-time journalists and unlikely friends Stephen Henderson and Nolan Finley, who launched the Civility Project. They showed that civility IS possible and why we should all embrace it as a way to move ourselves forward in life and in work. They also offered tips for building civility in your own life, starting now. Click here to view the chat and Zoom recording.
______________
Take Control of your Financial Future at Any Age!
It is never too soon, or too late, to plan for important issues such as retirement or other major events that require some financial comfort. Join in a discussion with Reid Beyerlein, Financial Advisor and Branch Manager of Raymond James in Berkley, as he discusses various ways to take control of your Financial Future at any age, and live the life you deserve. Please join us virtually on Thursday, April 29 at 10:00 a.m. for this important program. This event is free and open to the public but registration is required.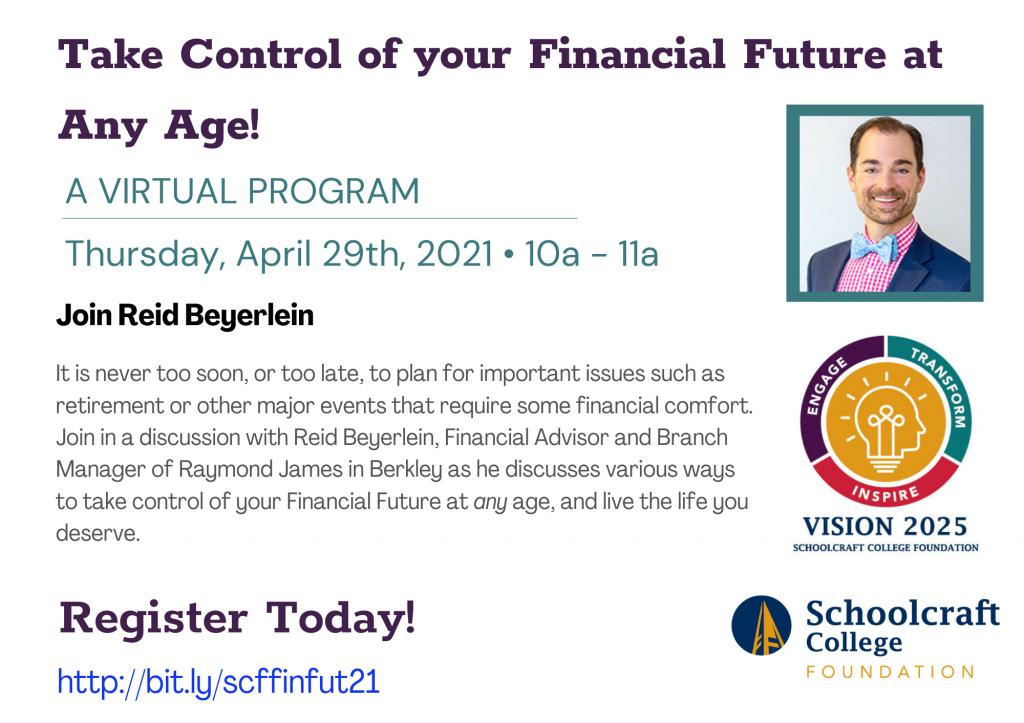 ---
In the News
The Henry Herald
A Newsletter for retirees of Schoolcraft College – March 16, 2021
The Winter 2021 edition of The Henry Herald was recently released and features the following articles: Remembering Ron and Larry, Educators and Students Respond to COVID, and CARES Act Update.
View the most recent edition > View Archived Editions >
Author Depicts Enigmatic Invasion in Action-Packed Science Fiction Book
Intrado GlobeNewswire – March 1, 2021 (By: Danielle Gobmeier)
Schoolcraft College Alumni Pete Bublitz published his debut science fiction book that chronicles a group of women's experiences after they cross paths with a strange and mysterious entity. In "Hey, General," Bublitz intertwines an isolated setting with an inexplicable supernatural invasion to deliver a thrilling first installment in his forthcoming series." Read more >
---
Don't Miss Out – Get Social!
Find out the latest happenings at Schoolcraft College! We'll be sharing content that you don't want to miss. Follow us on LinkedIn, like us on Facebook and don't forget to check us out on YouTube – scroll to the bottom of this page for all our social links.
---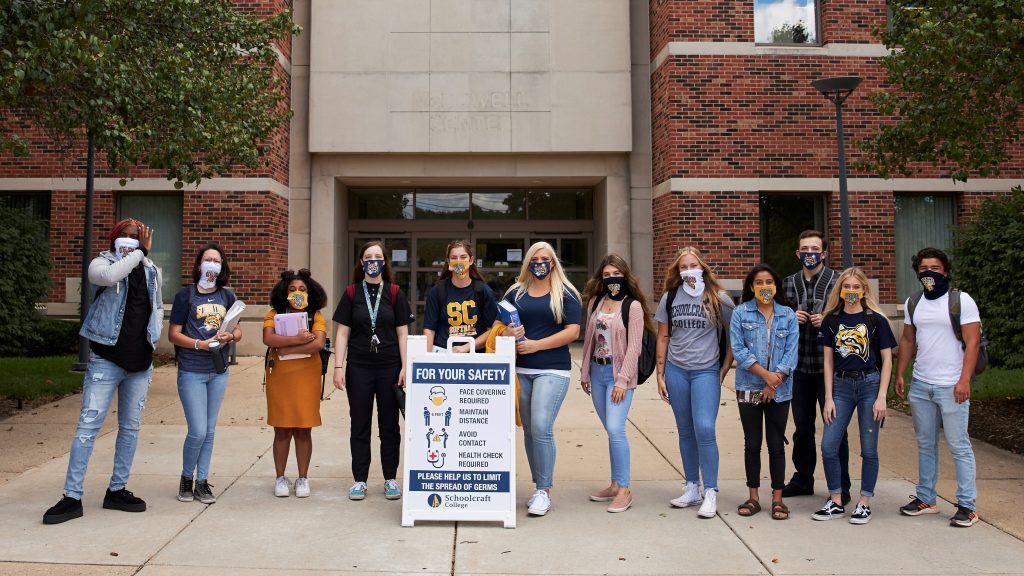 Show your support for Schoolcraft College students and programs today…
---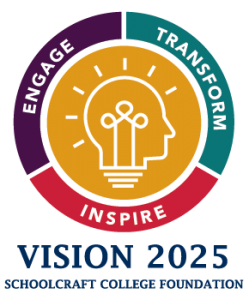 Vision 2025: The Fundraising Initiative
Vision 2025 will create life-changing opportunities for students to the rapidly changing future. With help from donors and partners, the college will transform education while engaging, inspiring, and transforming the lives of students, the community, and economy.