eNews 20th Edition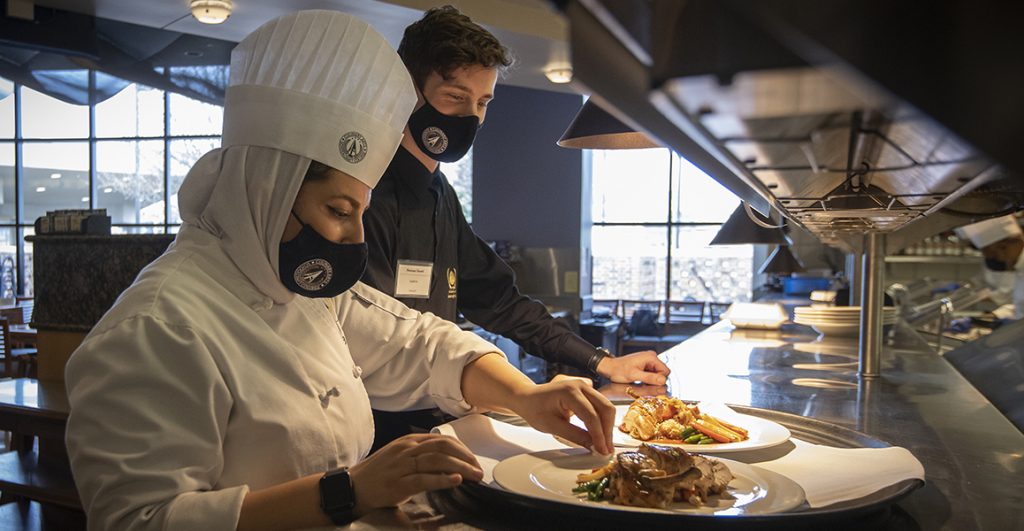 ---
In This Edition
---
Schoolcraft Receives Largest Single Gift to Establish New Quality Institute
Schoolcraft College soon will be adding an important facility that will benefit students and the community in the key industry of Southeast Michigan thanks to a generous philanthropic gift, the largest single gift commitment by an individual that the College has received.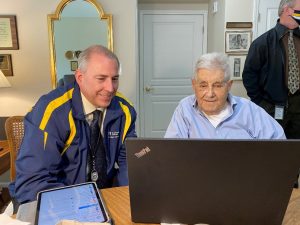 The Frank E. and Bessie Angileri Quality Institute, to be housed in the VisTaTech Center on Schoolcraft's Livonia campus, will offer a venue to interested students, faculty and industry professionals to convene and explore issues and potential solutions that advance the standards and best practices of automotive quality control.
Its benefactor, Frank E. Angileri, is a retired SQA (Supplier Quality Assurance) engineer from Ford Motor Company. He was born in Sicily and holds a degree in economics from the University of Palermo. The Angileri Quality Institute is also named in honor of Angileri's late wife, Bessie. "This generous gift from Mr. Angileri and his family will be a great benefit to our students and the community," said Dr. Glenn Cerny, President of Schoolcraft College. "We look forward to opening the Angileri Quality Institute on our campus very soon. The automotive industry is vital to Southeast Michigan and our country, and we're proud that in the very near future we will have a first-rate facility right here at Schoolcraft College that will contribute to its success."

---
New Blog Post! Planned Giving has ALWAYS been an invaluable tool, for both the donor and the Charity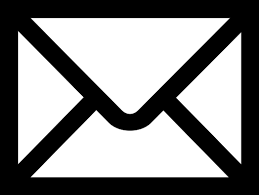 By Christopher Kelly
ckelly@schoolcraft.edu
Articles are being published stating the benefits of planned giving strategies due to the impending changes to the tax code. Each statement written is absolutely true, but truer still is the fact that gift-planning strategies have always offered value to both the donor and the charity, under almost all circumstances. While the tax benefits are undeniable, what I believe is often overlooked is the fact that there are numerous other reasons to use one. Structured correctly, gift-planning strategies can add stability and flexibility to the overall goals of donors (financial, tax, wealth-transfer, and charitable). It's also true that a planned giving vehicle is the safest, easiest way to provide an impressive impact on your charities of choice (without using your wallet).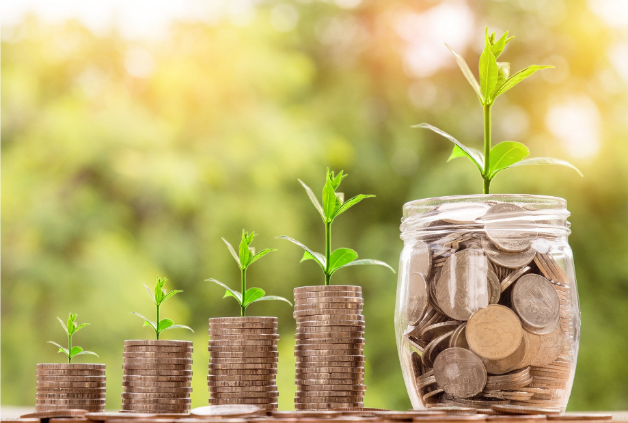 Focusing on those overall planning goals, a comfortable strategy usually becomes clear. Often this includes a Charitable Reminder Trust that can provide:
Investment Diversification. Some assets do not produce as desired, but selling the assets could generate a capital gains tax liability. Gifting that asset to a charitable trust transfers the ownership to the trust, creating a shield from the liability on the sales transaction.
Additional tax benefits also include a charitable income tax deduction.
The path to a charitable gift that makes the desired impact on the mission, but created comfortably from accumulated wealth rather than disposable income.
Those are the standard benefits that everyone discusses when changes to the tax code or market conditions warrant a fresh look at planned giving. Rarely, if ever, do we ever talk about other motivators that make these planning tools so useful. Personal family dynamics or those situations where an income stream might be more beneficial than an inheritance could include:
The next generation may or may not share your same morals, values and beliefs.
Substance-abuse concerns.
In-law or marriage stability concerns.
Or simply not to complicate the wealth/tax planning of the next generation.
So there are numerous reasons and opportunities to utilize a gift-planning vehicle, or even a combination, to accomplish your goals, when and how you decide. The secret is determining what you need personally and what you want to accomplish philanthropically. Once those goals are established, the planning begins. Don't hesitate to ask questions, or begin the discussion with your professional advisors. Articles have the best of intentions (just like this one!), but remember you are in the driver's seat. If you have any questions or want to discuss why planned giving is always a valuable tool for planning, give me a call. I'm here to help. [Foundation Main Line – 734.462.4455]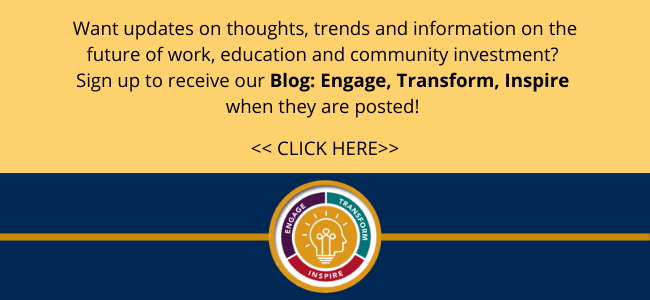 ---
New Foundation Enrichment Series for Alumni & Friends
As an extended member of the Schoolcraft family, the SC Foundation and Alumni Office invite you to keep learning! Visit our Free Upcoming Webinars page to see all events, register and explore recordings of past events. Don't miss out on these engaging topics:
Thoreau, Emerson, Walden Pond and More: Answering Big Questions – Presented Free through Partnership with One Day University – July 8 at 4:00 p.m. EDT
Elevate: Push Beyond Your Limits and Unlock Success in Yourself and Others – July 14 at 12:00 p.m. EDT
Career Agility And The Virtual Job Search – July 20 at 12 p.m. EDT
Unapologetically Ambitious: An Interview With One of Silicon Valley's First Female African American CEOs – July 29 at 3:00 p.m. at EDT
Kennedy, Nixon, & the Debate of the Century – Presented Free through Partnership with One Day University – August 5th at 4:00 p.m. EDT
Every Conversation Counts: The 5 Habits of Human Connection That Build Extraordinary Relationships – August 10 at 12:00 p.m. EDT
---
Virtual Programs That You Won't Want to Miss!
D.E.I. Are not just Letters of the Alphabet
On May 27, Executive Director Dawn Magretta moderated an important discussion on Diversity, Equity, and Inclusion. Hear the views of guest panelists Kimberly Keaton Williams (Chief Diversity Officer & VP of Talent Acquisition for McLaren Health Care System), Dave Garcia (Executive Director for Affirmations LGBTQ+ Community Center), Sharon Christian (Director of LSS and DEI Task Force Member at Schoolcraft College) and SC student Alexis Gibson. Click here to view the Zoom recording.
______________
The Future of Work & Education
On June 17, SCF held its third convening on Workforce and Education. We were pleased to welcome SC President Dr. Glenn Cerny with opening remarks and then introduce our keynote speaker John Walsh, President & CEO of Michigan Manufacturing Association. Mr. Walsh joined Dr. Robert Leadley (Moderator and Dean of Occupational Programs & Economic Development for SC) and our panelists for an engaging discussion on the impact of COVID-19 on education and the workforce. Click here to view the Zoom recording.
______________
Health Care: Meeting the Needs of the Community & Students
Please join us virtually on Thursday, July 29, from 11 a.m. – 12 p.m. as we get an exclusive look at the new Livonia Medical Center (LMC) on Schoolcraft College's Main Campus and learn the impact it has on our students. This event is free and open to the public but registration is required.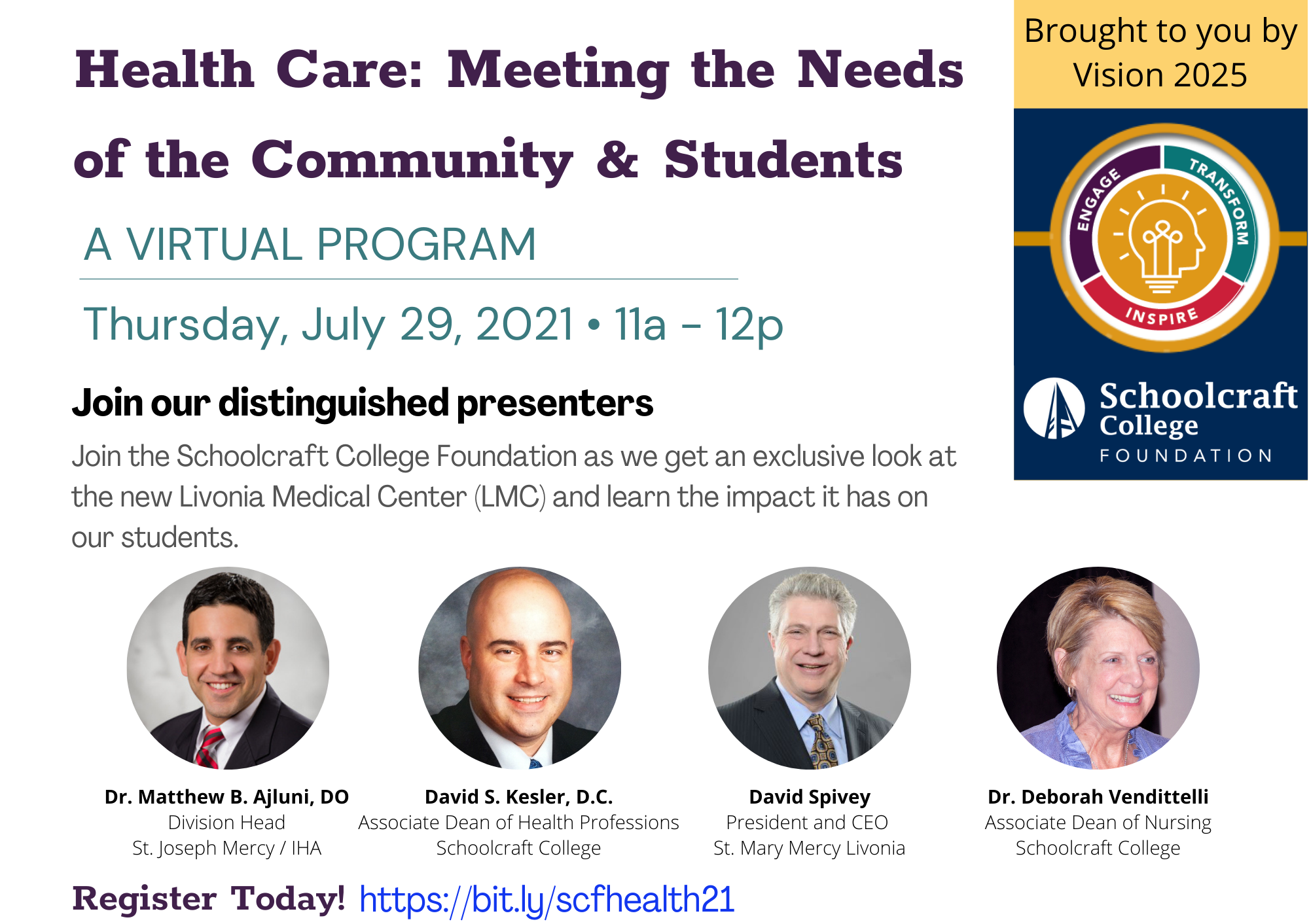 ---
In the News
Divine Child grad Domenic Policicchio hired as new University of Michigan-Dearborn men's basketball coach
Press & Guide – June 29, 2021 (By: Frank Wladyslawski)
Coach P reached out to tell us that "Schoolcraft College was a crucial stepping stone for my life and career. The staff genuinely cared about our success. Thank you for all your hard work. I wouldn't be the man I am today without your support." Congrats on your new position Coach! Read More >
The Future of Teaching
The Chronical of Higher Education – June 10, 2021 (By: Beth McMurtrie)
Professor Steven L. Berg was featured for the free book he wrote, "Promoting Student Transformation at a Community College." Read more >
Schoolcraft College Opens Its New Manufacturing & Engineering Center In Livonia, Will Offer More Youth STEM Programs
CBS Detroit – June 9, 2021 (By: April Morton)
Learn how the new Manufacturing and Engineering Center (MEC) is impacting the lives of Schoolcraft College Students. Read more >
Downriver Brewers Guild shares samples and camaraderie
News-Herald – June 8, 2021 (By: Sue Suchyta For Media News Group)
Annette May, a faculty member in the Brewing and Distillation Technology program at Schoolcraft College, talks about her passion to diversify the beer industry.
Read more >
AAC&U selects 61 colleges for "high-impact" institute
University Business – May 25, 2021 (By: Chris Burt)
Schoolcraft College was honored to be among the 61 institutions to be selected to take part in the Association of American Colleges and Universities' (AAC&U) Institute on High-Impact Practices and Student Success. Read more >
A Parent's "Course" to Helping Their Student Find the Right College
Hour Detroit – May 10, 2021 (By: Terry Jacoby)
This article is geared toward parents who are trying to help their child choose a college and features Stacy Whiddon, Chief Academic Officer for SC, and Stacey Stover, Dean of New Student Experience at SC. Read more >
---
Don't Miss Out – Get Social!
Find out the latest happenings at Schoolcraft College! We'll be sharing content that you don't want to miss. Follow us on LinkedIn, like us on Facebook and don't forget to check us out on YouTube – scroll to the bottom of this page for all our social links.
---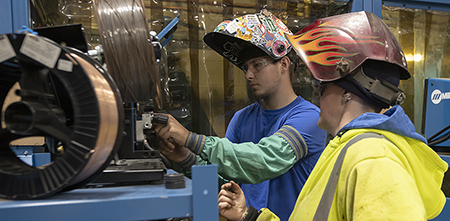 Show your support for Schoolcraft College students and programs today…
---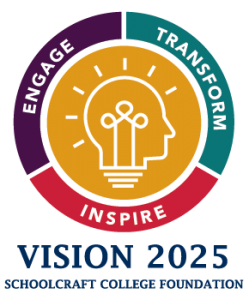 Vision 2025: The Fundraising Initiative
Vision 2025 will create life-changing opportunities for students to the rapidly changing future. With help from donors and partners, the college will transform education while engaging, inspiring, and transforming the lives of students, the community, and economy.