eNews 26th Edition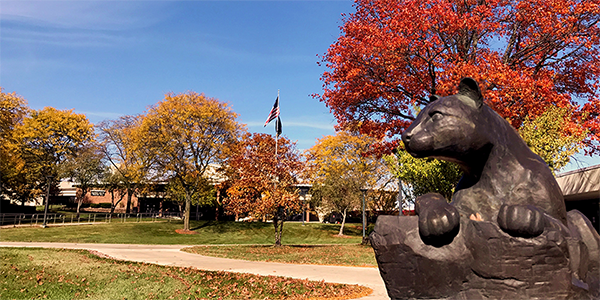 ---
In This Edition
---
The Wilkie Family Challenge is BACK!
Last year, the Wilkie Family Challenge raised over $100k for the Foundation's Greatest Needs Fund. This fund allows the Foundation to be flexible, responsive, and supportive of initiatives that otherwise couldn't be funded.
This year you can DOUBLE your difference by helping students during the $60,000 CHALLENGE MATCH. For every dollar raised through the Foundation for the area of greatest need, the Wilkie Family will match your donation between NOW and December 31!
The best part is that any gift, regardless of size, brings a huge smile and sigh of relief to a student in need. To make YOUR gift, visit scf.schoolcraft.edu!

---
Hear from our Students!
Schoolcraft college has been very helpful in making sure that I achieve my goals. This is my first semester, and everyone shows deep concern for your future. Due to my situation, I've reached out to many resources including the Hinkle Center and Disability Services. Each of these departments have made me feel important and that is something that I enjoy.
-Felaina
Since the death of my grandmother, my family has been struggling to pay for our needs while also trying to save up money for the future. Knowing this, I try my hardest to help cover the cost of living. I was prompted to apply for this scholarship because I want to be able to help support my family while also continuing my education at Schoolcraft.
-Jordan
Thank you for your investment in Schoolcraft College and students like me. My educational pursuits would not be possible without the generous support from your scholarship. Furthermore, it inspires me even more about how giving back to the community can truly make meaningful change and have a lasting impact in people's lives.
– Aiden
I am the single income provider for our family of five. My husband and I are both out of district students at Schoolcraft College and must pay a portion of our tuition out of pocket. We are able to make things work, but when I began to complete all the requirements for my admittance to the LPN to RN bridge program this fall I realized that there were many additional expenses that I did not realize. Immunizations, uniforms, etc these things are not something that every Schoolcraft student must budget for. This scholarship will help me immensely with these things.
– Tiffany
I graduated from University High School in Ferndale, but I spent my whole childhood in Detroit. Detroit, Michigan is the most dangerous city in the United States; with that stated, I encountered numerous hardships and overcome many obstacles on my way to Schoolcraft College. In high school, I was a member of the Varsity basketball team and received a scholarship to play for a variety of schools. I chose Schoolcraft because of the coaching staff and the amount of support and opportunities they provide for student athletes. My parents were never wealthy or had enough money to pay for things other than the bare basics, and I am the youngest of four siblings. I didn't know anyone when I initially started at Schoolcraft, and I struggled in one of my business classes. My academic advisor was quite helpful in helping me plan the classes I needed and get a tutor so that I could better grasp the ideas we were studying. I am currently pursuing a minor in small business for entrepreneurs in want to build my own business and make a significant impact on society.
– Shalah
---
Angileri Quality Symposium – Bringing Students, Faculty & Industry Together
On October 21, 2022, the Schoolcraft College Foundation proudly hosted the inaugural Angileri Quality Institute Symposium. Students, industry professionals, HR professionals, and educators came together with a focus on Quality in the mobility sector.
Todd Latouf, Group Manager, Magna International, opened the Symposium focusing on Industry 4.0's Impact on Quality. According to Latouf, Industry 4.0 is a game-changer. The implications include spending more than 90% of time facilitating continuous improvement. Quality is now 'owned' by everyone in the organizations, and there is a 60% to 70% reduction in lead time to solve issues.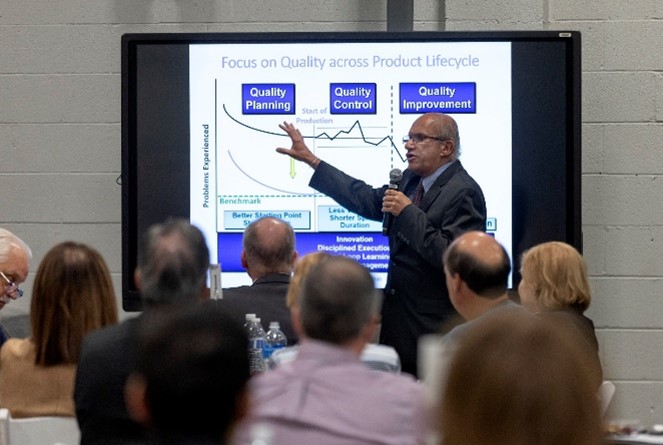 Kush Shah, CEO of Global Organizational Excellence Solutions, LLC, focused on "Maintaining Quality Standards When Supply is Low, and Demand is High." Shah compared Quality in the past with Quality in the present. He explained reactive Quality, proactive Quality, and predictive Quality and their impact on risk management. Like Latouf, he focused on the importance of an integrative approach to data analytics that positively impacts Quality.
Next, Livonia Chamber President Dan West facilitated a panel consisting of Tracy DiSanto, Assistant Director DEI Workforce Design, General Motors; Chuck Dardas, President & CEO, Alpha USA; Todd Latouf, Group Manager, Magna International; and Steve Balder, Owner, SB Precision took the stage to discuss Quality as it relates to employers from various sizes of companies. There were commonalities among panelists. Finding good employees is a growing concern for many companies. Still, employers are finding that they need to use their creativity to stand out from the crowd. Ideas include offering internships with a lot of room for flexibility to make sure any student can come in and gain that experience and attend school. They also spoke on how it's an exciting time in the industry. Many of their " heavy hitters" are nearing retirement, so they will all need quality individuals on their team as soon as possible.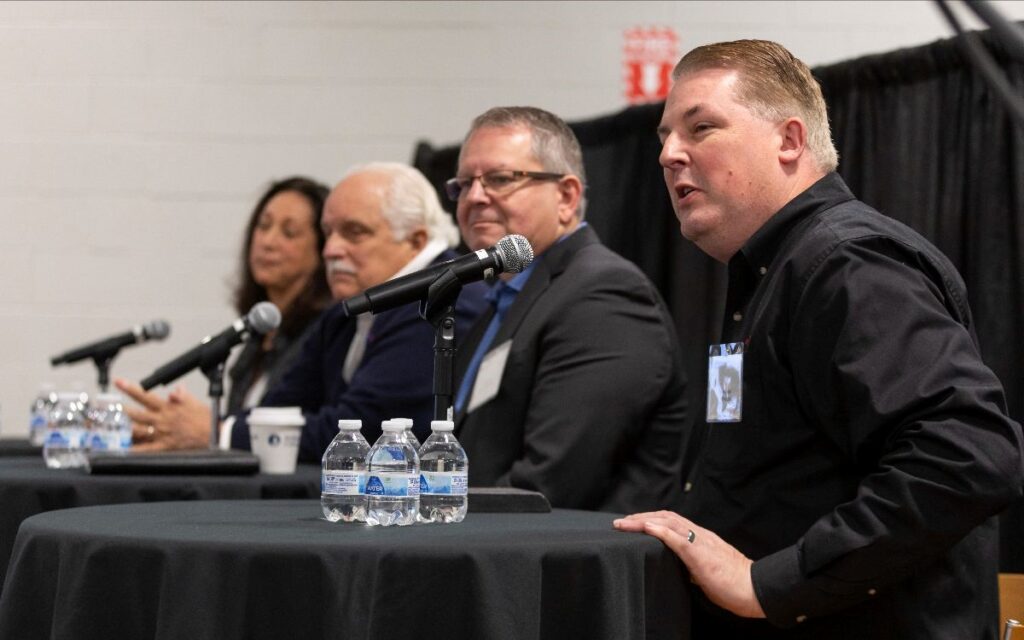 The next session included a panel discussion on connecting students with real-world experience and the importance of Quality.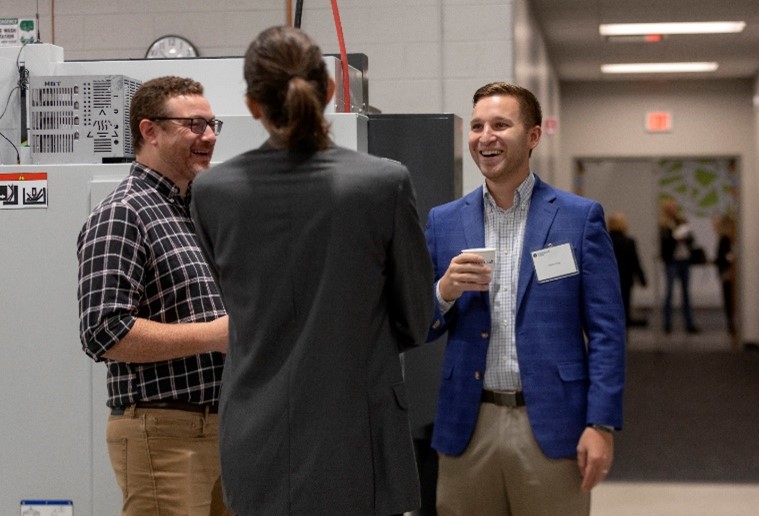 Rob Leadley, Schoolcraft Dean of Occupational Programs and Executive Director, Business Relations and Talent Development, led a panel discussion on how Quality is incorporated into the curriculum for technical degrees, non-credit certificates, training, and career pathways. Schoolcraft faculty members Dennis Fohey and Barb Stevens were joined by Schoolcraft Chief Student Success Officer Laurie Kattuah-Snyder, Wayne State University's Transfer Manager Michael Quattro, and Schoolcraft's MEC Employment and Internship Coordinator Karen Maxton. The focus of the discussion was the value of various offerings, from certificates with stackable credentials to degrees and important transfer partnerships for continued education. Innovative partnerships are essential in the current environment, especially with Industry 4.0.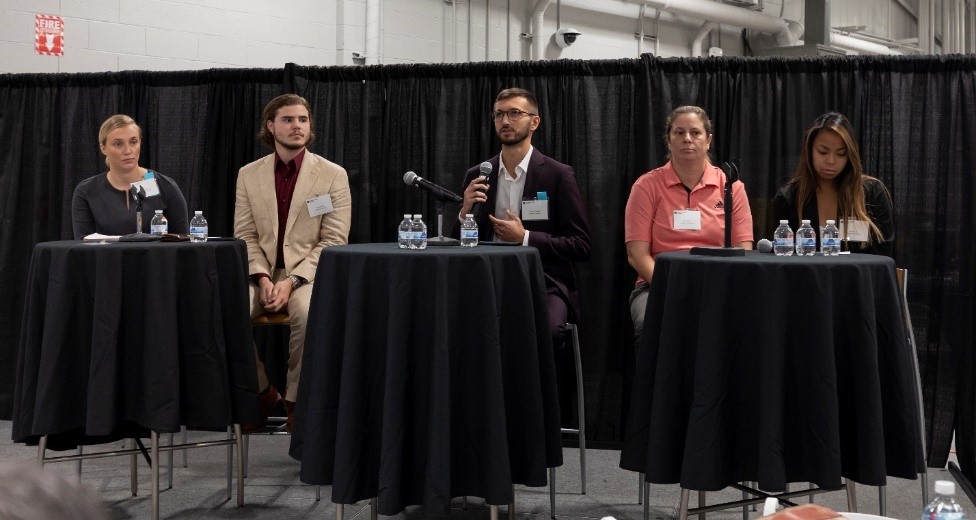 The Automotive Industry Action Group (AIAG) Vice President Outreach and Engagement facilitated the final session. Students Allison VanHouten, Liam Fahey, Colton Shaefer, Sara Bales, and Mimi Tran shared the stage to discuss their learning while at the AIAG Quality Summit on October 5 and 6. The students shared their experiences and were very impressed by the sessions they attended or their connections with industry professionals. Going into the AIAG event, these students knew a little about Quality. Still, they were surprised by how much more could be done to ensure the highest quality standards. "It was very eye-opening," said Liam Fahey as he spoke about how much he learned while attending the Quality Summit, "It showed me how employers are trying to help students."
At the Angileri Quality Symposium, students had the opportunity to have one on one interaction with employers eagerly hiring new people. It gave them great insight into their hard work, helping them with the next step toward a career. The students expressed they gained a roadmap to turn what they are learning in the classroom and apply it to their careers in the future. In a world where employers are looking for skilled people, as opposed to capital, these events are beneficial for both sides of the hiring process.
The Angileri Quality Symposium ended with lively tabletop discussions on what was learned. An executive summary is currently being developed.
Detailed information about the Symposium, including speaker bios, taping of the morning, and bonus materials, can be found at scf.schoolcraft.edu.
For information, please get in touch with the Schoolcraft Foundation at 734.462.4455 or Foundation@Schoolcraft.edu

---
Night @ Wright
On Sunday, November 6th Chef Marc Djozlija opened Wright & Company exclusively to Schoolcraft faculty and students to treat guests to a fabulous dinner showcasing the internationally known, award-winning culinary program. The event was sold-out and raised funds for Schoolcraft's Culinary program!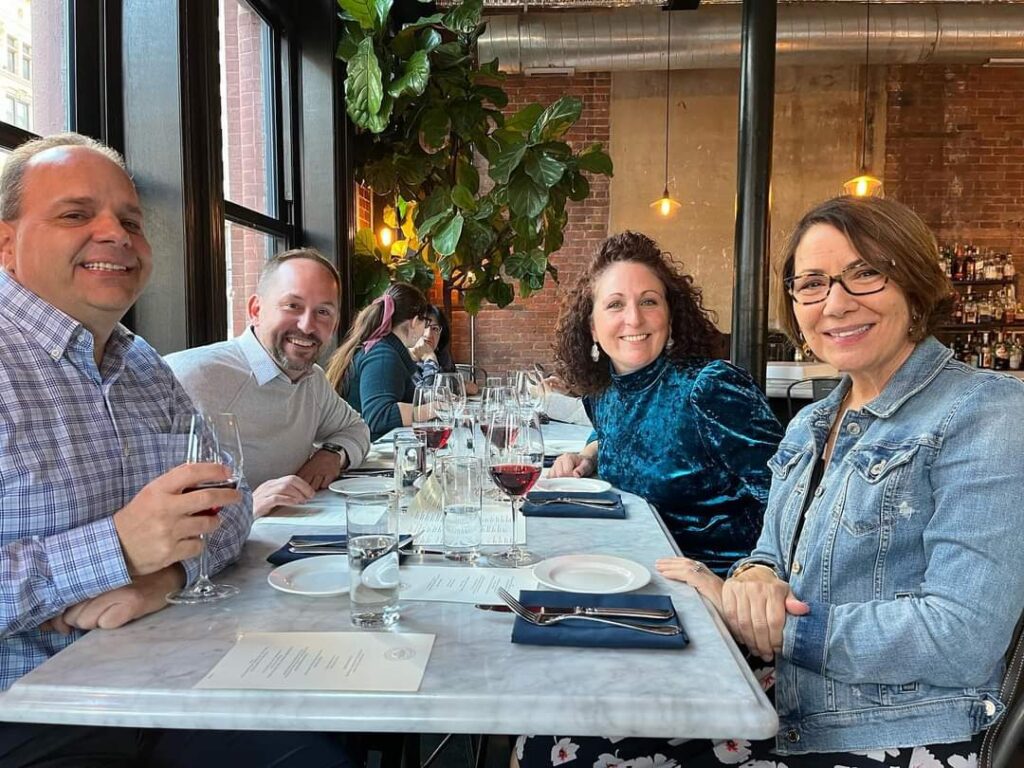 ---
Introducing Shawn Wichar
Join us in welcoming Shawn Wichar to the Schoolcraft Foundation team! Shawn is our new Annual Giving and Digital Development Specialist.
In his new role, Shawn will be responsible for the College's annual giving, fundraising events, and digital communications/fundraising. His background includes video and media production and various marketing roles.
Shawn holds a Bachelor of Arts in Communication Arts with a Minor in Business Administration from Adrian College.

………
---
Athletic Alumni Corner
Nearly 30 former Ocelot Bowlers converged on MerriBowl Lanes on Wed. October 26 to take part in the second annual Schoolcraft Bowling Alumni Night. The Alumni took on the current Schoolcraft Bowling team in a friendly three-game series. Alumni highlights were Ian Casmier's high game of 221 and Tyler Brown's high series of 585. Both Ian and Tyler were National Tournament qualifiers during their respective time with Schoolcraft. The bowling was followed by plenty of pizza and reminiscing. At least one person from each of the last ten Schoolcraft Bowling teams was present, including many who were making their first trip back to MerriBowl (the home of Schoolcraft Bowling) since they were a member of the team. The program's mantra, "You may only be part of the team for a year or two, but you are part of the family forever," was ever-present.
Athletic alums, contact Sid Fox at sfox@schoolcraft.edu if you want to learn more about what is happening on campus and future SC Athletic Alumni events!

---
Schoolcraft's Distinguished Volunteers Honored at
National Philanthropy Day
The Association of Fundraising Professionals (AFP) Greater Detroit Chapter's evening gathered on November 3 to celebrate philanthropists, fundraisers, and the impact both make on Metro Detroit. A Distinguished Volunteer directly contributes to a non-profit organization's success. Someone who inspires you with their passion and motivation for a cause. National Philanthropy Day (NPD) celebrates them, their commitment to your organization, and philanthropy as a whole.
This year, Schoolcraft College Foundation proudly recognized four Distinguished Volunteers:
Carol & Calvin Strom
Carol and Cal Strom are longstanding supporters of education. Carol is Vice Chair of the Schoolcraft College Board of Trustees, serving as an elected board member since 1995. She was a physical education teacher and a volunteer peer counselor. Carol and Cal established an endowed scholarship fund to support student-athletes at Schoolcraft, combining their shared passion for education and athletics.
Joan Gebhardt
Joan Gebhardt is an advocate for community college education and students. As President of the Schoolcraft College Board of Trustees, she goes above and beyond her elected role, investing in students through The Gebhardt Family Fund. Established in memory of her late husband, Joan impacts Schoolcraft's culinary arts and nursing programs, supporting the greatest needs in these areas.
Ryan Jenner
As Foundation Board Past President, Ryan Jenner has led the development of Vision 2025, the Schoolcraft College Foundation's first 5-year comprehensive fundraising campaign in the school's 60-year history. He recruited and engaged board members and made the first gift to establish the Foundation Board Fund. His ambition inspires others as the campaign approaches 70% of its goal with two years remaining.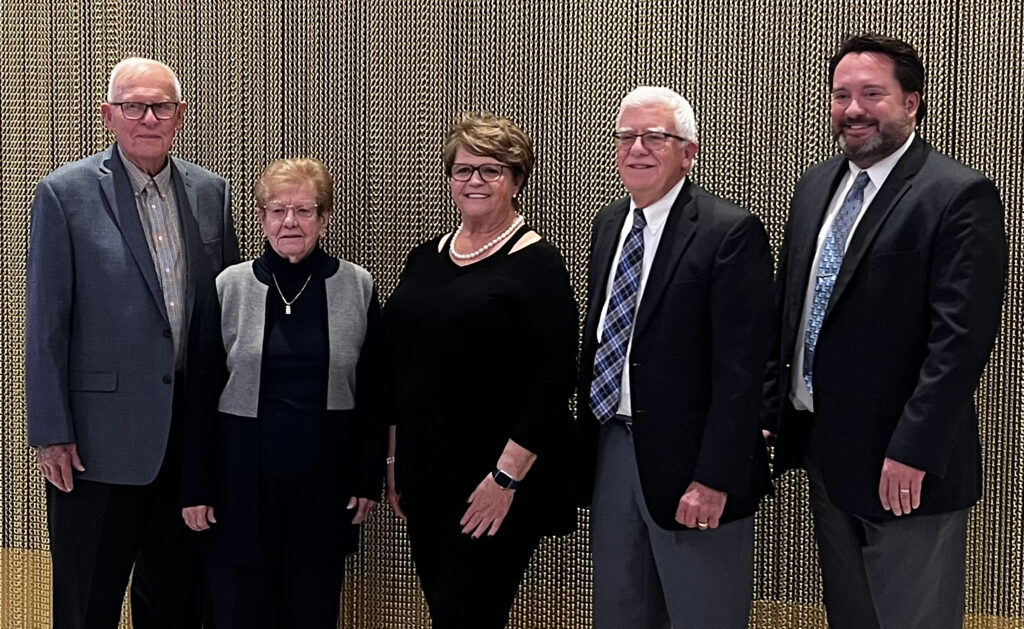 What is National Philanthropy Day?
National Philanthropy Day is a special day set aside during November, to recognize the great contributions of philanthropy – and those people active in the philanthropic community – to the enrichment of our world.
NPD was initially conceived and organized by Douglas Freeman in the 1980s. The first official events were held in 1986 after President Reagan signed the official NPD proclamation. The day provides an opportunity to reflect on the meaning of giving and all it has made possible. NPD celebrates the endless daily contributions individuals and organizations worldwide make to countless causes and missions. AFP chapters held NPD events and activities across North America.
Congratulations to Schoolcraft College Foundation's 2022 Distinguished Volunteers!
---
Chef Sayes Earns CMC Certification
Over the Halloween weekend, Schoolcraft College was busy hosting another American Culinary Federation Certified Master Chef (CMC) Exam. The exam is crafted to determine which chefs can showcase expert knowledge and mastery of culinary competence that aligns with the Master Chef level certification.
Before the exam can be taken, prospective chefs must first have the certifications required to be eligible for the examination. Those certifications include showing a minimum of obtaining the Certified Executive Chef® (CEC®) level of certification, being currently employed in a food service operation with supervisory responsibilities, completing 30 hours of education on wine and wine service, completing 30 hours of human resources management, Complete 30 hours of advanced sanitation, and receive endorsement from a current CMC.
On top of the certifications, to be considered for the certification, you must also engage in a practical exam spanning eight days of cooking, including different areas of the culinary market. Those areas include freestyle cuisine, healthy cooking, global cuisine, baking and pastry, buffet catering, classical cuisine, European cuisine, and market basket. All these skills will be tested and heavily scrutinized to ensure they are up to the CMC's standards.
We at Schoolcraft College are very proud to announce that our Chef/Instructor Andrew Sayes has passed his CMC certification and is now the newest ACF Certified Master Chef. We extend a huge congratulations to our own Chef, Drew Sayes!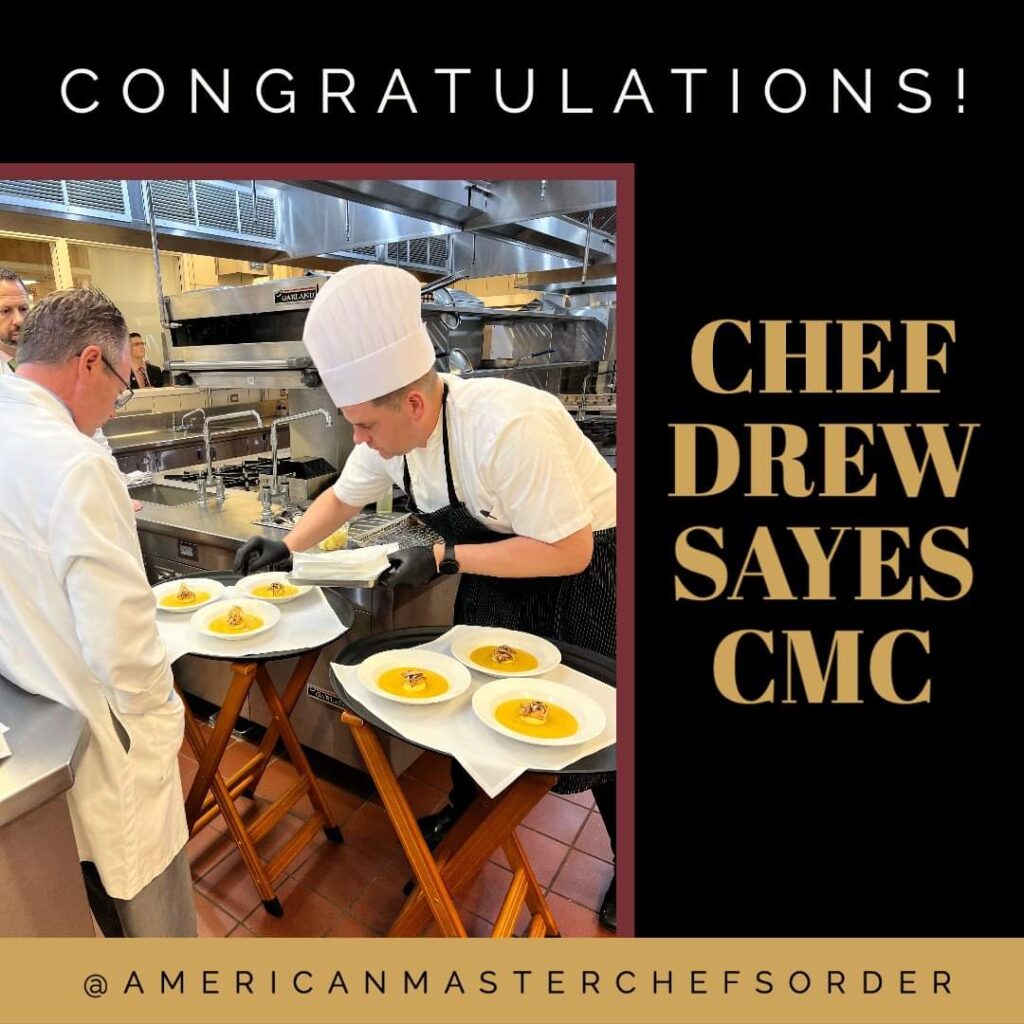 ---
CulEx 2023 is Here!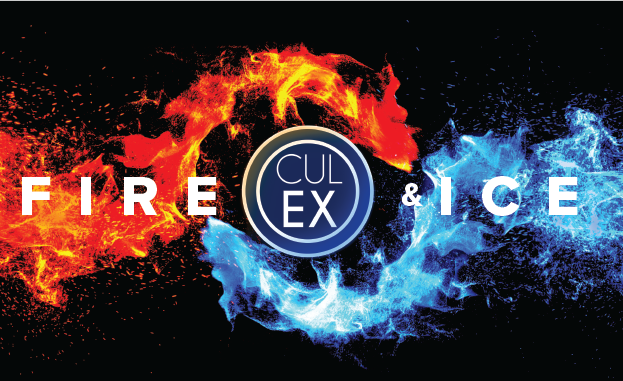 On Thursday, February 23, 2023, The Schoolcraft College Foundation will host our annual Culinary Extravaganza in the Diponio Room and Culinary Classrooms at the Vistatech Center.
We are thrilled to be hosting this event for the second consecutive year. We look forward to the opportunity for our award-winning chefs and students to showcase their skills in the culinary and, brewing & distillation programs.
Events like these directly result from the hardworking people here at Schoolcraft College but also from the help of our incredible sponsors. Through our sponsors' efforts, we can create more opportunities for students to receive scholarships and grants to continue their journey here at Schoolcraft College.
Click / tap here to purchase sponsorship packages and tickets.
For more information, contact:
Shawn Wichar at 734.462.4698 or swichar@schoolcraft.edu or
Carole Booms at 734.462.4412 or cboooms@schoolcraft.edu
---
Schoolcraft College Celebrates 61st Birthday
Schoolcraft College's 61st birthday was on November 2, 2022. We were joined by the staff and students for Founder's Day at Henry's in the Vistatech Center to join the celebration with delicious cake and great conversation. Thank you all for your support over the past 61 years. We truly could not have done it without the participation of everyone involved.
We look forward to celebrating many more Founder's Days for years to come!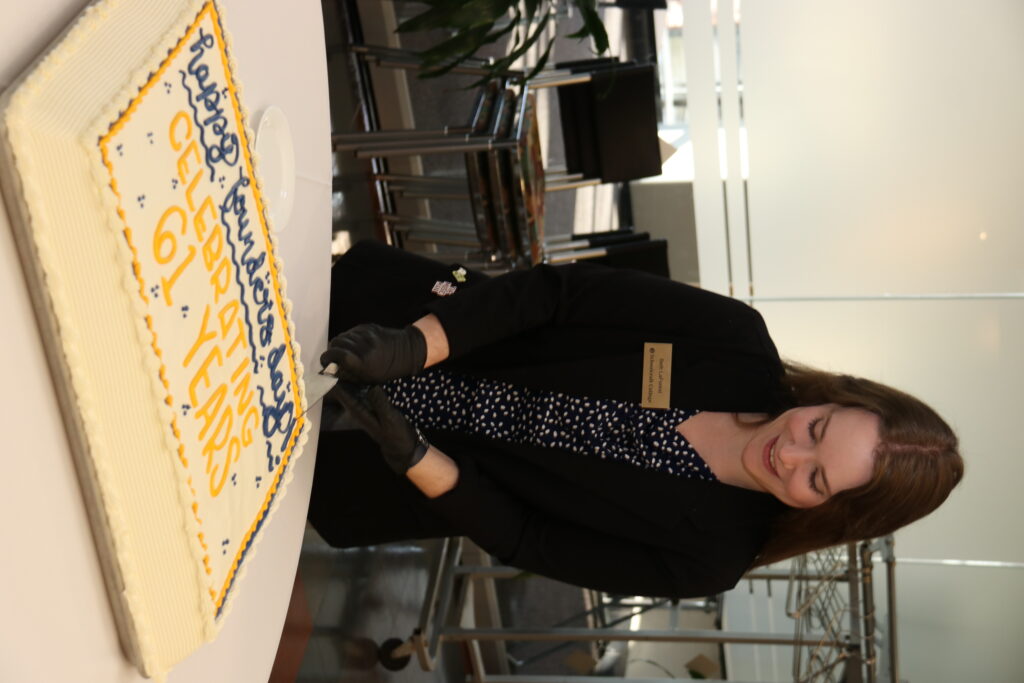 ---
Henry Herald Fall 2022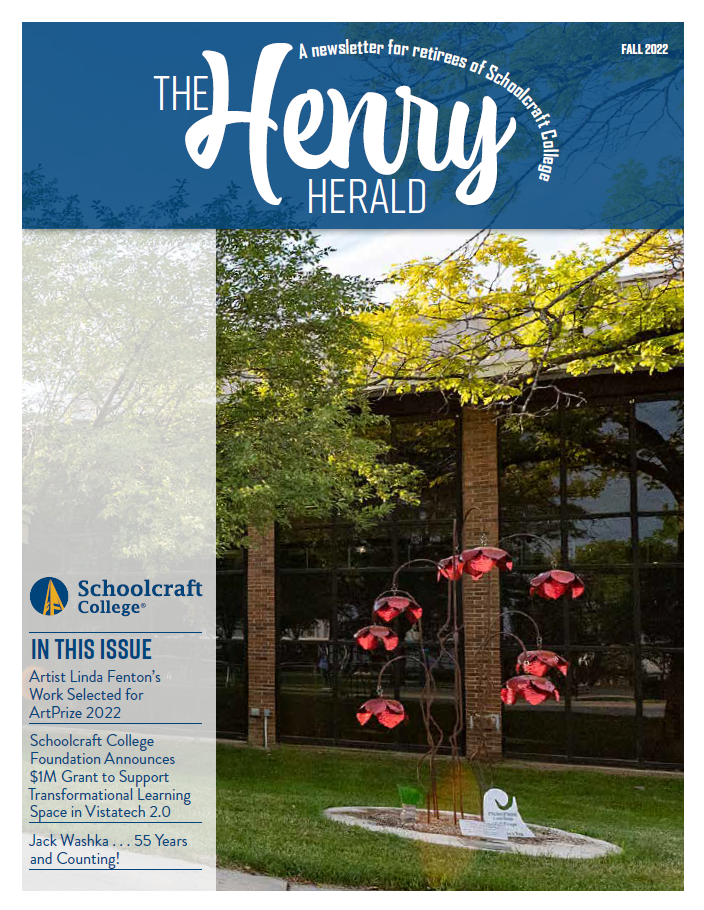 Featuring:
Artist Linda Fenton's Work Selected for ArtPrize 2022
SCF Announces $1M Grant to Support Transformational Learning Space in Vistatech 2.0
Jack Washka…55 Years an Counting!
aaaaa
aaaaa
aaaaa
aaaaa
aaa
---
National Speakers Headline FREE Webinar Series
As an extended member of the Schoolcraft family, the SC Foundation and Alumni Office invite you to keep learning! Visit our Free Upcoming Webinars page to see all events, register and explore recordings of past events. Don't miss out on these engaging topics:
---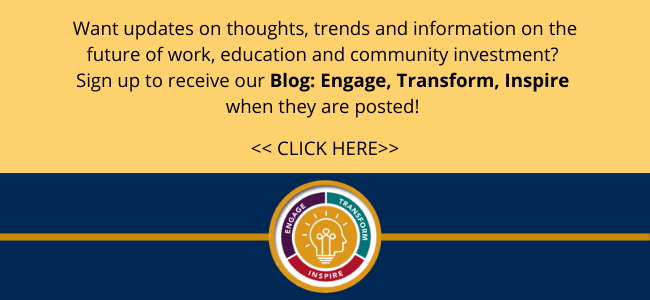 ---
In the News
Gov. Whitmer Launches Website to Help Students Apply for the Michigan Achievement Scholarship, Save Thousands
Michigan.gov – November 2, 2022 (By: Executive Office of the Governor)
The Michigan Achievement Scholarship, deployed through the FASFA process with no additional red tape, will effectively reduce financial barriers for incoming students," said Glenn Cerny, President of Schoolcraft College. "Schoolcraft College is confident this opportunity will revitalize the student pipeline for the workforce that is in desperate need."
Read More >
---
See the Foundation in Action on Social Media
Find out the latest happenings at Schoolcraft College! We'll be sharing content that you don't want to miss. Follow us on LinkedIn, like us on Facebook and don't forget to check us out on YouTube – scroll to the bottom of this page for all our social links.
---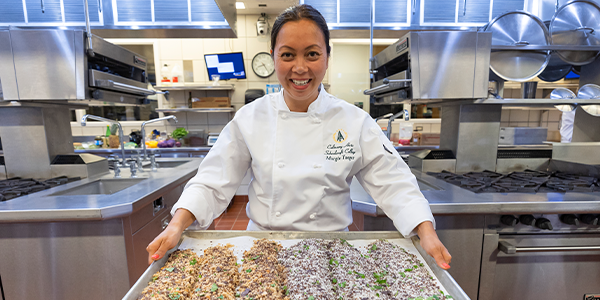 Show your support for Schoolcraft College students and programs today…
---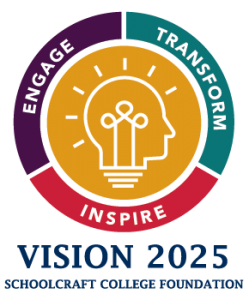 Vision 2025: The Fundraising Initiative
Vision 2025 is a five-year fundraising initiative that supports Schoolcraft College — its programs, students, and members of the southeast Michigan community. It is designed to provide the financial support needed for innovation beyond the limitations of current funding. Vision 2025 will impact the next 25 years of the 21st century by helping the college transform workforce education, which will engage, inspire, and transform students, the community, and economy.