Saint Joseph Mercy Health System and IHA Livonia Medical Center opens on Schoolcraft College campus
Site will include Ambulatory Surgery Center for outpatient procedures
At this new, state-of-the-art location, St. Joe's and IHA are bringing together leading health care providers and services to offer a continuum of care under one roof to Livonia and the surrounding communities. It also provides new opportunities for Schoolcraft students.
"The Livonia Medical Center, positioned right in the middle of our southeast Michigan region, will bring IHA physicians closer to this community, providing seamless care across our physician offices, outpatient facilities and hospitals," said Rob Casalou, president and CEO, Trinity Health Michigan. "We have been working to bring health care out into the community where people live, work and play, and this medical center located on the Schoolcraft College campus is a great example of that successful effort."
The new center opened on Monday, April 19, with St. Joe's Medical Group (SJMG) Sports Medicine as the first practice to move in, followed by IHA Livonia Primary Care on April 26.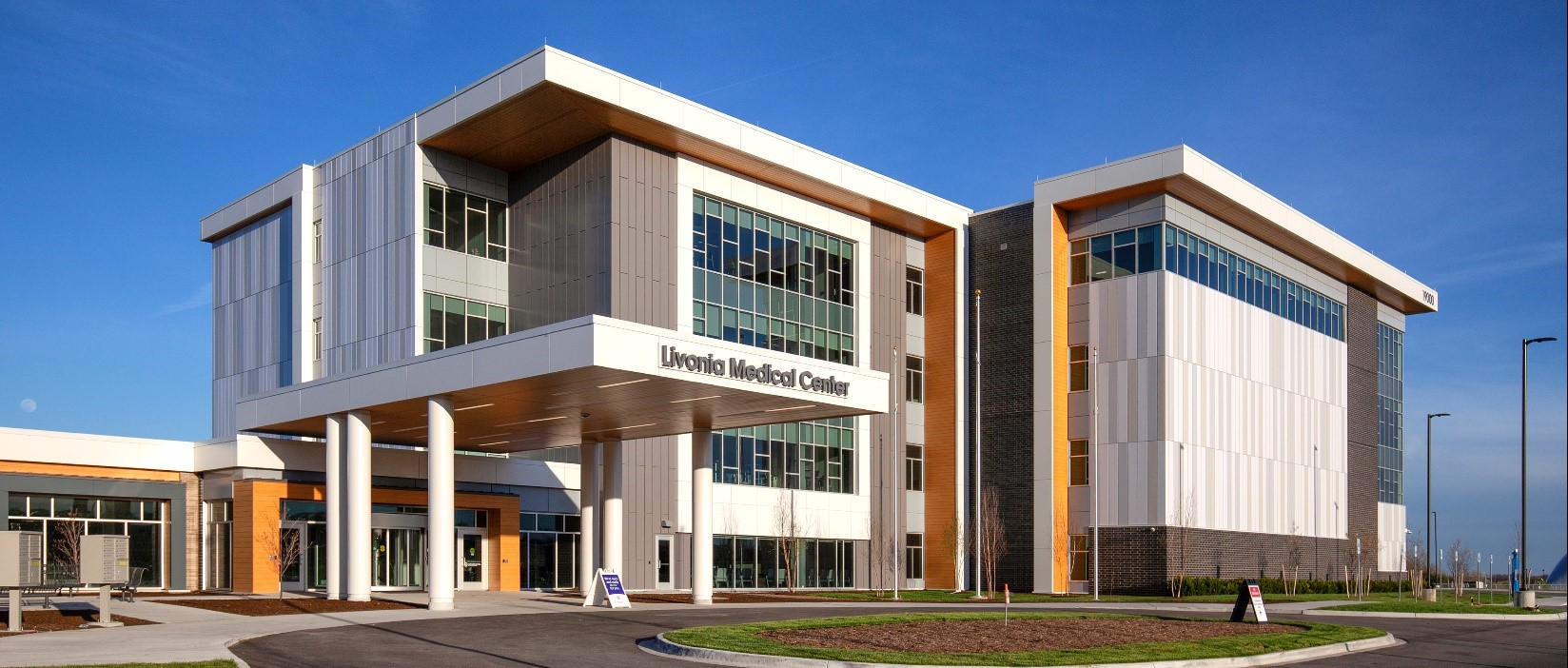 This facility is perfectly timed with the Schoolcraft's new Health Sciences Center expected to open fully in early 2022, which will expand programs like its renowned nursing program and add others; Dr. Kesler is on record that he expects partial occupancy in the Health Sciences Center this fall. The College currently has majors and programs in nursing, pharmacy, health information technology, and medical assisting among the many choices. The College plans to launch an advanced imaging program for radiation technology students to coincide with the opening of the new medical facility.
"We're very pleased to see the Livonia Medical Center come online and extend a hearty welcome to our campus," said Dr. Glenn Cerny, president of Schoolcraft College. "Having the many specialty practices located in a convenient and familiar location is a tremendous asset for our community. We're also excited that our new Health Sciences Center is just across the street, creating a great opportunity for many of our students in our health care-related programs to literally go from classroom to a vital, in-demand job and fulfilling career."
Additionally, as part of the ongoing collaboration between Schoolcraft College and Saint Joseph Mercy Health System, the St. Joe's Mercy Elite Sports Center on campus opened earlier this year. The 74,000-square-foot multi-purpose space includes eight volleyball courts, a running track, soccer training space and fitness and rehabilitation space. Mercy Elite provides physical therapy, strength and conditioning and fitness training for all interested schools, clubs, teams or individuals. A state-of-the art fitness laboratory, classroom space and faculty offices for Schoolcraft College's Associate Degree program in Movement Science also share the space.
Check out this video for more information or visit LivoniaMedicalCenter.org.
For information on Schoolcraft's new Health Sciences Center – click here.