eNews 21th Edition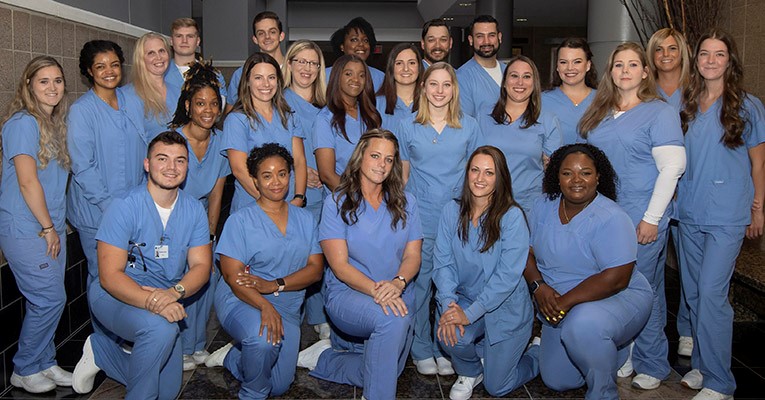 ---
In This Edition
---
Spring Appeal raises $17,869

Financial support from alumni, staff, faculty, friends, and parents keeps the Schoolcraft College Foundation strong. In May 2021, we shared the story of Elizabeth, a student who overcame unimaginable obstacles to achieve her dream of completing her degree. Elizabeth graduated and is on her way to greater things. Without your support, her story would not have been possible.
When you receive a letter from the Foundation, see our posts on social media or through email, we are so grateful for your response and your willingness to be an ambassador and share our requests with your family and friends. Your annual gifts to Schoolcraft's areas of greatest need or your area of interest, regardless of size, have the power to inspire others. When we pool our resources together, we can significantly impact the quality of the Schoolcraft experience for our students – because every student counts, and every gift counts. Thank you for making a difference!
If you would like to make your gift now, visit schoolcraft.edu/donate
---
Lisa's Story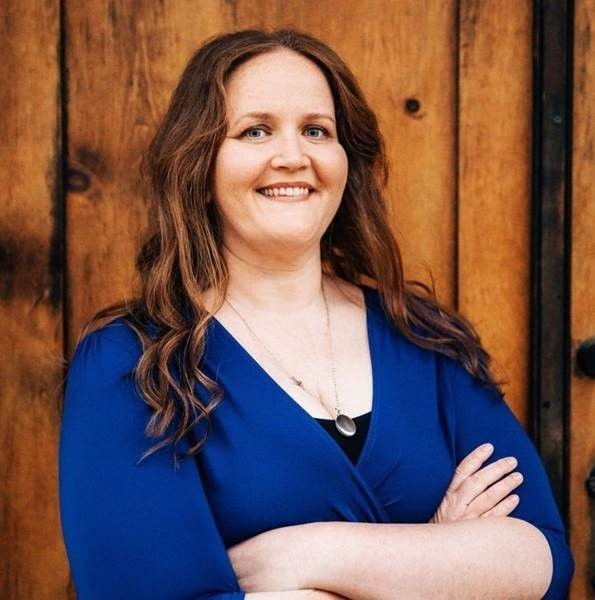 This is a letter from Lisa, our current Schoolcraft College Foundation Scholar. We thought we would let you read firsthand the impact YOU can have on the life of a Schoolcraft College student.
My journey to Schoolcraft is unconventional and hard-fought. Like many students, I entered Schoolcraft as a non-traditional student after multiple crossroads in my personal life that always kept a college education just beyond my reach. Years ago, I was enrolled in a community college in Texas, where I was a military wife for 10 years. However, due to my husband's multiple deployments and our son's autism diagnosis, it was clear to me at the time that my attention was needed at home. Later, I enrolled in community college a second time. But again, life had other plans for me and my family. My husband was gravely injured, and he was faced with a long and painful road to recovery. After nursing him back to health and taking care of our children, my husband was finally getting ready to retire from the military and I enrolled in college a third time. However, right before classes started that semester, I got word that my mother was diagnosed with a terminal illness. At that point, I decided to pack up my family and move back home to help my sister, brother, and father take care of our mother. Over the next three and half years I soaked up every moment I could with my mom until her passing.
At that point, I was overwhelmed, physically unhealthy, and ready to change my life and start living on purpose. No longer was I going to just let things happen; I was going to start making things happen. So, I decided to enroll in community college a fourth time. I entered Schoolcraft at 36 years old with a hunger and drive that was developed through the challenges in my personal life. I tell you this story not because I want to pull on your heartstrings. I tell you this story because if you read between the lines, it is a story of blessings. It is a story of love, patience, perseverance, and second chances. These experiences gave me grit and pushed me to enroll in Schoolcraft College.
When I first walked through these doors, I honestly did not know how far I could go in my education, but with each class, with each 4.0, and with each opportunity to become more involved with Schoolcraft, my belief in myself started to skyrocket. During my time here, I became chapter president of the Phi Theta Kappa Honor Society, the Schoolcraft College Foundation Scholar, a Dean's List Honoree for four semesters, and this past May I graduated with honors.
Last year, when I received this award, the support granted to me was exceptional. Not only did it contribute to my educational and career journey in a profound way, but the award also allowed me to believe that support was out there for people like me, and it was achievable based on our own merits. Schoolcraft is a place that cultivates greatness and gives second chances (and in my case it gives, third, fourth and fifth chances lol) and this Foundation gives a platform and a pathway to success.
With that said, I want to thank the Foundation for all that it has done to support my educational goals. The opportunity this award presents to Schoolcraft students like me is considerable and I am deeply humbled by the acknowledgement of my academic successes along with the opportunity to speak with you all here today. It is with the support of those like you that allows students like me to transform their lives. Your monetary donations do not go unnoticed, and on behalf of myself and all Schoolcraft students who have received support from this institution, I want to give you my deepest thanks.
Before I go, I want to take a moment to acknowledge my incredible family. I wouldn't be here if it wasn't for the unwavering support of my husband Nate, our three kids, Matteo, Stella, and Violet, my mom who watches over me every single day, and my sister who I also have the privilege to call my best friend. Thanks again to all of you who have contributed over the years the Schoolcraft College Foundation.
---
Helen White Memorial Endowment Established to Honor Passion for Lifelong Learning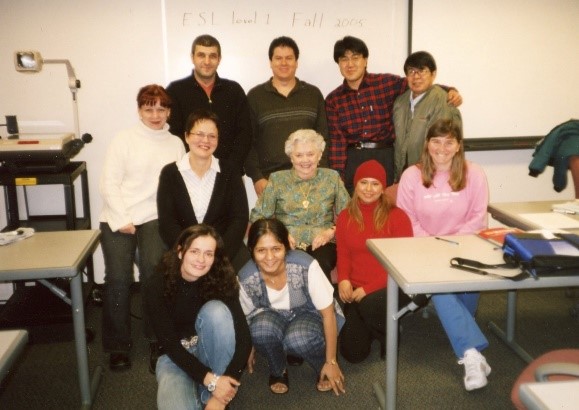 Recognizing what an extraordinary woman she was, Helen White's family wanted to honor her legacy with a fund that would live in perpetuity. The Helen White Memorial Endowment Fund was the perfect way to support students pursuing their educational goals and enrolled in Schoolcraft's English as a Second Language programs.
Helen White was not a traditional student. She also was not a traditional teacher, wife, mother or grandmother. Born in 1929 into a world with few career and educational opportunities for women, Helen married her husband Edward and together they raised nine children.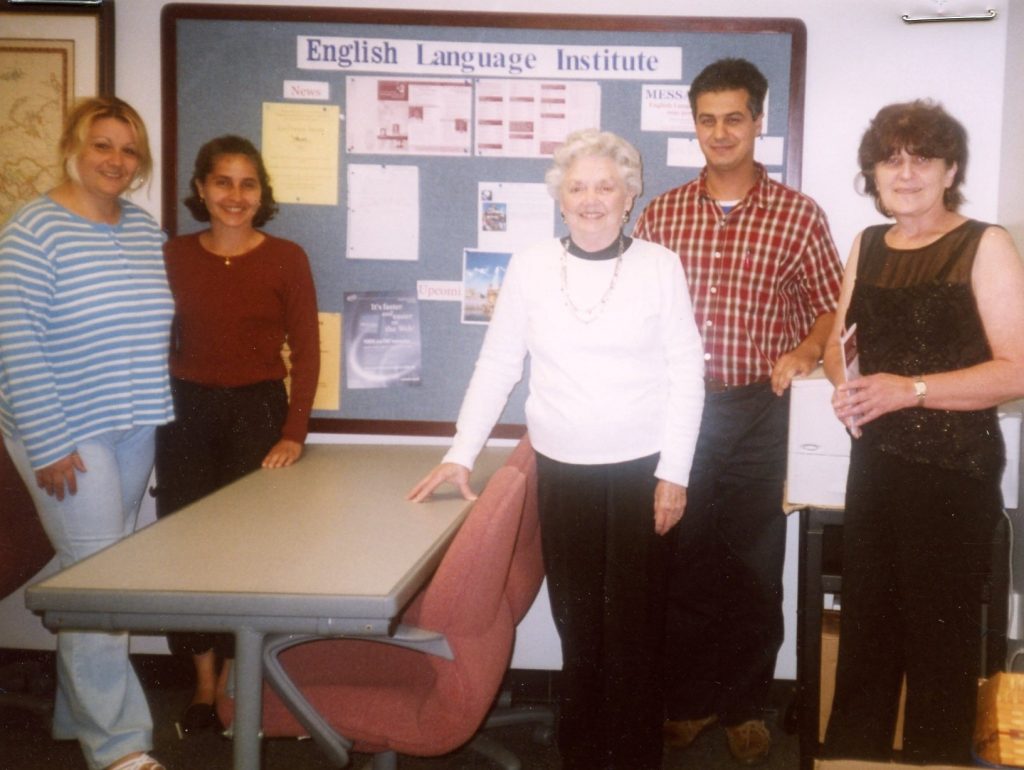 After her children were grown, she won a scholarship to the University of Michigan-Dearborn (at age 60) and graduated with a bachelor's degree in Education at age 65. She taught English as a Second Language (ESL) at Schoolcraft College from 1996 until her retirement in 2011.
Her family is proud to honor Helen's memory with this scholarship as a tribute to her determination, perseverance, and unique ability to bring light to darkness through education. This scholarship has been lovingly funded not only in Helen's memory, but also in gratitude to the many ESL students at Schoolcraft who touched Helen's life and brought her so much joy. To make a donation in memory of Helen White please click here.
For more information, call the SC Foundation office at 734.462.4455.
---
2021 Tailgate Party
The Schoolcraft College Athletic Department is pleased to welcome the Alumni and Friends of SC to the 2021 Tailgate Party on Saturday, October 2, from 1:00 p.m. to 4:30 p.m. This year the Schoolcraft Ocelots will be taking on the Muskegon Jayhawks at the Schoolcraft College Outdoor Soccer Field. The women's game starts at 2 p.m., followed by men's game at 4 p.m.
Tickets include Hospitality Tent and admission to both the men's and women's soccer games. Join us for hot dogs, hamburgers, and more. Proceeds will support Schoolcraft College Athletics. Learn More >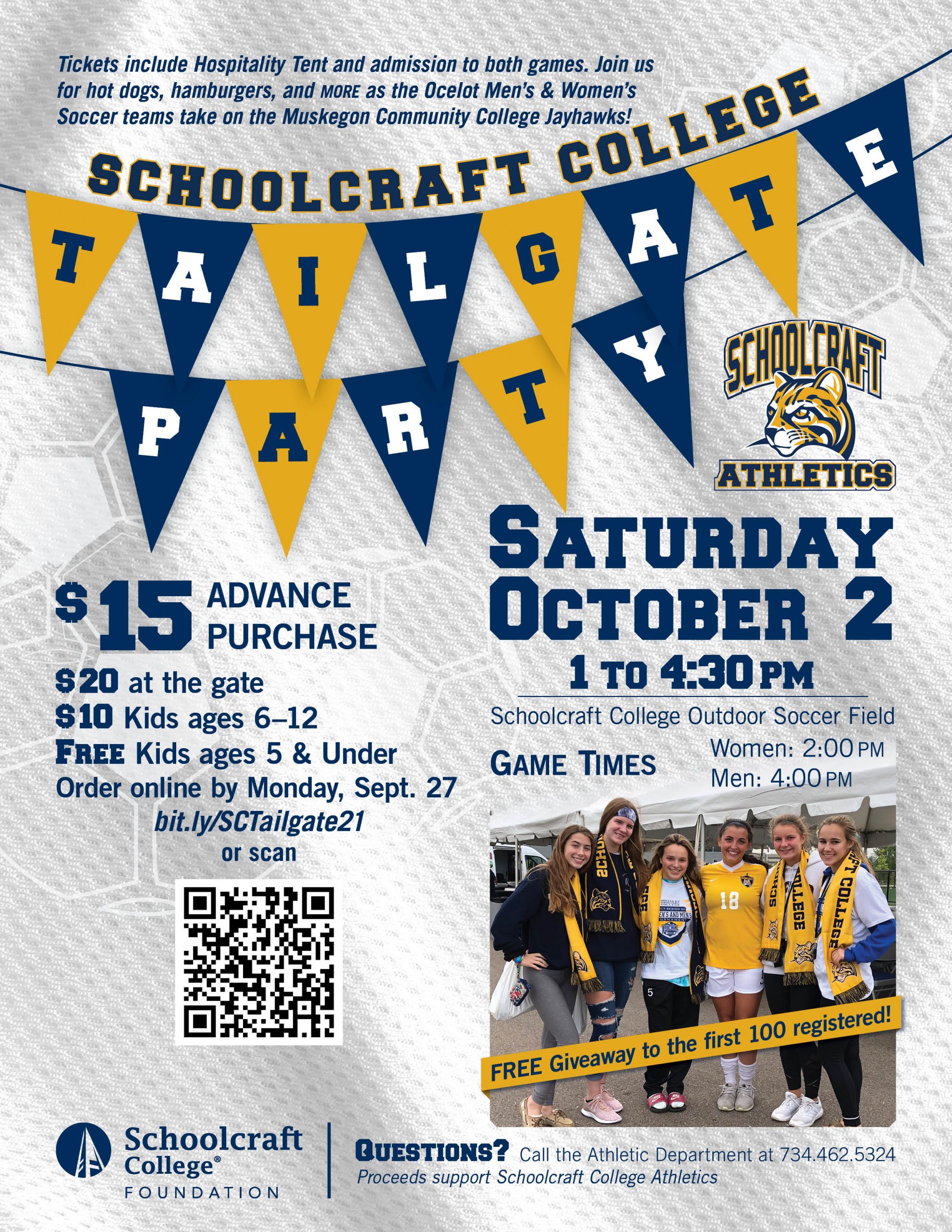 ---
Planning Provides the Perfect Ingredients for Culinary Tributes
Sadly, we lost three amazing and talented members of the culinary community, but like the masterpieces each created in their kitchens, both will now provide "the recipe for success" to future generations.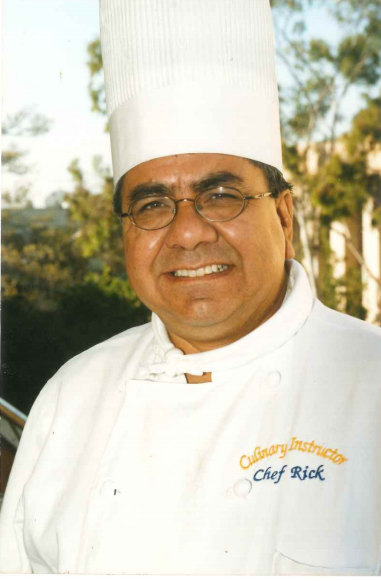 A fund was recently created with the Schoolcraft College Foundation to honor the life and amazing culinary skills of Chef Rick Martinez. Chef Rick was born in Wyandotte, Michigan, to Gregorio and Anita Martinez in 1949. The sixth of ten children, Chef began his love of the culinary arts and career as a restaurateur in the dish room of older brother Gil's successful restaurant. Following graduation from Lincoln Park High School, he enlisted in the U.S. Army, honorably serving for two years in Berlin, Germany.
After his Army service, Chef returned to Michigan and enrolled in the Culinary Program here at Schoolcraft College where he completed his Associate Degree and Culinary Certificate, followed by his Bachelor of Science Degree in Occupational Education from the University of Michigan. With degrees in hand, Chef began his culinary career in earnest, serving in various capacities at numerous quality establishments within the hospitality industry. The invaluable experience Chef Rick was gaining led him to his decision to relocate to Southern California where he opened his own restaurant specializing in Mexican cuisine. It was here in his own restaurant that Chef introduced Orange County to fish tacos!
Chef's dedication and love of the culinary arts inspired him expand his horizons and share his expertise with students. He served on the faculty of Long Beach Job Corps and LA Trade Tech College while in California. Relocation to Tennessee brought him to the faculty of Nashville Community College and Metro Schools, as well as ServSafe. He was a member of the Tennessee State Chefs Association, and through the American Culinary Federation (ACF) achieved the impressive status of Certified Executed Chef (CEC) and Certified Culinary Educator (CCE).
We sadly lost Chef Richard Martinez in 2021 due to COVID-19; however, he will forever be remembered for his generosity, donating his time and skills, serving frontline workers on holidays, and teaching healthy food habits to children. Chef leaves his only son Matt and other family, as well as numerous friends and extremely satisfied patrons. To make a donation in memory of Chef Martinez please click here.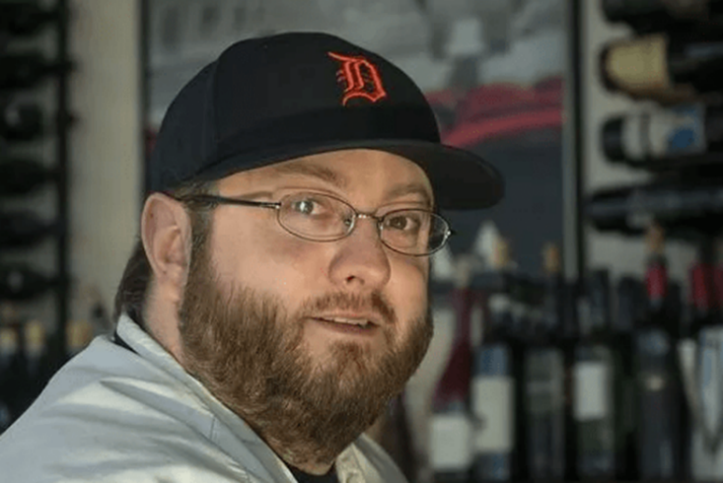 Executive Chef Anthony Calabrese passed away on April 6, 2020. He was known for his amazing culinary talents, as well as his enthusiastic smile and wondeful humor.  Chef Anthony was recognized not only as the Executive Chef of Cantoro's Trattoria, but for his numerous appearances on local televison stations as well as the Cooking Channel that traveled to Cantoro's in Plymouth to film the Chef in his kitchen as he shared his recipies and incredible pasta dishes.  Through the planning of Cantoro's owners, John and Michael Fallone, the Anthony Calabrese Memorial Fund has been established at the Schoolcraft College Foundation to honor their friend and share his love of the art of cooking. To make a donation in memory of Chef Calabrese please click here.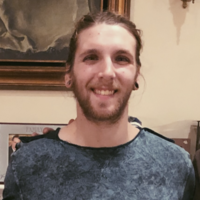 The faculty and students of the Schoolcraft College Culinary Arts Program were still mourning the loss of Chef Anthony when they learned of the passing of rising culinary star Chef Matthew Berardi on November 19, 2020. Chef Matthew had also earned his degree from Schoolcraft College and was making an impact in local restaurants Black Rock, Stella's Trackside and Rocky's of Northville. Chef Matthew was well known for sharing his culinary passion by creating cultural dishes to delight his clients and guests. Chef's parents, Michael and Susan Berardi, took advantage of planning tools to establish and fund the Matthew D. Berardi Memorial Fund. The Fund will provide assistance to second-year culinary students who will carry on the traditions and skills of this "rock star" of the culinary world. To make a donation in memory of Chef Berardi please click here.
The culinary impact of these amazing Chefs was enjoyed by countless individuals. Through charitable planning, their skills and passion will be shared with generations to come.
What impact would you like to make? Planned Giving can make any dream a reality and it begins with a simple conversation. Let us help you get something cooking today!
To view all current memorial funds please click here.
---
How YOU can help raise support for SC Students via Facebook and Amazon
Facebook
Passionate about nursing, culinary, supporting student emergency needs or…? Starting your own fundraising campaign is now super simple thanks to the tools available on Facebook! All you have to do to get started is click this link: https://www.facebook.com/fund/SchoolcraftFdn/
You have the ability to set a fundraising goal, describe why you are raising these funds (some default text provided by FB), and then click create to make your fundraiser live. It's easy to share with your friends and family, and don't forget to thank them for their support!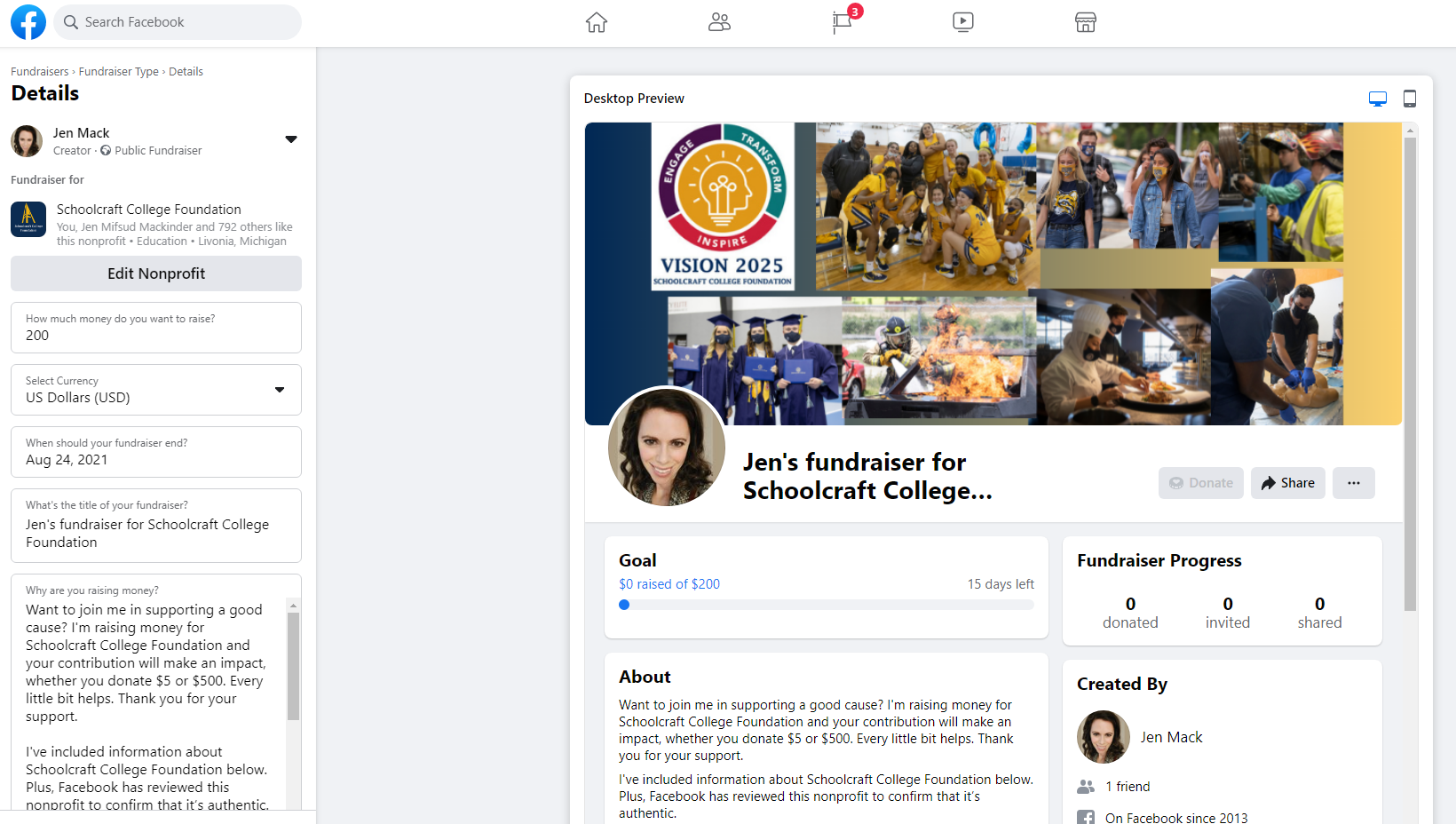 A huge thank you to all of our social ambassadors who have already supported Schoolcraft students and programs in this way – we appreciate you!!
AmazonSmile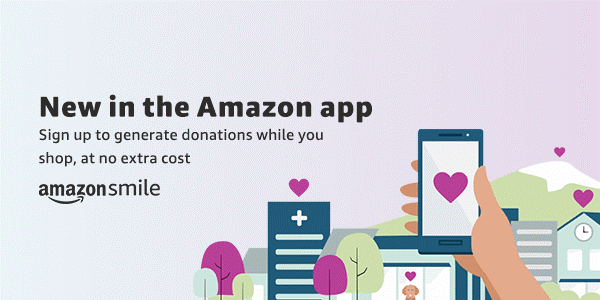 Want to help make a difference while you shop in the Amazon app, at no extra cost to you? Simply follow the instructions below to select "Schoolcraft College Foundation" as your charity and activate AmazonSmile in the app. They'll donate a portion of your eligible mobile app purchases to us.

How it works:
1. Open the Amazon app on your phone
2. Select the main menu (=) & tap on "AmazonSmile" within Settings
3. Select "Schoolcraft College Foundation" as your charity
4. Follow the on-screen instructions to activate AmazonSmile in the mobile app
---
Virtual Programs – Brought to you by Vision 2025!

Health Care: Meeting the Needs of the Community & Students
On Thursday, July 29, from 11 a.m. – 12 p.m. we got an exclusive look at the new Livonia Medical Center (LMC) on Schoolcraft College's Main Campus and learned the impact it has on our students. Click here to view the Zoom recording.
______________
Save the Date – The Annual Financial Year-End Review
This popular virtual event will take place on Thursday, December 16, 2021, from 11 a.m. until 12:00 p.m. Further details and a registration link will be provided soon.
---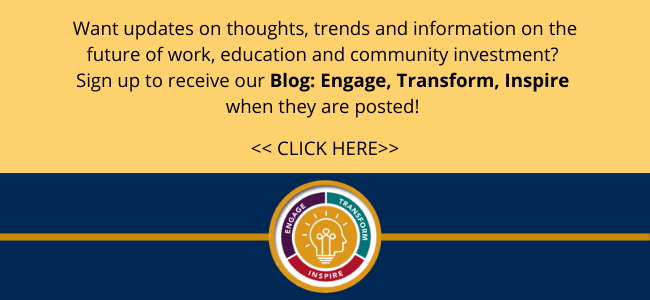 ---
Foundation Enrichment Series for Alumni & Friends
As an extended member of the Schoolcraft family, the SC Foundation and Alumni Office invite you to keep learning! Visit our Free Upcoming Webinars page to see all events, register and explore recordings of past events. Don't miss out on these engaging topics:
---
In the News
Dragonfly Art Gallery to hold reception
The Alpena News – August 10, 2021
Kathryn Cubalo fed her love of art by taking painting classes at Schoolcraft College, now she is being featured at the Dragonfly Art Gallery. Read More >
Beer makes for a great addition to cooking, just ask these local brewers
Hometown Life – July 1, 2021 (By: David Veselenak)
Our very own Chef Beland, chair of the culinary department, comments on the use of beer in the kitchen. Also, Annette May, of our Brewing and Distillation Technology Program, talks about pairing beers with food. Read More >
Schoolcraft College's Student Diversity, Equity and Inclusion Program off to Strong Start
BLAC Magazine – June 28, 2021
A unique program funded through the generosity of a two-year grant to the Schoolcraft College Foundation, the STARS DEI Leadership program enriches students beyond the classroom. This article speaks to how this important program supports students' academic, professional and personal development with an important diversity, equity and inclusion (DEI) element. Read More >
---
Don't Miss Out – Get Social!
Find out the latest happenings at Schoolcraft College! We'll be sharing content that you don't want to miss. Follow us on LinkedIn, like us on Facebook and don't forget to check us out on YouTube – scroll to the bottom of this page for all our social links.
---
Show your support for Schoolcraft College students and programs today…
---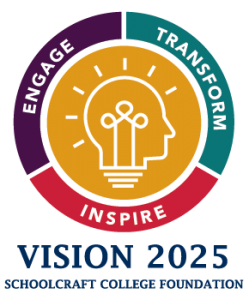 Vision 2025: The Fundraising Initiative
Vision 2025 will create life-changing opportunities for students to the rapidly changing future. With help from donors and partners, the college will transform education while engaging, inspiring, and transforming the lives of students, the community, and economy.